WardrobeTrendsFashion's Herbert Sim honored with 30 Under 30 Award by Oklahoma City University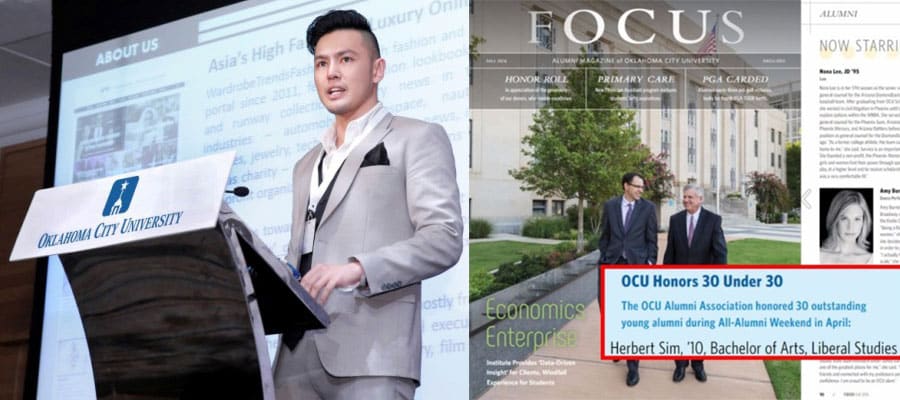 Herbert Sim, founder of WardrobeTrendsFashion, was honored by Oklahoma City University with the '30 Under 30′ Award. Herbert is the first and only Asian that made it into the Top 30 to be honored with this award so far.

See the full list of the top 30 alumnus under the age of 30 who has shown significant contributions to their profession, community, society or university here.  Herbert is an Oklahoma City University USA graduate in 2010 with a Bachelor of Arts (in Liberal Studies with concentration in Mass Communications).
The list was also featured on the latest issue – Fall 2016 issue of FOCUS – Alumni Magazine of Oklahoma City University, read the issue here.
Oklahoma City University
Founded in 1904 as Epworth University under the sponsorship of two Methodist Episcopal Churches and in co-operation with the Oklahoma City Chamber of Commerce, Oklahoma City University (OCU) has become a highly regarded educational institution in the USA and internationally.
Oklahoma City University is accredited by the Higher Learning Commission of the North Central Association of Colleges and Schools (NCA), the University Senate of the United Methodist Church, the National Association of Schools of Music, the American Bar Association, the Supreme Court of the State of Oklahoma, the Oklahoma State Board of Education and the Oklahoma State Regents.
Regional accreditation by North Central Association of Colleges and Schools is the recognition criteria used by the United States government.
It is also worth noting that Oklahoma City University is ranked 63 among the top 100 best-value private colleges in the United States, the study compared 1,200 universities in the U.S. based on academic support, competitiveness, cost, financial aid, graduation rates, and student debt.
>> Web: http://www.okcu.edu
>> More details "Herbert Sim Honored with '30 Under 30′ Award by Oklahoma City University, Featured on FOCUS magazine."

---
Add CEOWORLD magazine to your Google News feed.
---
Follow CEOWORLD magazine headlines on:
Google News
,
LinkedIn
,
Twitter
, and
Facebook
.
---
Thank you for supporting our journalism. Subscribe here.
---
For media queries, please contact:
info@ceoworld.biz
---