The 10 Most Endangered Jobs In America, 2015
Will postal workers go the way of the dinosaur? Mail delivery has been named 2015's most endangered job in the US, according to the job hunting website CareerCast's JobsRated 2015 report.
Like the giant panda, the mountain gorilla, and the black rhino apparently Postman is an endangered species.
Joint second in terms of poor future prospects were meter readers and farmers, with newspaper reporters coming fourth-most endangered job of 2015. The jobs on CareerCast's lists — which looks at how much a profession's jobs are expected to decline by 2022, ranked the expected growth of 200 jobs.
The chart below shows the top 10 jobs with the highest negative projected growth outlooks (as a percentage).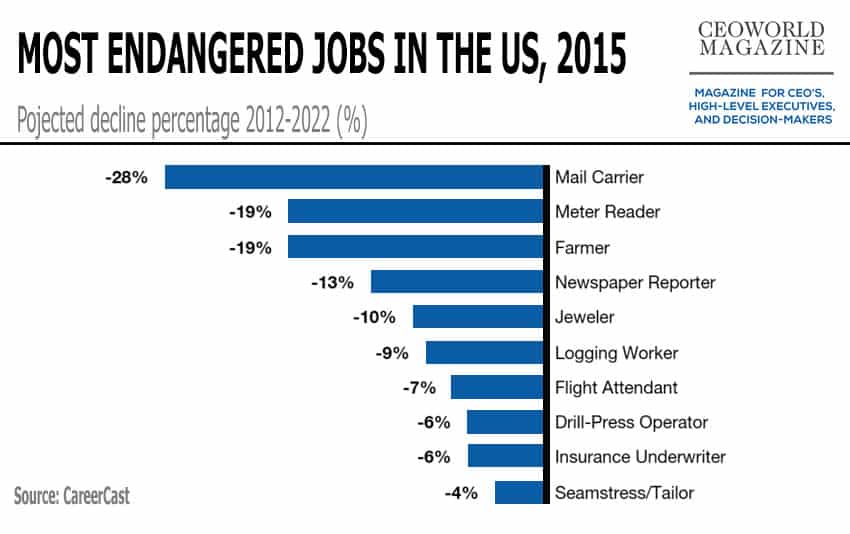 Take a look at the 10 most endangered jobs of 2015, based on hiring outlook and the changing economic landscape — These jobs are getting hit hardest of all.
1. Mail Carrier
Projected Growth Outlook : -28%
Jobs Rated Outlook Score: -28.32
Annual Median Salary: $53,100
2. Meter Reader
Projected Growth Outlook : -19%
Jobs Rated Outlook Score: -23.10
Annual Median Salary: $37,580
3. Farmer
Projected Growth Outlook : -19%
Jobs Rated Outlook Score: -17.47
Annual Median Salary: $69,300
4. Newspaper Reporter
Projected Growth Outlook: -13%
Jobs Rated Outlook Score: -13.33
Annual Median Salary : $37,090
5. Logging Worker
Projected Growth Outlook : -9%
Jobs Rated Outlook Score: -13.00
6. Jeweler
Projected Growth Outlook: -10%
Jobs Rated Outlook Score: -10%
Annual Median Salary : $35,350
7. Flight Attendant
Projected Growth Outlook : -7%
Jobs Rated Outlook Score: -9.69
Annual Median Salary : $37,240
8. Drill-Press Operator
Projected Growth Outlook : -6%
Jobs Rated Outlook: -6.13
Annual Median Salary: $32,950
 9. Insurance Underwriter
Projected Growth Outlook : -6%
Jobs Rated Outlook Score: -6.13
Annual Median Salary: $62,870
10. Seamstress/Tailor
Projected Growth Outlook : -4%
Jobs Rated Outlook Score: -4.44
Annual Median Salary: $26,460