The World's Top 10 Most Tech-Ready Countries, 2015
Well, If you're living in Zurich, Stockholm, Luxembourg, London, Geneva, Reykjavik , Hong Kong, Oslo, orCopenhagen congratulations! Your city's economy is technologically ready — based in "innovation driven" economies.
According to "The Global Competitiveness Report 2015-2016" from the World Economic Forum (WEF), Luxembourg is the world's most technologically ready country. Following Luxembourg in joint 2nd place are Switzerland and the United Kingdom, each rated a 6.3 on a scale of 1 to 7.
Sweden in 4th, Singapore in 5th, and Iceland in 6th. Oddly, Norway, Hong Kong, Denmark, the Netherlands, and Ireland in joint 7th, with score of 6.1. The countries I've listed below made it onto the World Economic Forum's top 10 list.
The technological-readiness measurement is demonstrated by how countries can adopt technology to enhance productivity; overall availability of the latest technologies; a key foundation of economic growth and stability.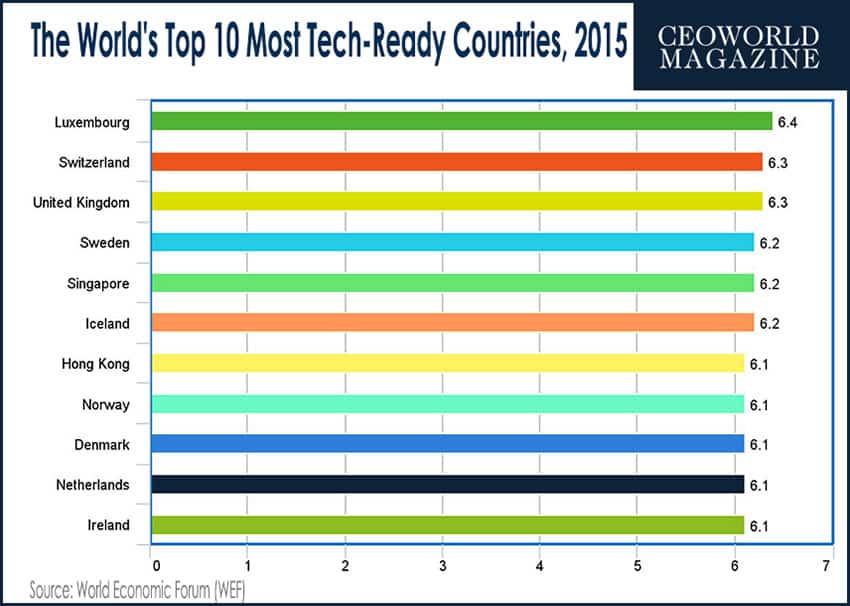 The World's Top 10 Most Tech-Ready Countries, 2015
1. Luxembourg (Score: 6.4)
2. Switzerland (Score: 6.3)
3. United Kingdom (Score: 6.3)
4. Sweden (Score: 6.2)
5. Singapore (Score: 6.2)
6. Iceland (Score: 6.2)
7. Hong Kong (Score: 6.1)
8. Norway (Score: 6.1)
9. Denmark (Score: 6.1)
10. Netherlands (Score: 6.1)
11. Ireland (Score: 6.1)
Dr. Amarendra Bhushan Dhiraj is the CEO and editorial director at CEOWORLD magazine, the leading global business magazine written strictly for CEOs, CFOs, top managers, company directors, investors, senior executives, business leaders, high net worth individuals, and the most globally powerful men and women.
Latest posts by Dr. Amarendra Bhushan Dhiraj
Leave a Reply