9 Twitter Accounts You Should Follow For Breaking News And Reliable Stories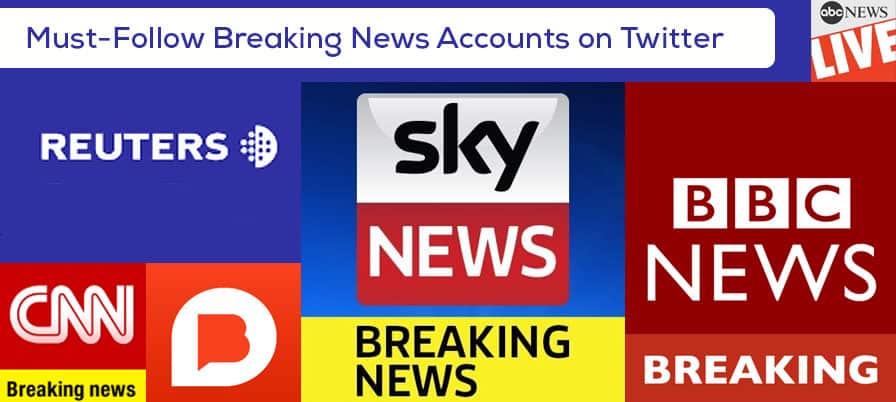 The question I'm most often asked about Twitter is this: "Who is worth following for breaking news & stories?". Which Twitter handle would you recommend to a friend joining Twitter for accurate, reliable, and efficient news stories?
How to stay in touch with news updates?
With that in mind, here's a list of "Twitter Accounts for Breaking News And Reliable Stories " you should consider following.
1. Breaking News, a reliable, real-time feed that focuses on just what's new, brings you the biggest breaking stories as they happen, 24 hours a day. You can follow Breaking News on Twitter @BreakingNews.
2. CNN Breaking News, If you're looking for a more global spin, read breaking News from CNN. CNN is more often than not a step ahead when it comes to delivering in real time. You can follow on Twitter – @cnnbrk.
3. BBC Breaking News, alerts and updates from the BBC.You can follow on Twitter – @BBCBreaking. This Twitter account keeps you updated on the most noteworthy news day and night.
4. BuzzFeed News: If you're looking for social, web, and internet spin on your breaking news. You can follow BuzzFeed News on Twitter @BuzzFeedNews.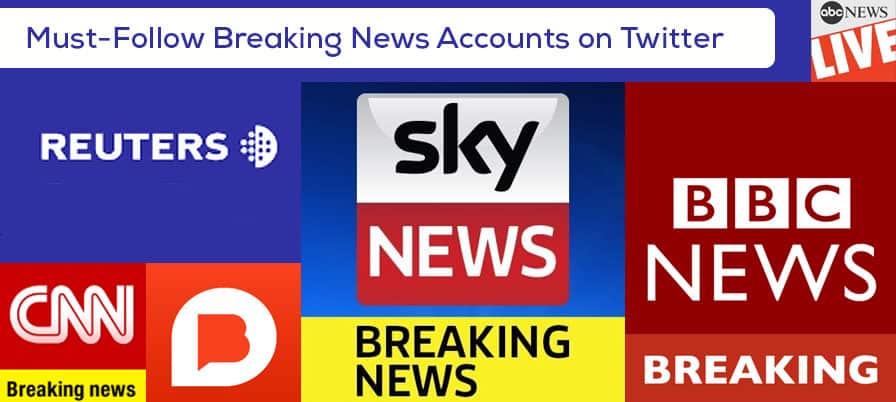 5. ABC News Live: Follow ABC News Live account for live updates from the ABC News team and breaking news alerts. You can follow on Twitter – @ABCNewsLive.
6. Reuters Live, you get a steady stream of "top stories" from around the world. You can follow Reuters Live on Twitter @ReutersLive.
7. Wall Street Journal Breaking News – If you wants to be updated on business and economics, what better way than to receive breaking news tweets from Wall Street Journal itself? You can follow "Wall Street Journal Breaking News" on Twitter @WSJbreakingnews.
8. Sky News Newsdesk, latest breaking news, direct from the Sky News team, and it has always delivered a strong worldwide coverage from their newsdesk. You can follow Sky News Newsdesk on Twitter @SkyNewsBreak.
9. AJELive, Qatar-based Al Jazeera English has a breaking news account. AJELive covers world news with an emphasis on news from the developing world. You can follow "AJELive" on twitter @AJELive.
**************
All of these are fantastic resources for staying updated with breaking news & stories. Of course, you can also follow us on Twitter @ceoworld – (because we rock).
Jessica Todd Swift is the deputy managing editor of the CEOWORLD magazine. She is a veteran business and tech blogger, journalist, and analyst. Jessica is responsible for overseeing newsroom assignments and publishing and providing support to the editor in chief.
Latest posts by Jessica Todd Swift
Leave a Reply