Despite rising China, the United States is still the pre-eminent power in the Asia Pacific region, according to an Australian think tank, Sydney-based Lowy Institute.
The United States was ranked No. 1 with a score of 85, enjoying a nearly 10-point lead over China, in second place with 75.5.
Japan, which took third place with 42.1 points, and fourth place India, with 41.5 — these two countries occupying the category of "Major Powers."
They were followed by "Middle Powers" including Russia, Australia, South Korea, Singapore, , Malaysia, Indonesia, Thailand, New Zealand, Vietnam, Pakistan, Taiwan, Philippines, and North Korea.
Malaysia and Indonesia rounded out the top ten most powerful Asian countries in the Asia Pacific region, while Nepal, Laos, Mongolia, Cambodia, and Sri Lanka sat at the bottom end of the ranking.
While Bangladesh, Brunei, Myanmar, Sri Lanka, Cambodia, Mongolia, Laos, and Nepal as "Minor Powers."
The league table — Asia Power Index 2018 ranked 25 nations in the Asia Pacific region and scored them on their level of influence. The 8 main rankings by which each country is measured are defense networks, cultural influence, diplomatic influence, economic resources, economic relationships, military capability, resilience and future trends
Top 25 Most Powerful Countries In The Asia-Pacific Region:
United States; Score: 85.0 (Super Power)
China; Score: 75.5 (Super Power)
Japan; Score: 42.1 (Major Powers)
India; Score: 41.5 (Major Powers)
Russia; Score: 33.3 (Middle Powers)
Australia; Score: 32.5 (Middle Powers)
South Korea; Score: 30.7 (Middle Powers)
Singapore; Score: 27.9 (Middle Powers)
Malaysia; Score: 20.6 (Middle Powers)
Indonesia; Score: 20.0 (Middle Powers)
Thailand; Score: 27.9 19.2 (Middle Powers)
New Zealand; Score: 18.9 (Middle Powers)
Vietnam; Score: 16.5 (Middle Powers)
Pakistan; Score: 15.1 (Middle Powers)
Taiwan; Score: 14.9 (Middle Powers)
Philippines; Score: 12.4 (Middle Powers)
North Korea; Score: 11.4 (Middle Powers)
Bangladesh; Score: 8.7 (Minor Powers)
Brunei; Score: 8.2 (Minor Powers)
Myanmar; Score: 7.6 (Minor Powers)
Sri Lanka; Score: 7.6 (Minor Powers)
Cambodia; Score: 6.1 (Minor Powers)
Mongolia; Score: 5.0 (Minor Powers)
Laos; Score: 24.8; Score: 27.9 (Minor Powers)
Nepal; Score: 3.1 (Minor Powers)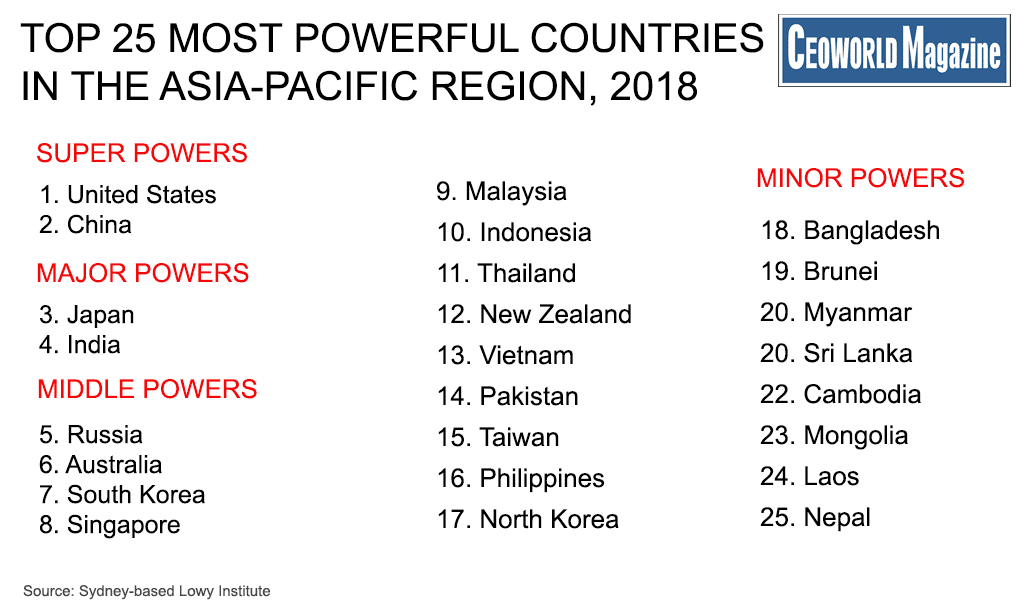 Dr. Amarendra Bhushan Dhiraj is the CEO and editorial director at CEOWORLD magazine, the leading global business magazine written strictly for CEOs, CFOs, top managers, company directors, investors, senior executives, business leaders, high net worth individuals, and the most globally powerful men and women.

Latest posts by Dr. Amarendra Bhushan Dhiraj
Leave a Reply
---