Iceland remains the most peaceful country in the world, according to the 2015 Global Peace Index (GPI), recently released by the Institute for Economics and Peace.
In search of peace? Maybe it's time to move to Nordic.
Denmark (came in second) was narrowly beaten by Iceland, while its other Nordic neighbors Finland, Sweden, and Norway all ranked in the top 20, taking the sixth, 13th and 17th spots respectively.
In comparison, Denmark's indexed score was 1.150 while Iceland's was 1.148.
Denmark also came in 2nd in the 2013 and 2014 reports, each time snapping at the heels of Iceland, which has been declared the world's most peaceful country each year since 2008.
According to the nonprofit Institute for Economics and Peace, 15 of the 20 most peaceful countries in the world are in Europe.
Top 20 most peaceful country in the world: 2015 ranking:
1. Iceland
2. Denmark
3. Austria
4. New Zealand
5. Switzerland
6. Finland
7. Canada
8. Japan
9. Australia
10. Czech Republic
11.Portugal
12. Ireland
13. Sweden
14. Belgium
15. Slovenia
16. Germany
17. Norway
18. Bhutan
19. Poland
20. Netherlands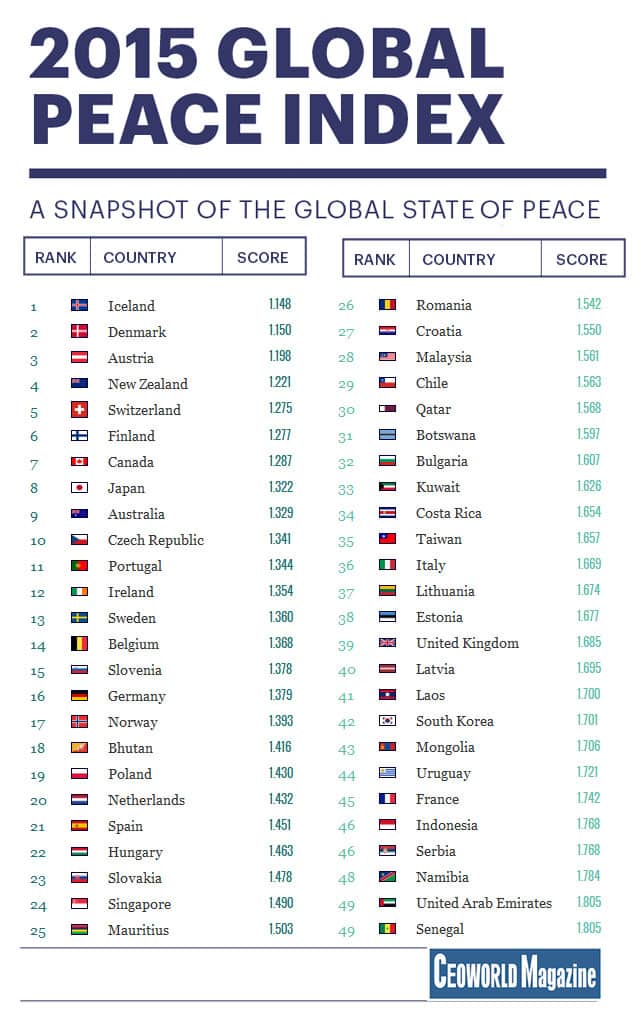 The Global Peace Index (GPI) comprises 23 indicators of the existence of violence or fear of violence, which include metrics such as the level of perceived criminality in the society, impact of terrorism, and military expenditure as percentage of the country's gross domestic product.

Dr. Amarendra Bhushan Dhiraj is the CEO and editorial director at CEOWORLD magazine, the leading global business magazine written strictly for CEOs, CFOs, top managers, company directors, investors, senior executives, business leaders, high net worth individuals, and the most globally powerful men and women.

Latest posts by Dr. Amarendra Bhushan Dhiraj
Leave a Reply
---