The headline should conjure memories of the well-known expression, "There's no I in team." While we all understand, literally speaking, that there is no letter I in the word team, it refers to the notion that it's about the team, not the individual. In an interview regarding his role as CEO of the INEOS 1:59 Challenge, Sir Dave Brailsford dispelled this idea by stating that there are plenty of I(s) on your team. Let me explain.
In the case of the INEOS 1:59 Challenge, the goal and the overall purpose were clear. 
Goal: Help world record holder Eliud Kipchoge run a marathon (26.2 miles/42.2k) in under two hours (a feat long thought impossible).
Purpose: Inspire the human family. (Achieving the goal was also designed to help people everywhere challenge their self-limiting beliefs and achieve new heights, no matter their vocation).
Because teams are comprised of individuals with their own values, priorities, and aspirations, Brailsford believed it was his responsibility to understand what they were for every team member. Rather than expect team members to simply comply with the team goal and purpose, he connected them with what truly mattered to each team member and, as a result, drove team engagement to new heights. He didn't aspire to create a shared purpose (one which often only achieves compliance); he sought to construct a connected one. Brailsford preserved the I in team and leveraged it to build a stronger overall unit.
AI as a Team Resource
Earlier this week, I had a virtual meeting with two of my favorite people, Chris Zhuang from Shanghai and Miguel (Mike) Dias from Porto. During our conversation, we talked about teams and the addition of Artificial Intelligence (AI). We quickly concluded that the quality of the team will continue to win the day for the foreseeable future. We compared it to giving any group of people a soccer ball or basketball. Both are easily accessible, yet the talent, hard work, ingenuity, and teamwork that come with being great at either sport are uniquely human endeavors. 
Having the ball or access to AI is not enough. It's what a team does with it that will matter most. Leveraging this new tool to the fullest will require employing Peernovation's Five Factors and their companion questions:
Do I have the

right people

on the team? Are they willing to embrace Artificial Intelligence for the powerful resource that it is?

Do they enjoy high levels of

psychological safety

? Will they feel free to learn and grow together and be willing to learn from mistakes, surface new ways of thinking, question current processes, and even challenge leaders for the sake of the organization's future? 

Are they committed to being truly productive? Are they willing to shed their self-limiting beliefs regarding the organization's capacity and future

productivity

?

Will their

accountability

to one another inspire them to bring their A-game daily? Will they have the courage to leverage their psychological safety and dare to achieve new heights?

Will the CEO and overall

leadership

team create an environment that will let their people soar?
Maximizing the potential of AI and what it could mean for your organization will require leaning into one of the most potent models practiced by today's highest-performing CEO Peer Advisory Groups and Forums – The Learning-Achieving Cycle.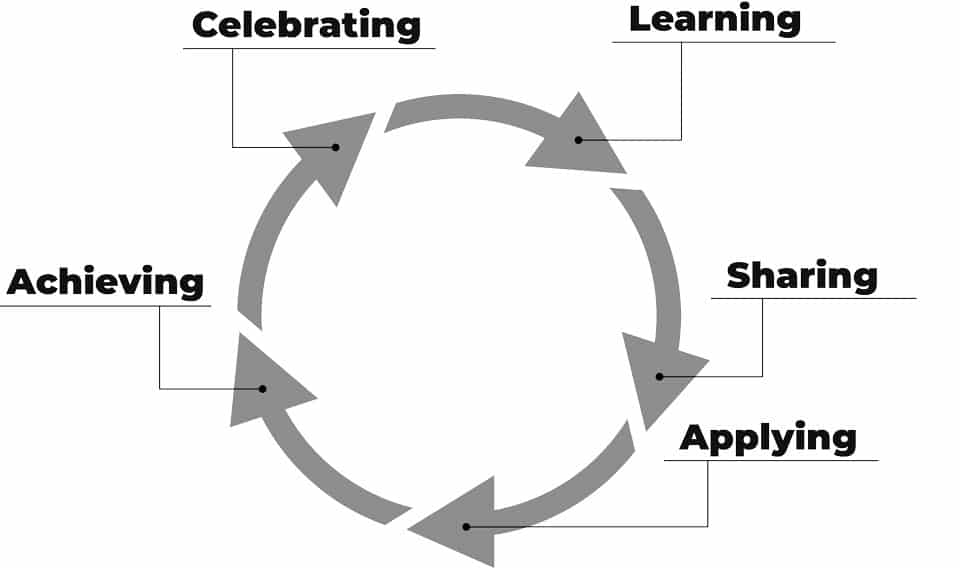 We learn better when we learn together. Upon sharing our learning, we encourage one another to apply what we learn (and using an iterative approach, fully embracing trial and error), achieve small wins, and celebrate each one along the way. The act of celebrating drives this reinforcing loop. The Learning-Achieving Cycle keeps the team focused on what it takes to be great. The results serve as everyone's reward.
Summary
The next time someone asks you if there is an I in team, I hope you respond by saying, "Absolutely." Then you can tell them about Sir Dave Brailsford and the remarkable story about how a team of I(s), in service of Eliud Kipchoge, broke a barrier most people thought impossible. If you're asked if there is an AI in team, consider replying, "There better be, or the team will struggle to survive." The time is now to take a hard look at AI and equip the team leading your organization into the future.
---
Written by Leo Bottary.
Have you read?
Top Women CEOs of America's largest public companies (2023 List).
CEOs Of The Top Footwear Companies You Should Know.
Top CEOs of the World's Largest Media Companies In 2023.
Best International High Schools In The World, 2023.
Revealed: The World's Best Airline CEOs, 2023.
---
Add CEOWORLD magazine to your Google News feed.
---
Follow CEOWORLD magazine headlines on:
Google News
,
LinkedIn
,
Twitter
, and
Facebook
.
---
Thank you for supporting our journalism. Subscribe here.
---
For media queries, please contact:
info@ceoworld.biz
---
Tags :
Chief Information Technology Officer Insider
Chief web officer Insider
De Facto Director Insider
Director of Human Empowerment Insider
Outside Director Insider
Senior Partner Insider