Top 10 World's Most Expensive Weddings Till Date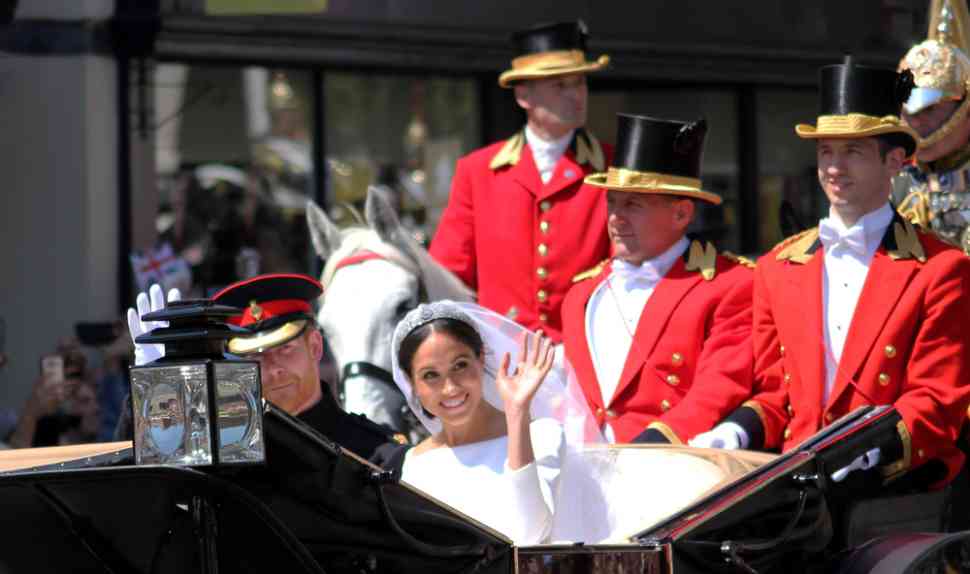 Prince Harry and Meghan Markle after the wedding
They say marriages are made in heaven. True, but for this once-in-a-lifetime celebration, many people are willing to spend a fortune. While in hindsight only a handful of people can afford such a lavish wedding, there are some public personalities for whom the sky is the limit.
So, here in the blog below, we will check out such names who have had the most extravagant wedding celebrations to date.
Prince Charles and Lady Diana
Net Cost: US$137 million
Also touted as the "Wedding of the Century", everything in Prince Charles and Lady Diana's marriage was dreamy. From her iconic dress that made a statement for years to come, to an estimated guest list of 3,500 people, this royal wedding can never be replicated.
Isha Ambani and Anand Piramal
Net Cost: US$100 million
The wedding of Isha Ambani and Anand Piramal is considered one of the most extravagant Indian weddings of all time. Although the marriage was graced by many notable celebrities and political figures, what took away the cake was the private Beyonce concert. Ambanis also donated food to feed 5,100 people which is a rare feat in weddings today.
Sushanto Roy and Seemanto Roy
Net Cost: US$ 75 million
Chairman of Sahara India Pariwar, Subrato Roy held a joint wedding for his sons back in 2004. The wedding was a spectacle in its realm as it was graced by 11,000 visitors and around 1,50,000 homeless people were also distributed food.
Vanisha Mittal and Amit Bhatia
Net Cost: $55 million
Another wedding that will be remembered for years to come is the union of Vanisha Mittal and Amit Bhatia. The celebration was so lavish that it made to the "Guinness Book of World Records". Everything right from cuisines, arrangements, and decorations was taken care of in the 6-days event at the Palace of Versailles.
Prince Harry and Meghan Markle
Net Cost: US$ 45.8 million
When Prince Harry and Meghan Markle decided to tie the nuptial knot, immediately everyone across the globe wanted to be a part of this royal affair. Just like his parents, the wedding went on to be one of the most sought-after affairs of the decade with a hefty sum going towards the security measures.
Priyanka Chopra and Nick Jonas
Net Cost: $40 million
Back in 2018, former Miss World Priyanka Chopra tied the knot with American Singer-Songwriter Nick Jonas. Reportedly the whole wedding took place at Taj Umaid Bhawan Palace and cost around $40 million for its lavish arrangements.
Prince William and Kate Middleton
Net Cost: US$34 million
It is yet another royal wedding to have made it on our list. The wedding ceremony of Prince William and Kate Middleton at Westminister Abbey in 2011 was attended by many noteworthy celebrities. An estimated amount of 24 million was spent on security measures and the rest 4 million was spent on flowers.
Virat Kohli and Anushka Sharma
Net Cost: $10 million
Many hearts were broken when Indian Cricketer Virat Kohli and Bollywood Actress Anushka Sharma decided to tie the knot. The couple went ahead to have a private ceremony in Tuscany with only near and dear ones attending the wedding. Both of them were adorned in gorgeous outfits and the cost of the entire ceremony came around $10 million.
Wayne Rooney and Coleen Mcloughlin
Net Cost: $8 million
Manchester United footballer Wayne Rooney and Coleen Mcloughlin are the last ones to feature on our list. The couple tied the knot in Villa Durazzo in an immaculate ceremony. With five private jets to transport the guests among other arrangements, the wedding ceremony cost 8 million dollars in total.