Coders, head over to these 5 universities for a bright future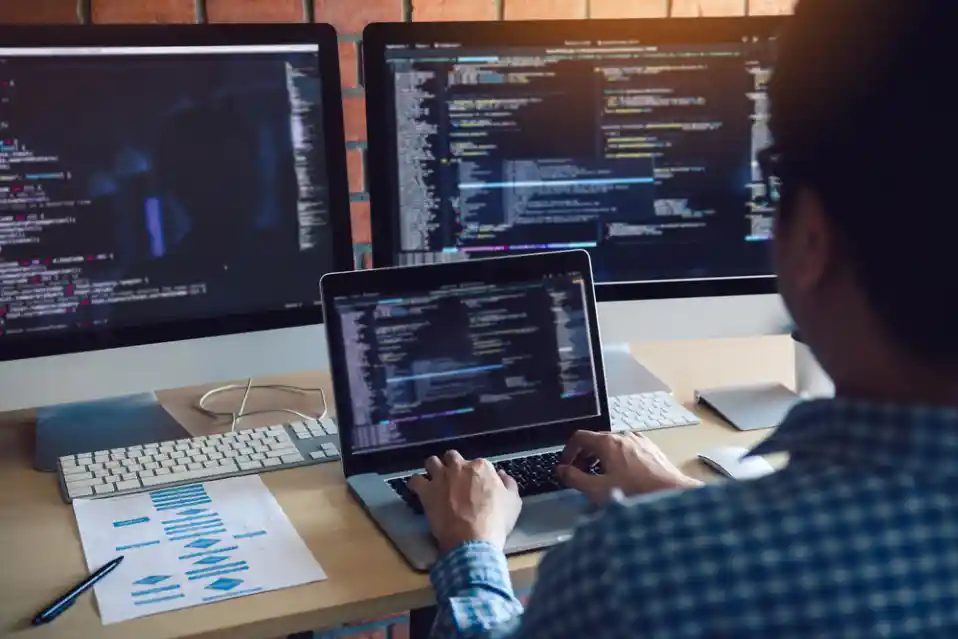 Man working on computer with multiple screens
The current pandemic has accelerated an already upwards trend, that of our work and life going digital. Everything that we do today can be done with the help of computers in a far better and efficient manner. The appreciation and credit all go to the hard work of coders and developers who make these things possible.
If you are one of them, a talented and creative coder, and are looking for educational opportunities to both hone and showcase your skills, then we have just the thing for you! In the present article, we will be talking about the top five universities that you can go to for making the most of your talent and earning a handsome salary in return.
Stanford University
Stanford has the oldest computer science department in the world. It was founded in 1965 and has since been helping the world advance to an even better place. The department takes the credit for leading the way in innovation and technology and pioneering many technological breakthroughs in the last couple of years. It is where the most talented minds go to graduate. Making the most of a given challenge is what the students of Stanford do, interning in Silicon Valley and looking for career opportunities at the same time. If you are interested, you will also get plenty of opportunities to start something of your own and contribute in your way to the betterment of the world.

Massachusetts Institute of Technology
MIT is one of those few institutions that don't need any introduction; you already know the pedigree that they boast of. Along with all other things, they also have the largest undergraduate program when it comes to computer engineering. MIT has intensive courses that make their students ready for any real-world challenge that might come up in their line of work. The college has often been consulted by major corporations when it comes to technological roadblocks. Its faculty is one of the most reputed in its field. MIT also has one of the largest labs when it comes to technology. Having access to such state-of-the-art equipment has allowed its students to build successful careers in computer engineering, as software developers, and even in bioengineering.

Princeton University
Another major figure in the field of education, Princeton is THE elite university when it comes to education. As far as coding goes, Princeton has always had the policy to make learning as independent and as immersive as possible. They allow you to take up multiple interdisciplinary subjects and customize your coursework to suit your individual need. As a graduate of Princeton, you have an ocean of opportunities in front of you. Major corporations from around the world will be lining up to work with you and offer you any compensation package that you desire. Or you can choose to further advance your knowledge by continuing down the path of education and becoming a successful researcher yourself.

University of California Berkeley
Berkeley has always had the focus on making its students ready not for the present but for anticipating the near future changes that may arise with the job. The course focuses on providing technical leadership skills and research skills alike for all of its students. The coursework allows the students to begin preparing an answer for these near-future situations while they are still at college. Artificial intelligence and its use for the local industries has been its long-term focus, this grateful attitude towards the local industry has earned Berkeley the trust and respect of local industries, something that has translated well in terms of its students finding internships.

Yale University
Yale University has managed to reimagine the course structure of its program by following the spirit of liberal studies. This approach offers their students the chance to pursue a second major on the backs of their computer engineering degrees. The liberal arts approach means that the students can be industry-ready for a number of opportunities. They have developed a unique niche skill set that can be applied individually to every field that they apply in. this highly collaborative approach is beneficial both for the industry and for the personal development of the students. Also, as a research university, Yale offers you opportunities if you want to enroll in a Ph.D. program.
Track Latest News Live on CEOWORLD magazine and get news updates from the United States and around the world. The views expressed are those of the author and are not necessarily those of the CEOWORLD magazine.
Follow CEOWORLD magazine headlines on:
Google News
,
LinkedIn
,
Twitter
, and
Facebook
.
Thank you for supporting our journalism. Subscribe here.
For media queries, please contact:
info@ceoworld.biz
Tags :
Chief web officer Insider
Deputy general manager Insider
Director Insider
Executive chairman Insider
Executive vice president Insider
Non Executive Chairman Insider
President Insider
Senior Vice President Insider