Most Expensive Heels Worn by Celebrities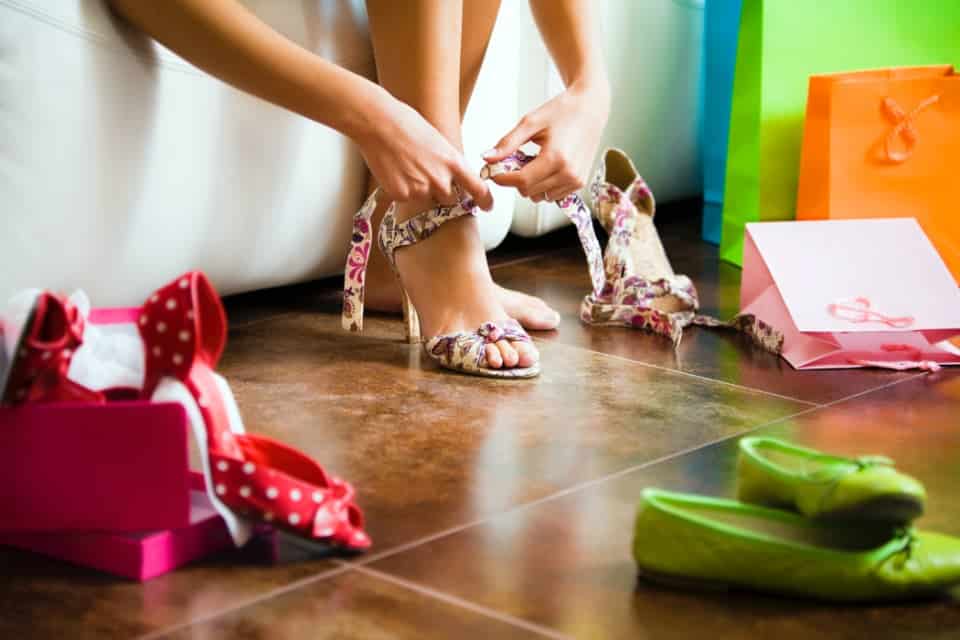 How much you would like to spend on a pair of high heels if you are a millionaire? Well, the general answer would be- it depends, maybe a few thousand dollars at max. Can you believe some celebrities spend even a million dollars on a single pair of outrageously designed high heels? What could be the reason to be unreasonable?
Attention, propaganda, or simply passion. Maybe a mix of all, just to ignite the hot wire of glamour circuit and be a buzz factor. Celebrities survive on sensation and spending millions on shoes could be just one of the ingredients of sensation soup. Anyway, whatever is the purpose but it is their right to spend big on cars, attire, meals, mansion, and whatnot.
Exclusivity is the key driving force and celebrities move heaven and earth to get that ultimate look; of course, heels are also one major component of that exclusivity. There is no doubt it takes time, energy, and effort in creating an exclusive piece, so it is not always about the price tag but the art and craftsmanship that goes in designing an exception. Here are some of the most expensive heels worn by celebrities in the recent past to help you understand the dynamism of powerful mobility for light, camera and, action.
Million Dollars Heels
The event was the 2002 Academy Awards and the lucky lady who wore the heel worth $1.09 million dollars was Laura Herring. The diamond-studded Stuart Weitzman Platinum Guild Stilettos gave her instant fame. You can imagine the craftsmanship in creating the wonder of using 464 sparkling diamond in a pair of shoes. If you go by the value of the diamond, then the price tag is definitely not high especially when the shoe had removable straps that could be used as a necklace.
Big Boi's Half Million Sports Shoes
Another in the club of expensive shoe maniac is Big Boi, an American rapper, songwriter, actor, and record producer, who is known for wearing diamond-studded shoes worth $50,000. Sounds little too much for a Nike Air Force 1 sneakers, but $13,000 worth diamond makes it Outkast. The good part is all proceeds from the sale went a charity foundation.
Not 1 Not 2, But $3 Million Shoes
Gasping? You are not wrong in your reaction; most of us also had the same reaction. And the award for wearing costliest shoe ever went to the privileged soul Rita Hayworth. American actress might have appeared in 61 Hollywood movies, but The Love Goddess will remain the history books for wearing Stuart Weitzman shoes worth $3 million. This toned-down brown colored stain shoe was studded with diamond, rubies, and sapphires.

Heels of Just $2 Million
The venue was once again the paradise of celebrities, the Academy Awards, and the happy feet that wore Cinderella Slippers worth $2 million was Alison Kraus. It was again from the bastion of Stuart Weitzman but this time count of dazzling stones was 565. That's not all the laces were made of platinum and this pair of shoes had 5-carat rare amaretto diamonds worth $1 million. However, you have to kiss the hands of the designer of this 4-inch high transparent heel.

Million Dollar Sneakers of Michael Jordan
Oops, this is not from the glamour world but from the sporting arena and the name is none other than Michael Jordan, the man with a net worth of $1.9 billion. Air Jordan 12's runner shoes are one of the most expensive ones with a price tag of $104, 765. If you follow the basketball closely, you must be aware of the "Flu Game" of 1997 NBA Playoffs when MJ scored 38 points despite suffering from high fever.
2 Million Dollar Tom Ford Shoes of Nick Cannon
This is another heel masterpiece made hardest material worn by Nick Cannon worn on the finale of the 2014 season on America's Got Talent.  Cannon, known for his passion for extreme luxury, invested $2 million for this custom made diamond-covered Tom Ford loafers. He has every right to flaunt the way he wants. Thanks to the designer who showed the world how to embed 14,000 full-cut diamonds of 340 carts in a shoe.
You can easily visualize the purpose and intent behind wearing this exorbitantly high-price heels and sneakers by celebrities. The outcome is simple, and that is the sensation-the lifeblood of celebrity life. Valuation is a tricky game,  however, it is the craftsmanship that needs to be highlighted and appreciated.
Track Latest News Live on CEOWORLD magazine and get news updates from the United States and around the world. The views expressed are those of the author and are not necessarily those of the CEOWORLD magazine.
Follow CEOWORLD magazine headlines on:
Google News
,
LinkedIn
,
Twitter
, and
Facebook
.
Thank you for supporting our journalism. Subscribe here.
For media queries, please contact:
info@ceoworld.biz