Best Chinos: Different Chinos For Different Occasions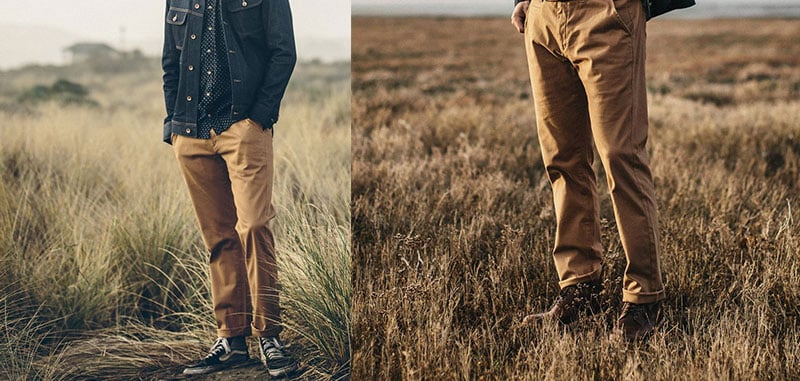 Fashion is evolving immensely not just for women but for men as well. It has reached far beyond just jeans and trousers. Chinos are the ultimate wear that every man and woman should own. Here, we have figured out various men's chinos for various occasions. These are highly versatile in respect of colors, occasions, accompanying 'top', and footwear for the same. They come in vibrant shades and cool prints such as geometric, polka dots, and strips. Go for a 5-pocket chino or a bright mustard chino, the choice is all yours, just pair them right and flaunt your style in your peer group.
So, whether you make for lunch, an evening party, a day out or any wedding, chinos can compliment you for a fantastic look. Chinos are pretty comfortable yet give you a classy look. Deciding the proper fit is equally important as selecting the appropriate color is.
Too tight or too billowing will be ill-suited, hence, to be avoided. Dwell to slim and straight-leg style for a cosmopolitan look.
As Semi-formal:
Chinos are more of semi-formal outfits. You can wear them on formal occasions provided that you pair them with formal shirts and shoes. Chinos made for formal attires are high waist and their stitching are hidden that makes you bring a smarter fit and that is quite unique. You can try for a tie, belt, and a blazer as well that renders you a proper formal look. Adhere to dress shoes for a polished look. But if your workplace is restrictive regarding the dress code, then you shall avoid the same. Go for colors like brown, black and navy in such cases.
At Casual Events
Chinos are the ideal pants for that smart casual look. These don't fail to make you look dexterous and feel relaxed at the same time. Accompany your chinos with a t-shirt or a short-sleeved shirt. As far as footwear is concerned, opt for sneakers, loafers or boots, the obvious reason being too casual (like flip-flops) and too formal (like lace-ups) will ruin your desired look. So, if you are thinking for a day out, just pull up your chinos with your favorite tee and sneakers, and just stroll down the streets.
Cocktail Events
If you are bored of those suits at the cocktail parties, you can opt for this fallback. Just make a great pairing and you are all set for the event. A white shirt (obviously tucked in) with a trendy ice-blue blazer (with or without a tie- that is totally up to you) and loafers are a great match for any of such events. You will undoubtedly steal the show and look different from the crowd.
For those 'Fashion-forward' events
There are times when you don't have to dress up as formal and not even as casual. If you want to gift yourself a more 'fashion-forward' look, then you can opt for chinos of your favorite color with a slim fit shirt. These are an unbeatable option for fashion. In such cases, you can pair your chinos with boots or boat shoes.
Choose chinos as per your physique, there are low waist chinos, upper fit ones, and tapered ones. They look amazing as business casuals, smart in-formals and are quick to go option. You can just mix and match your polo t-shirts, half-sleeve shirts or formal shirts as per the event.
Don't forget those cool sneakers or loafers to team these cool pants with. Whoever says- Fashion is only for women, these tips will prove that men can look different and stylish on several occasions.
What's the Best Pair of Chinos for You?
1. Ralph Lauren Eaton Cotton-Blend Twill Trousers, $450.
2. Slowear Slim-Fit Trousers, $340.
3. Uniqlo Flat Front Slim Fit Pants, $39.90.
4. Save Khaki Easy Chino, $120.
5. Polo Ralph Lauren Yale Brixton Pants, $148.
6. Acne Clean Trousers, $220.
7. Brunello Cucinelli Flat Front Cargo Pants, $95.
8. Taylor Stitch The Slim Chino in Organic British Khaki, $98.00
9. Flint and Tinder 365 Pant – Slim, $98.00
10. Dockers Alpha Khakis, $54.99.
---
Have you reaDd?
# Top 500 Best Universities In The World For 2019.
# World's Top 50 Universities For Medicine And Health Science Degrees, 2019.
# World's Top 50 Universities For Life Science Degrees, 2019.
# World's Top 50 Universities For Physical Science Degrees, 2019.
# World's Top 50 Universities For Psychology Degrees, 2019.
---
Add CEOWORLD magazine to your Google News feed.
---
Follow CEOWORLD magazine headlines on:
Google News
,
LinkedIn
,
Twitter
, and
Facebook
.
---
Thank you for supporting our journalism. Subscribe here.
---
For media queries, please contact:
info@ceoworld.biz
---