8 Countries That Beat The United States in A Ranking Of The World's Most Beautiful
Just in case you were curious who ended up beating the United States, in a ranking of the most beautiful countries in the entire world for 2019.
Scotland has recently Ranked #1 most beautiful countries in the whole world in a new ranking released by Rough Guides, Canada ranked #2. New Zealand took the #3 spot on the list, followed by Italy, South Africa, Indonesia, England, and Iceland.
The United States was named the 9th most country in the world, beating out several popular destinations like India, Switzerland, Norway, and Ireland.
Although it took 9th place on the list, Americans know that their country is the most beautiful place of all.
Here's the entire list of "The Most Beautiful Countries in the World"
Scotland
Canada
New Zealand
Italy
South Africa
Indonesia
England
Iceland
United States
Wales
Slovenia
Mexico
India
Finland
Switzerland
Peru
Norway
Ireland
Croatia
Vietnam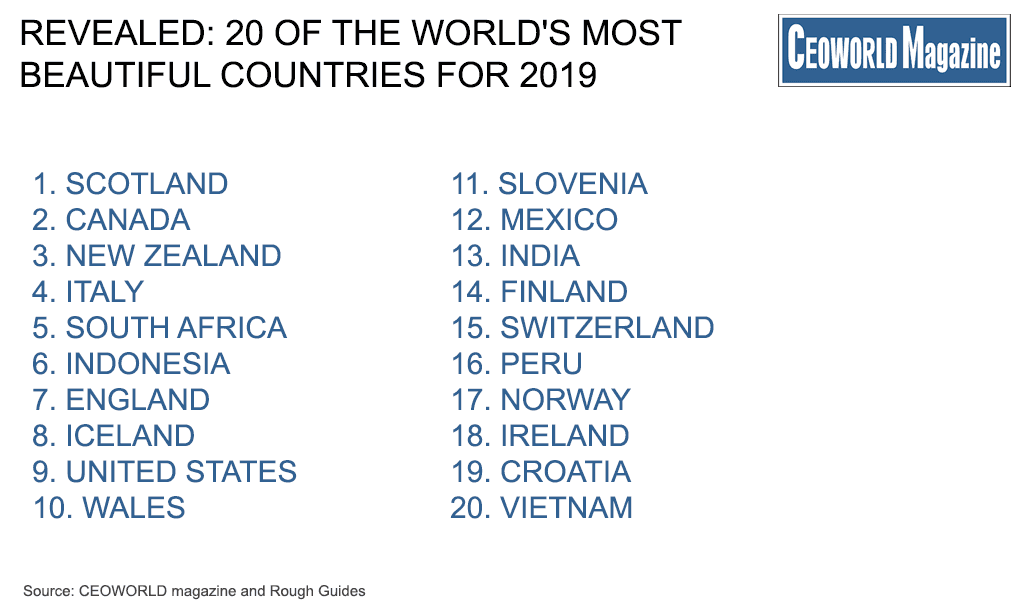 Track Latest News Live on CEOWORLD magazine and get news updates from the United States and around the world. The views expressed are those of the author and are not necessarily those of the CEOWORLD magazine.
Follow CEOWORLD magazine headlines on:
Google News
,
LinkedIn
,
Twitter
, and
Facebook
.
Thank you for supporting our journalism. Subscribe here.
For media queries, please contact:
info@ceoworld.biz