Top 20 Highest-Grossing Rock And Pop Tours Of 2017; U2, Guns N' Roses, Coldplay, and Bruno Mars Tops
Irish band U2 topped the list with the band's massive 30th anniversary tour for The Joshua Tree album, which raked in $316 million, according to Pollstar's top 20 worldwide tours of 2017. Guns N' Roses came in a close 2nd, pulling $292.5 million with 2.68 million tickets sold.
British band Coldplay took 3rd place with $238 million, followed by Bruno Mars, who pulled into the 4th slot with $200.1 million in ticket revenues for 2017.
In 11th place, my favourite, Celine Dion was the highest-ranking female artist on the list, pulling in $101.2 million
Top 20 worldwide tours of 2017:
U2, 316 million
Guns N' Roses, $292.5 million
Coldplay, $238 million
Bruno Mars, $200.1 million
Metallica, $152.8 million
Depeche Mode, $141.1 million
Paul McCartney, $132 million
Ed Sheeran, $124.1 million
The Rolling Stones, $120 million
Garth Brooks, $101.4 million
Celine Dion, $101.2 million
Justin Bieber, $93.7 million
Roger Waters, $92.1 million
Bruce Springsteen, $87.8 million
Lady Gaga, $85.7 million
Billy Joel, $82.3 million
The Weeknd, $80 million
Tim McGraw / Faith Hill, $79.3 million
Red Hot Chili Peppers, $73.5 million
Ariana Grande, $99.2 million
Top 20 worldwide tours of 2017 [Infographic ]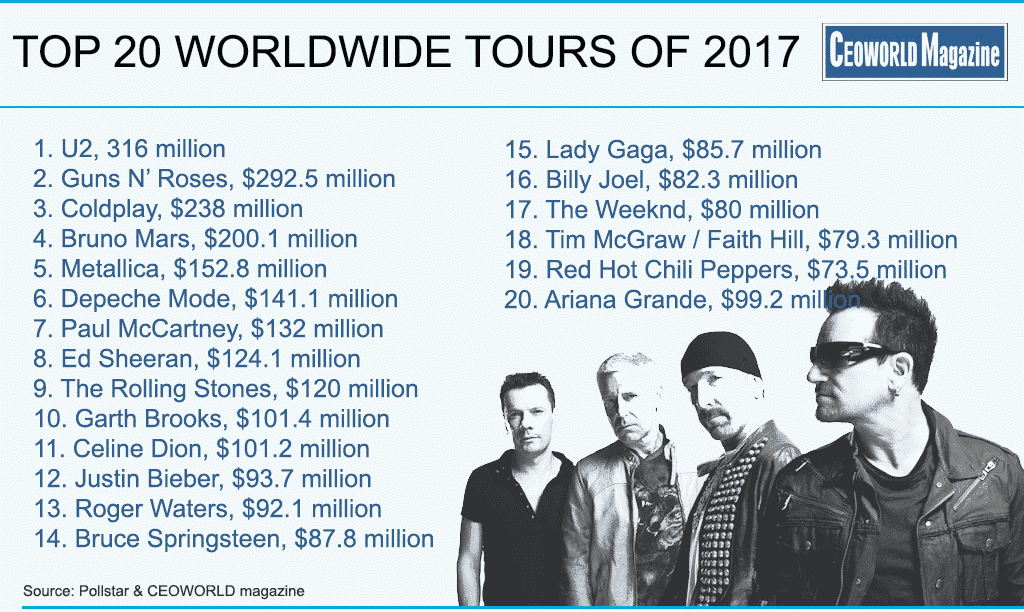 Dr. Amarendra Bhushan Dhiraj is the CEO and editorial director at CEOWORLD magazine, the leading global business magazine written strictly for CEOs, CFOs, top managers, company directors, investors, senior executives, business leaders, high net worth individuals, and the most globally powerful men and women.
Latest posts by Dr. Amarendra Bhushan Dhiraj
Leave a Reply