Who Are The Biggest Arms Producing Companies In The World, 2017 [Infographic]?
Lockheed Martin tops the list of the 20 biggest arms producers and military service companies worldwide, with $40 billion worth of arms sales in 2016, according to the report published by the Stockholm International Peace Research Institute.
American companies dominate the list.
The world's top 20 biggest arms producing and military services companies:
1. Lockheed Martin, US
Arms sales in 2016: $40.83 billion
Number of employees: 97,000
2. Boeing, US
Arms sales in 2016: $29.51 billion
Number of employees: 150,500
3. Raytheon, US
Arms sales in 2016: $22.91 billion
Number of employees: 63,000
4. BAE Systems, UK
Arms sales in 2016: $22.79 billion
Number of employees: 83,000
5. Northrop Grumman, US
Arms sales in 2016: $21.40 billion
Number of employees: 67,000
6. General Dynamics, US
Arms sales in 2016: $19.23 billion
Number of employees: 98,800
7. Airbus, France
Arms sales in 2016: $12.52 billion
Number of employees: 133,780
8. BAE Systems Inc., US
Arms sales in 2016: $9.30 billion
Number of employees: 29,500
9. L-3 Communications, US
Arms sales in 2016: $8.89 billion
Number of employees: 38,000
10. Leonardo S.p.A. (Finmeccanica), Italy
Arms sales in 2016: $8.50 billion
Number of employees: 45,630
11. Thales, France
Arms sales in 2016: $8.17 billion
Number of employees: 64,100
12. United Technologies, US
Arms sales in 2016: $6.87 billion
Number of employees: 201,600
13. Huntington Ingalls Industries, US
Arms sales in 2016: $6.72 billion
Number of employees: 37,000
14. United Aircraft Corp, Russia
Arms sales in 2016: $5.16 billion
Number of employees: 100,000
15. Bechtel Corp, US
Arms sales in 2016: $4.92 billion
Number of employees: 53,000
16. Textron, US
Arms sales in 2016: $4.76 billion
Number of employees: 36,000
17. Pratt & Whitney, US
Arms sales in 2016: $4.53 billion
Number of employees: 35,100
18. Rolls-Royce, UK
Arms sales in 2016: $4.45 billion
Number of employees: 45,900
19. Leidos, US
Arms sales in 2016: $4.3 billion
Number of employees: 32,000
20. Harris Corp, US
Arms sales in 2016: $4.2 billion
Number of employees: 17,000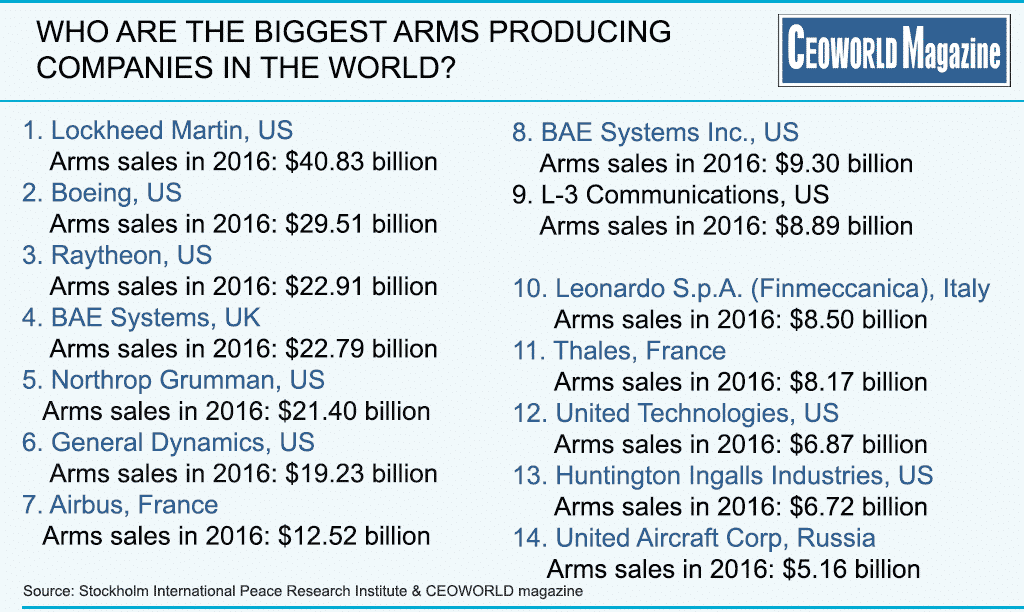 Here's a look at the breakdown by country – share of arms sales of companies in the SIPRI Top 100 for 2016: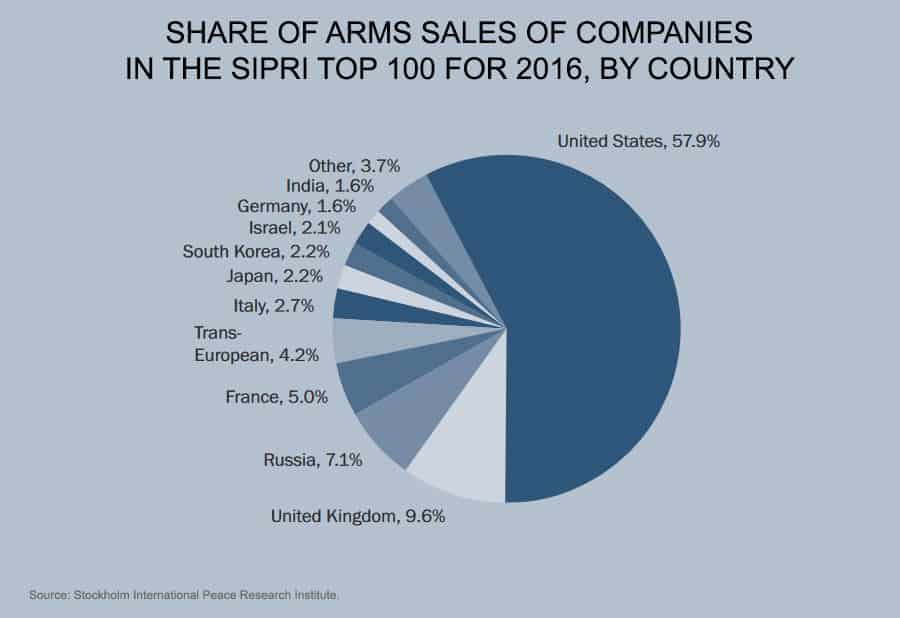 Note: Chinese companies are excluded because of "the methodological difficulties posed by the lack of transparency about China's arms sales."