For nearly 15 consecutive years, Gisele Bundchen held the number 1 spot as the world's highest paid supermodel. Kendall Jenner, half-sister of Kim Kardashian-West, has knocked Gisele off the top spot for the first time since 2002, bringing in $22 million, as compared to Bundchen's $17.5 million, according to Forbes.
The Keeping Up With the Kardashians star, Kendall Jenner is the top-earning supermodel of 2017!
With $6 million in earnings, Bella Hadid also made her debut appearance on the list – landing her in the 9th spot.
Her sister Supermodel Gigi Hadid made the cut for the 2nd year in a row, with $9.5 million in earnings placing her at number 5. Adriana Lima took the 4th spot, earning $10.5 million.
And coming in at No. 10 on the list is model Ashley Graham, who earned $5.5 million this year.
The World's Highest-Paid Supermodels For 2017
Kendall Jenner: $22 million
Gisele Bundchen: $17.5 million
Chrissy Teigen: $13.5 million
Adriana Lima: $10.5 million
Gigi Hadid: $9.5 million (tie)
Rosie Huntington-Whiteley: $9.5 million (tie)
Karlie Kloss: $9 million
Liu We: $6.5 million
Bella Hadid: $6 million
Ashley Graham: $5.5 million
The World's Highest-Paid Supermodels For 2017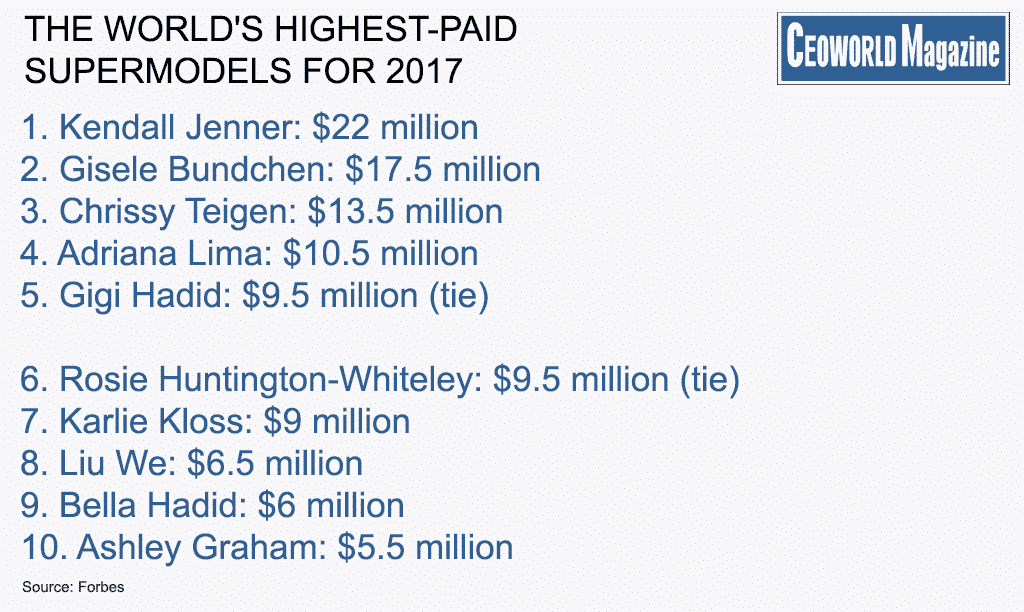 Leave a Reply