Paradise Road Tintagel – Not your typical Colombo!
When you visit Colombo for the fourth time, you know you must bypass the commercial sightseeing to explore more of the city's hidden jewels. So on my recent trip, I journeyed across Paradise Road, one of Colombo's trendiest neighborhoods, to visit Udayshanth Fernando's contemporary Gallery Cafe and Tintagel, a characteristic 10-suite boutique hotel.
While the Paradise Road Gallery Cafe revealed some of the unusual souvenirs and homewares one can purchase in Colombo; at Tintagel, I walked into a stately arrangement of monochromic color themes, featuring elaborate flower arrangements and striking Sri Lankan modern art by renowned local artists.
After navigating traffic circles and winding streets, the chauffeur arrived at the Tintagel Colombo, my high tea venue for the evening. This historic mansion from the colonial era has now been turned into a hotel. Dilruk Salgado, the resident manager, took it upon himself to familiarise me with the building's colourful heritage.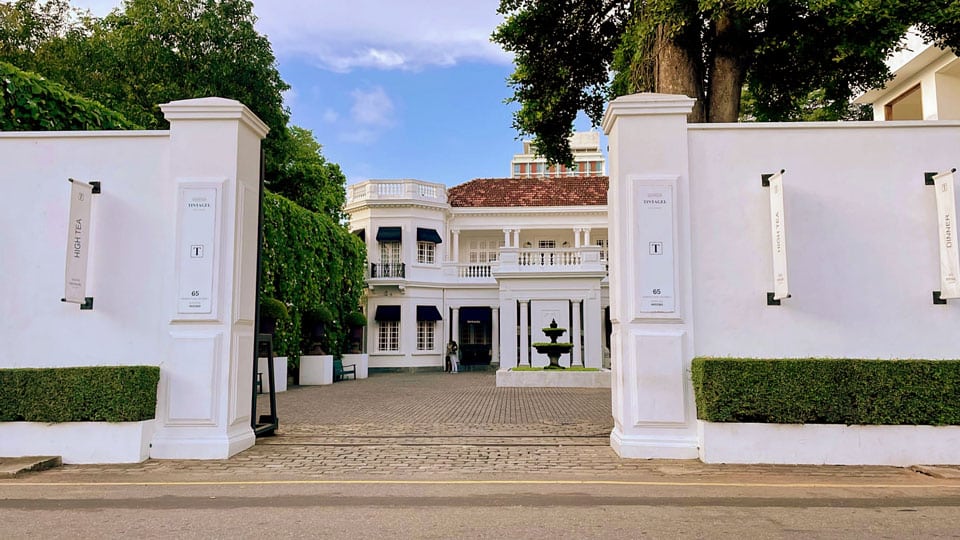 The Tintagel was initially a private home when it was built in 1930. The house was taken over by the British military during the 1940s freedom wrangle and afterwards sold to one of Sri Lanka's most illustrious post-independence families. The world's first female prime minister and the nation's first female president both descended from that family. The family didn't lease the house to Shanth Fernando until 2005 when he converted it into one of the city's most distinctive boutique hotels.
Today, I was here to enjoy the signature high tea, and I, have to admit that the property instantly carts you back to the period when it accommodated many political leaders and even hosted royalty Prince Charles and dutchess Camilla in 2013. Perhaps it's the property's general serenity, or perhaps it's the political secrets that are hidden beyond the walls. Beyond the walls, I couldn't help but get awed by the Vietnamese black lacquer tables, Flemish chandeliers, life-size sculptures overlooking the expansive pool, and a French château mirror in the Red Bar with the same whimsical design as Udayshanth Fernando's neighbouring Paradise Road Gallery.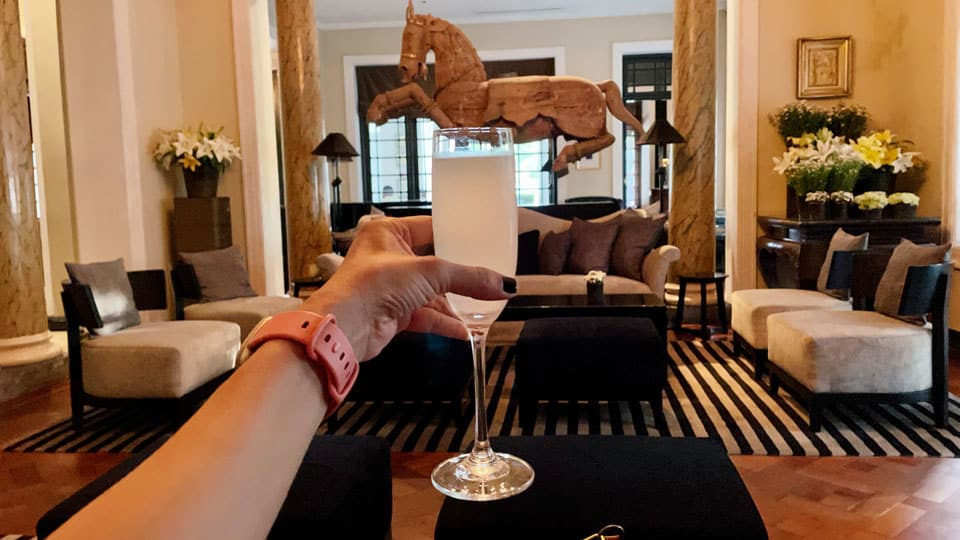 This stunning hideaway, which only has 10 suites on display, is hidden behind towering walls of lavender vines. Fernando's wanderlust-inspired keepsakes adorn the suites with high ceilings that are tastefully equipped with high ceilings, wooden flooring, and a distinctive combination of colour and ambience. Most suites are coated in black, off-white tusk, dark lime, red with a slightly orange tinge, and beige-coloured Paradise Road stripes. Beds are mosquito netting clad, and bathrooms have bathtubs and bathrobes. My personal favourite is the enormous Royal suite that is elegantly embellished apiece, with a separate lounge, mosaic tiled bathroom, and front balcony. Or take the ground-floor North West Suite, next to the pool which features a private courtyard with a plunge pool.
All of the suites have a private sitting area separated from the rest of the room and a balcony, making them ideal for any traveller looking for luxury and seclusion. In restaurants, the trompe l'oeil ceiling draws nearly as many visitors as the menu, which ranges from spicy Sri Lankan Mud Crab soup to grilled sirloin steak to Lankan rice and cashew nut curry.
You can't go wrong with any of the desserts, but my favourites are the carrot and pineapple cake with lime and cream cheese frosting and the paradise road chocolate cake. Breakfast is offered in a magnificent Courtyard restaurant by hospitable waitstaff, who is also Sri Lanka's most stylish. They also have a modest gym, a courtyard lap pool, and a marvellously baroscopic library with shelves stacked high with leather-bound classics. I was able to experience Sri Lankan culture firsthand thanks to my trip to the Tintagel, and I also learnt about the history of the nation and how its residents are bringing it into the present.
In low season, double rooms start at US$311 (£245); in peak season, they start at US$341 (£268). Included is breakfast. Free WiFi. The Galle Face Green, National Museum, and House Number 11 (residence of architect Geoffrey Bawa) are all accessible from here in under 10 minutes. Take a Tuk-Tuk or an Uber to get around.
---
Veidehi Gite reports about her recent visit to Sri Lanka, where she visited Udayshanth Fernando's outstanding Gallery store and 10-suite boutique hotel in Colombo's trendiest neighborhoods. Its contemporary interiors in the monochromatic color palette, lavish floral arrangements, and striking Sri Lankan modern art by notable local artists will have your heart.
Have you read?
Best Business Schools In The World For 2022.
Best Fashion Schools In The World For 2022.
Best Hospitality And Hotel Management Schools In The World For 2022.
Best Medical Schools In The World For 2022.
The World's Best Universities For Doctor of Business Administration (DBA), 2022.

---
Add CEOWORLD magazine to your Google News feed.
---
Follow CEOWORLD magazine headlines on:
Google News
,
LinkedIn
,
Twitter
, and
Facebook
.
---
Thank you for supporting our journalism. Subscribe here.
---
For media queries, please contact:
info@ceoworld.biz
---
Tags :
C-Suite Leaders Insider
Chief Health Officer Insider
Corporate Directors Insider
Economics Insider
Money Managers Insider
Policy Insider
Sri Lanka Insider