An exclusive interview with Sandro Mur, CEO of Bellabeat
Sandro Mur, CEO of Bellabeat
I had the pleasure of chatting with Bellabeat CEO Sandro Mur earlier this week.
Q: What is your favorite part of being an entrepreneur?
Sandro Mur: I don't have a favorite part of being an entrepreneur; it's never easy to forge an unknown path. So I don't have a favorite part yet, but what I can recognize is that being an entrepreneur is making me a better person. I can honestly say that it is teaching me new and improved ways of how to co-work and co-exist with other people each day.
Q: What is the main reason you decided to begin a company that focuses on the health needs of women?
Sandro Mur: My mother and my grandmother were business-oriented and progressive women. I grew up looking at them and later on thinking how women are so much more interesting and complex than us men in every way possible. It was also glaringly evident that women are much more neglected when it comes to tech products.
We decided to create a brand that develops tech-driven products focusing on the female user. We now have a whole ecosystem of connected products and digital experiences designed to help women track and improve their physical and mental health.
Although some of our products are technologically similar to competing products, our application, data processing algorithms, and product appearance are tailored to women's health and lifestyle. The unique feature of our products is that they are completely tailored to the female user, which could mean as many as 4 billion women worldwide at some point. In addition, women are 75% more interested in technological products to monitor and improve health.
Q: What are some of the challenges that you have faced as a business owner? How did you handle them or overcome the hurdles?
Sandro Mur: I think that the biggest challenge is success and scalability. Success is built through so many parameters; there are many crossroads when building a business to make a solid decision and select a growth path. It can be challenging to choose just one field or direct path you need to focus on. Also, it is hard and seemingly impossible to be efficient on all fronts. What is most important at the beginning and during your journey is to choose a part of your company that you need to focus on, double down on that area, and make it work. For additional focus areas, it's essential to have a strong team for various elements surrounding you. As a business owner, I always look at the big picture.
How do I handle or overcome those hurdles? I'm honest, and like many entrepreneurs, particularly in the face of recent worldwide supply chain developments, I'm still struggling with it—some days with more success and some days with less. However, the beauty of being an entrepreneur is that those days make our winning season much more beautiful when it occurs.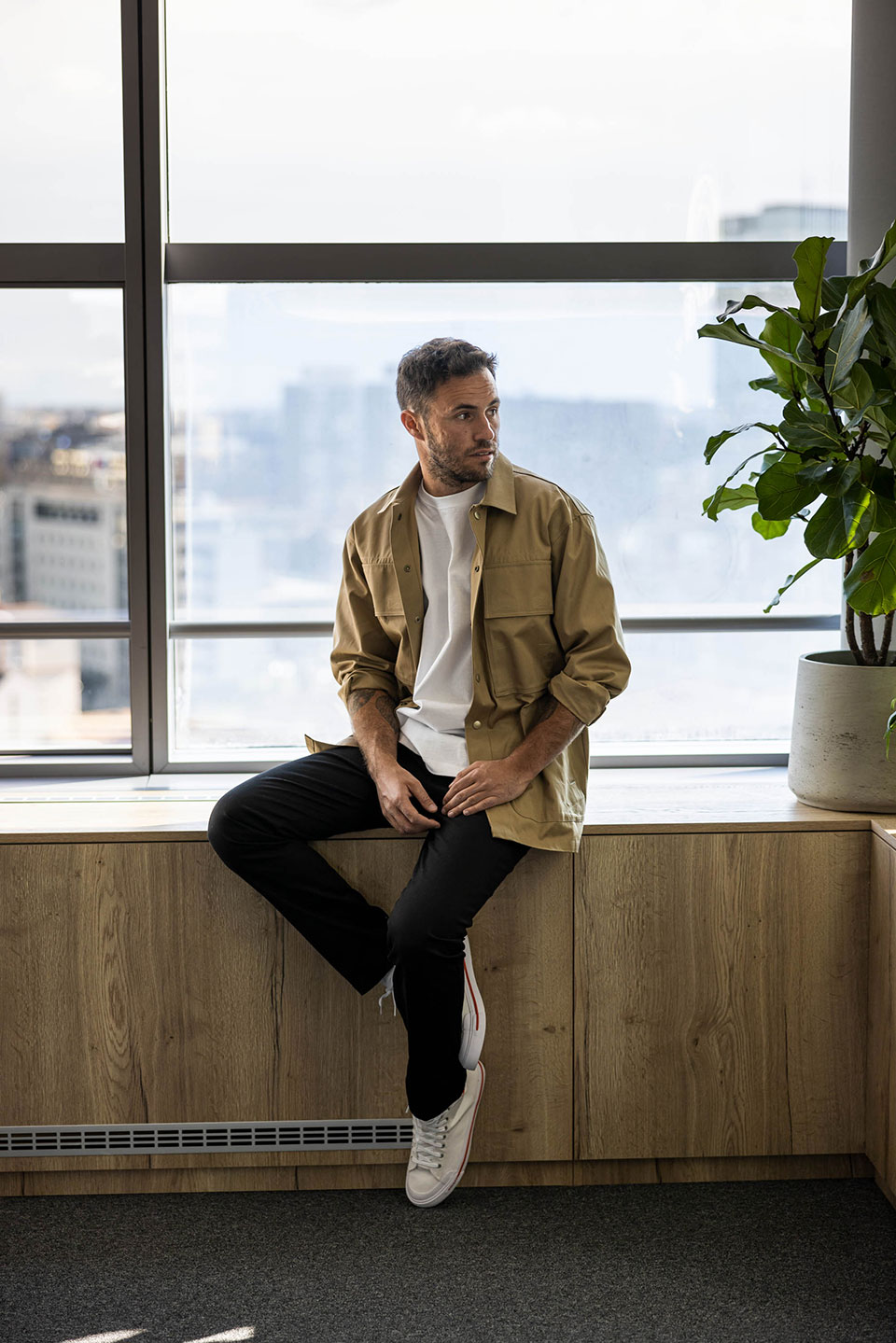 Q: What were the first two years like when you decided to launch Bellabeat?
Sandro Mur: The first two years of any business are really like a honeymoon phase. Everything is picture-perfect. Enthusiasm is at the top level, and so is your confidence. Once you start to dig into the operational phase,  is when you begin to see the in-depth picture. Being an integral part of a business takes a lot of work and dedication. Around the end of the two-year mark was when that adrenaline rush went down, all the insecurities and fears kicked in. That's when I knew we were really in it. When it was real, since it's been nothing but fast growth and each growth phase presents its own challenges; however, it's an exciting journey.
Q: How is it working with a Co-Founder?
Sandro Mur: Having a co-founder is a balancing act. Two personalities and visions Coe together to create something genuinely terrific. I am lucky that my Co-Founder Urska Srśen has as much skin in the game as I do. We share the responsibilities. I can be sure that she is always working in my and our company's best interest. We can both be sure that we are consistently choosing the best direction for our company.
Q: What are your responsibilities/roles in the business, and how do you split them with your Co-Founder?
Sandro Mur: I deal with financing, strategy, and growth, while co-founder Urška Sršen deals with design and products.
Q: Tell us a bit about obtaining financing for Bellabeat and what that process looked like
Sandro Mur: Bellabeat receives funds from income, technology licensing, and venture capital. We use those funds for faster growth and more inventory, while funds from income and licensing are used for technology and employees.
Q: Where do you see Bellabeat in 5 years?
Sandro Mur: In 5 years, I see Bellabeat as a prestigious wellness brand.
Q: Please include your age
Sandro Mur: 33
---
Bellabeat Ivy
The new 
Bellabeat Ivy retails for $249 and 
comes in 4 different colors, and is always a hit as the perfect gift. 
Where health and wellness wearables are concerned 
there are two truly differentiating factors for the Bellabeat Ivy:
It's made specifically for women.
So it's very different in the fact that it's the perfect piece of gift for a new mom, someone tracking their fertility, a new teen who has just gotten her period and is learning to track it, etc. It's also great for women going through menopause to really get a handle on symptoms etc.
There is no other elegant smart bracelet.
Bye-bye bulky wearables. it's simply a gorgeous piece. When I wear mine I receive so many compliments. It feels like a luxe piece of jewelry.
It has such a wealth of wellness features that it's superb for that gym/yoga obsessed or health-conscious girlfriend.
FEATURE OVERVIEW
Elegantly Designed: Among health and fitness trackers, Ivy stands out with a fashionable, edgy look that can match any style. With no display, Ivy's non-intrusive design keeps your data private and visible only when you sync it with the Bellabeat app.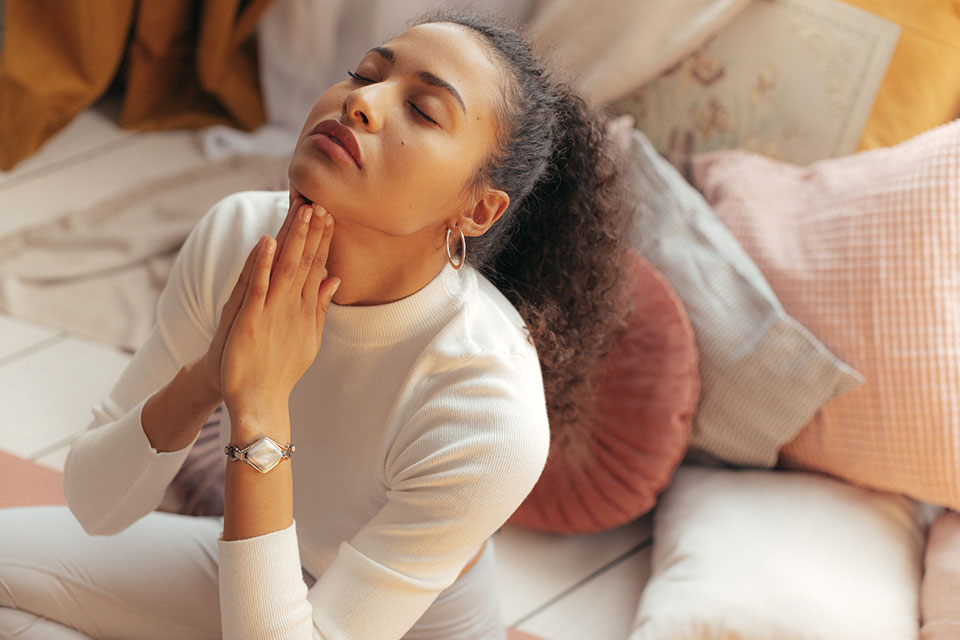 Know Your Readiness Score Each Day For 2022
Are you all set to go out and smash your goals, or do you need to slow down and shorten your to-do list? Ivy will tell you. Imagine replacing your hectic morning with a new, data-powered ritual that helps you plan the day in total sync with your body. While you sleep at night and your body is in its calmest state, Ivy measures your resting heart rate, respiratory rate, and cardiac coherence.
Why those parameters? Because they reveal your bio-response to recent activities, stress, and emotions. In the morning, when synced with the Bellabeat app, Ivy calculates your readiness score – how ready you are for the day on a scale from 0 to 100.
Your Self-Care Amplified
How you spend your day matters. Ivy monitors your activity, sleep, meditation, menstrual cycle, and hydration log and compares it to standards that are measured on women like you!
At the end of the day, your lifestyle data is processed into your wellness score, showing how well you are taking care of yourself. The more you drink water, exercise, or meditate, the higher the score. Ivy is the wellness assistant that cheers for you and motivates you to do your best.
Track your heart rate 24/7
Discover your stress response and reach your goals in the number of steps, active minutes, and calories burnt. Ivy monitors your heart rate (HR) and activities to help you make healthier choices.
Active Heart Rate
Steps
Active Minutes
Calorie Burn
Fast Charging: Recharges in 90 mins, lasts up to 8 days. In the world of wearables, Ivy's battery life exceeds all screen-based trackers by ten times! Its battery also lives two times longer compared to other no-display trackers.
Unmatched Cycle Tracking: How much do you know about the 'fifth vital sign'? Ivy helps you to sync with your body and discover its natural wisdom by correlating your biometric and lifestyle data to the four phases of the menstrual cycle. Ivy helps you tune in with your body's rhythm and track your period, ovulation, pregnancy, or birth control. Monitor your changes in the menstrual cycle, log symptoms, and even predict issues before they appear.
The Ivy is truly terrific for new moms, women working to get a handle on postpartum symptoms as well as women who need a better handle on recurring symptoms during each menstrual cycle + reproductive health.
It Comes With "The Coach"
With Ivy, women automatically receive a complimentary Coach Premium membership that works as your guide, based on expert support and Bellabeat's medical board that is standing behind all the content in the app that is developed in sync with the women's cycle. The Coach incorporates the woman's monthly cycle as an umbrella for its insights and Coach recommendations closely track the period cycle to provide personalized holistic wellness content. This means that there is finally a Coach that can suggest to women what to eat, exercise, or what meditation to practice for each stage of our cycle.
The App Provides over 30 Sleep Meditations
Sleep meditations are the most common remedy for sleep problems. They help your body transition to sleep easier and raise your chances of entering the deep sleep stage. In the Bellabeat app, you can find more than 30 sleep meditations that can help you relax and unwind. Each meditation tracks within your connected Ivy and will tell you daily how well you are doing with stress levels and more.
Have you read?
# Best CEOs In the World Of 2022.
# TOP Citizenship by Investment Programs, 2022.
# Top Residence by Investment Programs, 2022.
# Global Passport Ranking, 2022.
# The World's Richest People (Top 100 Billionaires, 2022).
# Jamie Dimon: The World's Most Powerful Banker.
---
Add CEOWORLD magazine to your Google News feed.
---
Follow CEOWORLD magazine headlines on:
Google News
,
LinkedIn
,
Twitter
, and
Facebook
.
---
Thank you for supporting our journalism. Subscribe here.
---
For media queries, please contact:
info@ceoworld.biz
---
Tags :
Billionaire Insider
Billionaires Insider
Capitalist Insider
Centimillionaires Insider
Economics Insider
Hectomillionaire Insider
High Net Worth individuals Insider
Millionaire Insider
Millionaires Insider
Money Insider
Ultra High Net Worth individuals Insider
Wealth Manager Insider