10 Most Expensive Desserts In The World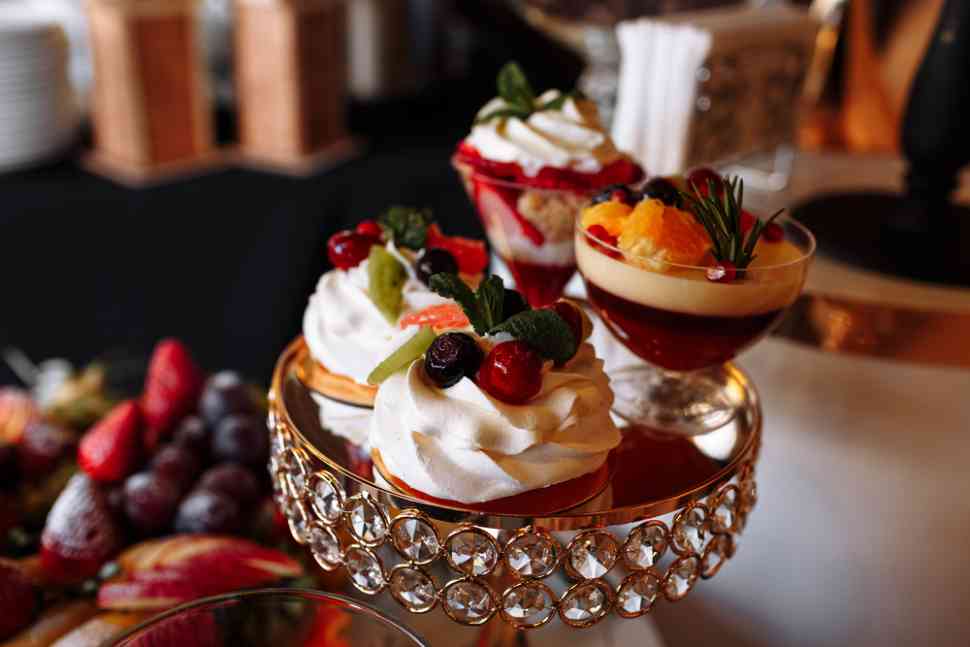 Combination of decorated desserts
Desserts not only enhance the mood but also act as a sweet climax to every meal. However, with the evolution of taste today, desserts have become rather common to indulge in. Thus for all those with a sweet tooth this blog below uncovers some of the most expensive desserts which are way too extravagant to have for a common man.
Strawberries Arnaud
Price: $9.85 million
Hands down the tag of one of the expensive desserts in the world go to none other than Strawberries Arnaud. The dessert is topped with 24-carat gold flake, whipped cream, champagne, and ice cream. There is also a 10.06-carat royal blue engagement ring included in the treat that adds to the twist of making it special.
Diamond Fruitcake
Price: $1.72 million
A masterpiece by Takashimaya Department store, the cake is grandeur personified. Studded with around 223 diamonds, the cake weighs 170 carats in total. Although it is strictly for display purposes, this has not deterred its position as the most expensive dessert in the world.
The Absurdity Sundae
Price: $60,000
The overall experience of having this dessert is as unique as digging into it. Didn't get us? Well, the sundae contains a banana split and rare wines, that add to the taste. Also to dig into this special dish the promoters fly you to Mount Kilimanjaro in first-class and provide 5-star accommodation which makes up for the price tag hefty.
The Lindeth Howe Country House Hotel Chocolate Pudding
Price: $34,000
This pudding is the brainchild of Chef Marc Guilbert and is touted as one of the costliest desserts in the world. With edible gold, caviar, and a 2-carat inedible diamond ring, the pudding also has four flavors of Belgian chocolates adding to the taste.
Frrrozen Haute Chocolate Ice Cream Sundae
Price: $25,000
An astonishing offering from the Serendipity Restaurant, this sundae has 5-grams of 23-carat edible gold and La Madeline au Truffle which justifies the price tag. Also, to eat this beauty you are given a golden spoon, 18-carat gold bracelet with 1 carat of diamonds.
Krispy Kreme's Luxe Doughnut
Price: $1,685
Looking at the expensive price tag you must be wondering what makes this doughnut so special. Well, for starters it is covered with 24-carat gold leaf, a few edible diamonds, and the stuffing was made of Dom Perignon. Although the dessert was created only once for a noble cause, it has managed to stir a buzz among sweet lovers.
The Golden Phoenix Cup Cake
Price: $1,000
For all those who are not fond of ice-creams, this cupcake can become your ultimate taste conquest. The extravagant dessert contains Ugandan Vanilla Beans, Italian Chocolate, and Strawberries dipped in gold, which in itself looks and tastes so good.
Golden Opulence Sundae
Price: $1000
This one here is another masterstroke from Serendipity Restaurant. The dessert contains Grand Passion Caviar, chocolate truffles, and Tahitian vanilla bean ice cream. Dusted in 23-carat edible gold leaf the dish and gold flakes the dish is extravagance personified.
Sultan's Golden Cake
Price: $1000
What makes this dish special is the use of special ingredients. The cake is crafted with black truffles and Polynesian Vanilla Beans with Fruits that are marinating in Jamaican Rum for years. Furthermore, the dessert is encased in 24-karat gold leafing, and presented in a silver box making up for its price tag.
Decadence D'Or Cupcake
Price: $750
Like its name, the cupcake is a decadent treat for its unique flavor and frosting. Made with Palmira Single Estate chocolate, and drizzled in Louis XIII de Remy Martin Cognac, the treat takes 48 hours to be made. Topped with gold vanilla caviar and edible gold flakes, this one here is worth the value.
---
Add CEOWORLD magazine to your Google News feed.
---
Follow CEOWORLD magazine headlines on:
Google News
,
LinkedIn
,
Twitter
, and
Facebook
.
---
Thank you for supporting our journalism. Subscribe here.
---
For media queries, please contact:
info@ceoworld.biz
---
Tags :
Chief web officer Insider
Deputy general manager Insider
Director Insider
Executive chairman Insider
Executive vice president Insider