Weathering disruption: From cost management to cost excellence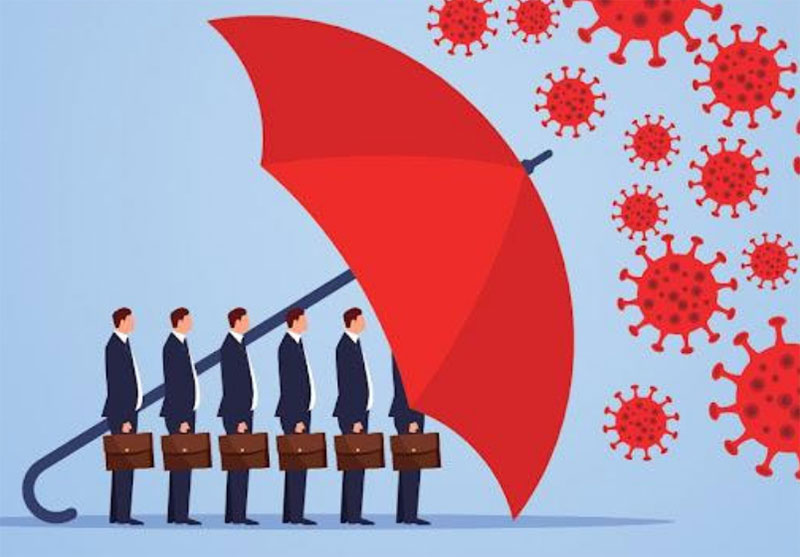 We live in a time of unparalleled disruption
Supply chains are being knocked sideways, consumer markets altered, and public institutions are stretched to their limits. The world over, organizations are spending significant amounts of time, talent and treasury navigating our increasingly complex business system, the challenges of which are exacerbated by the COVID-19 pandemic. As measured by the Economic Policy Uncertainty Index, uncertainty has been elevated to record levels in the last 18 months. The pandemic's long-term impact on industries and governments remains unclear, but uncertainty is here to stay.
While the influence of the pandemic is still persistent, leaders face other sources of change and turbulence. For example, climate change has become a top-of-mind issue, driven by demand for climate action from investors such as BlackRock, institutions, activists and the general public. Rapid advancements in digital, such as artificial intelligence and blockchain, are reshaping industries across the globe and renewing the need for companies to anticipate their competitors' investments in technology. Financial markets are seeing unprecedented volatility driven by cryptocurrency, and social media users' coalescence and a widespread desire to disrupt established systems. Perhaps most significantly, geopolitical events have been shaping the landscape of global economies as trade agreements are revised, and tariffs are invoked.
These events bring on greater levels of volatility, uncertainty, complexity and ambiguity (VUCA). Economists, however, argue that there are many reasons to remain optimistic. Many experts, including The World Bank forecast strong, but uneven economic growth in 2021 fueled by solid consumption, renewed export potential and further government stimulus packages.
The pursuit of cost excellence has never been more important
Organizations that have weathered the pandemic storm and are poised to take advantage of a recovering economy exhibit a high degree of resourcefulness, the ability to streamline operations in pursuit of efficiencies and a laser focus on cost excellence.
Achieving cost excellence requires a disciplined, objective and pragmatic approach that targets inefficiencies and waste at the functional and enterprise levels. Gartner's 2021 study on cost reduction mistakes indicates it also requires a deep-rooted cultural change in the organization to sustain success.
However, no one-size-fits-all method can act as a panacea for all organizations' cost management needs. Organizations need to determine the right tools and techniques to deploy as part of their cost programs to move from simple cost management to more advanced cost excellence. Regardless of the chosen approach, time and time again, companies that effectively maintain cost excellence are more resilient to changes in the economy and marketplace, something more important today than ever before.
High-performing organizations focus on a solid foundation of data and analytics
When organizations think about strategic cost management and cost reduction, many overlook the need to adopt activities that comprehensively understand their "true" costs. Companies often rush into setting cost reduction targets and taking action without conducting a robust analysis of the actual costs associated with a product, service or business segment. As a result, hidden costs may not be fully accounted for in the reporting used by management to guide decision-making.
This can result in savings targets that miss the mark and cost excellence programs that fail to live up to expectations. To set the foundation for cost excellence, organizations must adopt the proper cost accounting and allocation methodology. Furthermore, firms need to understand the actual cost of their services, build transparency, improve cost reporting and use technology to drive more profound insights. For example, ride-hailing company Uber used prescriptive analytics, including Machine Learning and Natural Language Processing, to improve speed and accuracy when responding to customer support tickets saving the company millions of dollars.
Six step approach to addressing costs
Understand – Get clear on the organization's shortcomings and performance gaps. It's also essential to adopt a suitable methodology, gather good foundational data and leverage technology and advanced analytical capabilities to get deeper insights.
Strategize – Set goals and define success. It's crucial to set goals and targets and determine what the organization is trying to achieve. The scope of the cost excellence program needs to be clearly defined, including whether it is genuinely enterprise-wide or focused on a specific function.
Diagnose – Consider all sources and develop a portfolio of ideas. Develop an initial view of cost excellence ideas, including quick wins and longer-term, more impactful items. Use internal and external sources to get all ideas on the table.
Prioritize & Refine – Pressure test idea options through modelling, analysis and projections. Develop criteria to prioritize ideas based on benefit/impact and effort and host various screening sessions with key stakeholders to align focus areas. Further, assess the ideas and develop more detailed business cases to confirm the benefits.
Sequence – Develop a roadmap and formalize the approach. Sequence the business cases and map out an implementation timeline that ensures the appropriate pace, including required dependencies. Ensure you have leadership buy-in and clearly communicate timelines to critical stakeholders.
Execute & evaluate – Implement ideas, monitor, and adjust as needed. Execute implementation plan, monitor and control progress, manage risk and enable benefit tracking. Work towards embedding cost excellence into the culture of the organization.
Cost excellence builds organizational resilience
Pursuing cost excellence through these 6 steps requires a clear strategy, leadership and organizational alignment, and a willingness and ability to make difficult decisions that challenge the organization. Organizations must strike the right balance between value, pace and sustainability.
Over the past 50 years, disruptive world-changing events have happened with significant pace and frequency. While COVID-19 is reshaping our world today, there will be another significant shift in the future, followed by others. When disruption is the norm, it becomes more and more challenging to accurately forecast economic and market impacts. Business leaders must be vigilant to changes happening in the market, and at the same time, ensure the organization can withstand these impacts. Building the suitable shock absorbers into an organization, including a culture of cost excellence, will help an organization build long-term resilience to weather the next eventual post-pandemic storm.
---
Authored by Lance Mortlock (Senior EY Strategy Partner & Haskayne School of Business Visiting Professor) with input from Chris Palmer (EY Senior Manager). To learn more, order my new book Disaster Proof: Scenario Planning for a Post Pandemic Future, available on Indigo in Canada and Amazon in the U.S., or visit my book website.
---
Add CEOWORLD magazine to your Google News feed.
---
Follow CEOWORLD magazine headlines on:
Google News
,
LinkedIn
,
Twitter
, and
Facebook
.
---
Thank you for supporting our journalism. Subscribe here.
---
For media queries, please contact:
info@ceoworld.biz
---
Tags :
Chief Government Relations Officer Insider
Chief Human Resources Officer (CHRO) Insider
Chief Information Officer (CIO) Insider
Chief Information Security Officer Insider
Chief Information Technology Officer Insider
Chief Investment Officer Insider
Chief Knowledge Officer Insider
Chief Learning Officer Insider
Chief Legal Officer Insider
Chief Marketing Officer Insider