Inside The Most Luxurious Private Jet Models In The World
Business private jet
The rich and famous who own private jets are usually cautious about revealing too many details about their aircraft. The media often report on the use of private jets by film stars and royalty, and even then we may never see inside these luxury planes.
So let's take a look inside the most luxurious private jet models in the world from top-notch manufacturers like Airbus, Boeing and Cessna.
Starting with Airbus ACJ Neo…..
Airbus ACJ Neo range – has a fully customisable cabin, Airbus offers interior design options designed specifically for the luxury and VIP market. The ACJ330neo has an impressive flight time with up to 21 hours in the air without stopping.
Seating up to 25 people these private jets are aimed at heads of state and their staff. There are master bedrooms, an office and complete bathroom, and the sitting room has a large round table perfect for meetings. Corporate dining is possible as are available on this range of aircraft.
Expect to pay more than £65 million for a new jet.
Boeing BBJ Max 7 – Boeing says the interior takes its inspiration from nature; the colours are mainly blue, white and grey, calming colours for busy individuals.
The main cabin is complete with LED lights, and the overall layout can be customised to suit individual taste. Boeing has designed the BBJ Max 7 to have an open format for comfort and ease.
Expect designer sofas and stand up showers, the jet is fully equipped for entertaining with a dining room and kitchen and bedroom.
The jet will cost £75.6 million and has a range of 7,000 nautical miles and flies at 527 miles per hour. Not surprisingly Boeing offers some of the best private jets on the market.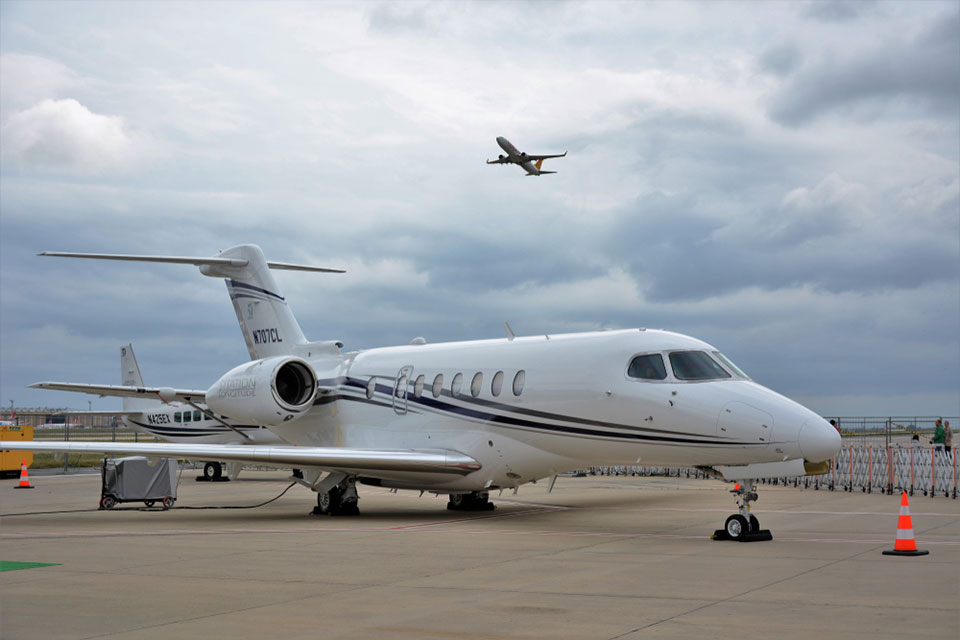 Cessna Citation Longitude – is a mid-size jet designed with private charter jets in mind. With a range of 3,500 nautical miles, this aircraft is a favourite amongst film stars and royalty.
Expect to see large windows The Longitude has 15 windows in total and offers maximum natural light and feeling of space.
Interiors are designed to be luxurious but not fussy. Facilities include a walk-in luggage compartment and comfortable leather seating. Cessna talks about design schemes as "Bisque, Jet black and French Roast", suggesting warm brown tones and lots of glossy wood.
A new Cessna Citation Longitude will cost £27 million and can travel up to speeds of 548 miles per hour.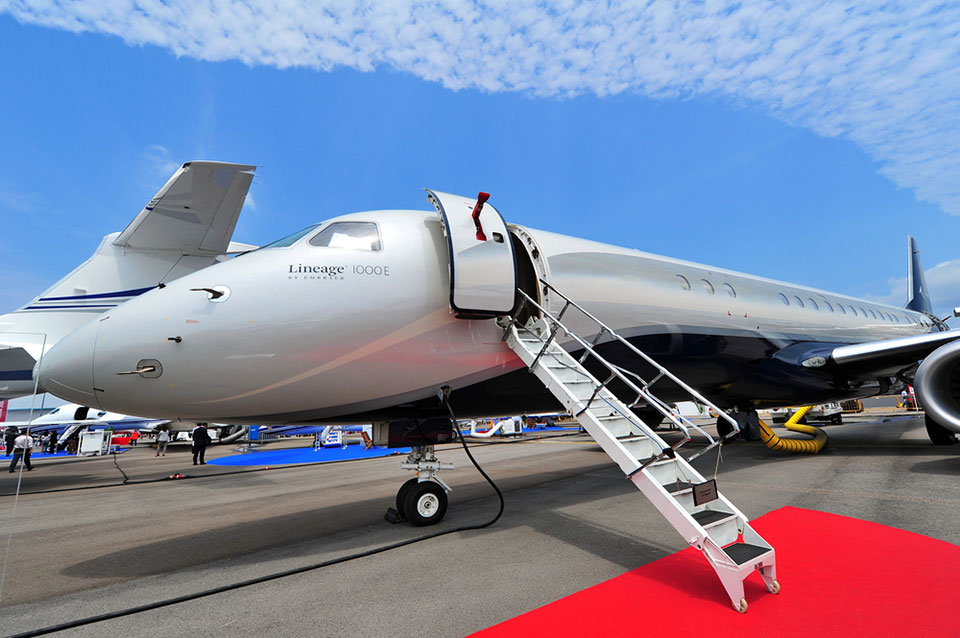 Embraer Lineage 1000E – offering 10,000 cubic feet of cabin layout the 1000E can be configured to your specification and options include living rooms or offices, bathrooms and even a bar.
Embraer has used the services of well known interior designer Jay Beever to create five different possibilities for a unique aircraft style.
These styles include a nautical theme using mahogany and brass, along with a wild west theme featuring horn trimming and leather saddle-stitched reclining captain style seating.
Expect to pay £41 million for a new aircraft, flying at 543 miles per hour and with a range of 4,600 nautical miles Embraer knows style and comfort when they see it.
The Gulfstream G650ER – owned by General Dynamics has the most extended range for business jets, able to fly for 7,500 nautical miles at a comfortable 597 miles per hour, General Dynamics owns a plane that has broken multiple speed records while offering maximum comfort. The jet has the lowest cabin altitude in its class.
The cabin includes private staterooms and conference areas, bedrooms with en-suite facilities, sitting rooms and fully-equipped galleys able to provide fine dining.
There are 16 large windows to maximise natural light, and a one-off Gulfstream cabin management system allows passengers to individually control the lighting, temperature, window shades and entertainment devices via an app.
While all the aircraft above are both luxurious and functional, let's have a look at the plane designed for a football team.
Boeing 767-33A/ER – Previously owned by Roman Abramovich the 767-33A/ER, also known as the "Bandit" due to its cockpit paint detail, this aircraft once belonged to the owner of Chelsea football club.
The plane was initially designed to accommodate up to 300 passengers. Can transfer a whole team from game to game without a problem.
The plane's interior is reported to be outfitted with chestnut and decorated with gold. The team can eat together and relax together. An anti-missile system to provide additional security and an extensive interactive surround sound TV system means the team will never miss a game.
Now you have taken a look inside these exclusive aircraft, why not arrange your own trip and then you can make up your mind who comes out on top.
---
Have you read?
World's Best CEOs.
World's Best Companies.
Rich List Index (Top Billionaires).
World's Most Powerful Passports.