MSP Marketing 101: Keyword strategies for Managed IT companies
"Optimizing keyword opportunities is the bread and butter of any high-performance SEO campaign and managed IT service firms are no different." says JumpFactor's CEO. The first thing to keep in mind when setting up your lead generation campaign is to analyze the buyer journey. At the top of the funnel, or the 'awareness' stage, you will want to target keywords that are informational in nature.
An example of a long-tail keyword that is relevant here could be something like 'what can a  managed IT service do for my business'.
Google's search engine results page (SERP) corroborates our theory that search intent, in this case, is simply to discover more about managed IT itself.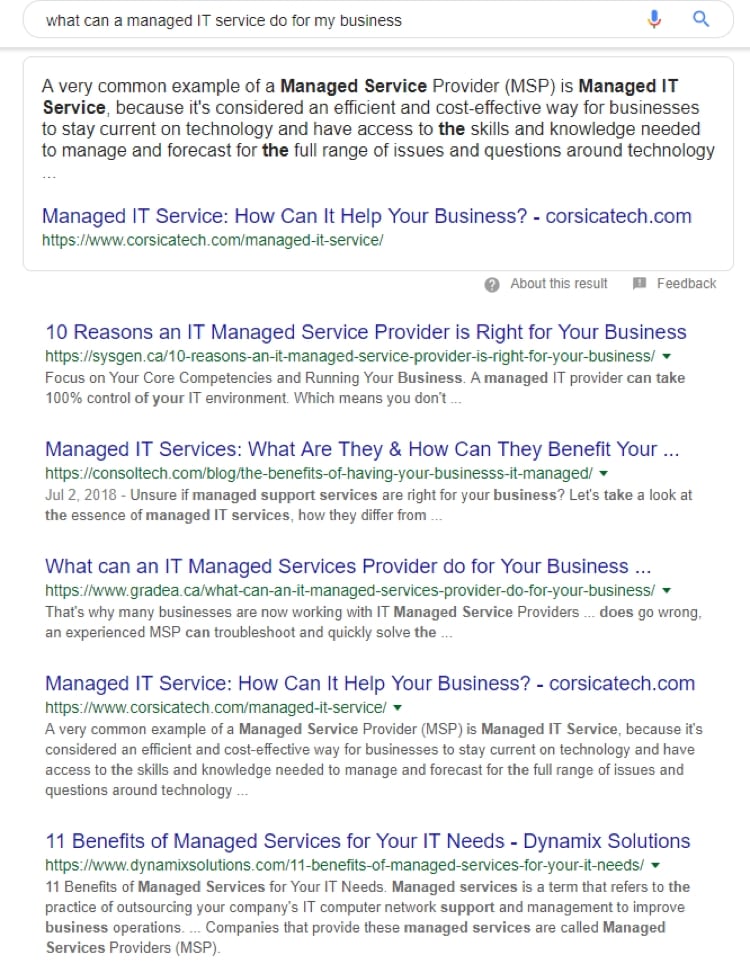 The top 5 results are all informational in nature. They target the specific question and break it down into easy-to-read subheadings as well as highlighting the advantages with simple copy.
The task at this stage is not to overburden the reader. It's likely that they're managers or decision makers at legacy firms who have heard about the benefits of outsourcing IT requirements but would like to be more informed.
The highest-ranking organic search results are from businesses looking to market their service. An encouraging sign is that none of the industry giants like Microsoft or IBM are targeting this query so the opportunity for ranking positively definitely exists.
You can also use variations of this keyword for better visibility. Techolution used a variety of keywords including "benefits of managed services," "managed IT services for small businesses," and "why managed services" in their marketing campaign.
Moving down the funnel
At this stage, your potential customers are now aware of your product and interested in taking things further. PCM Canada Toronto managed it services says that a managed IT services provider is an umbrella term for a number of specific services. Some of these are:
Virtual helpdesks
Device management
Hosting
Cybersecurity
Onsite implementation and management
Data backup & disaster recovery
Network management
As your leads drip down the funnel, competition will invariably begin to heat up. Your targeting strategies need to get more sophisticated.
A tool like Ahrefs will give you lots of insights and actionable data on associated keywords and phrases that people commonly use. For example, plugging "network management" into Ahref's keyword planner gives us the following results: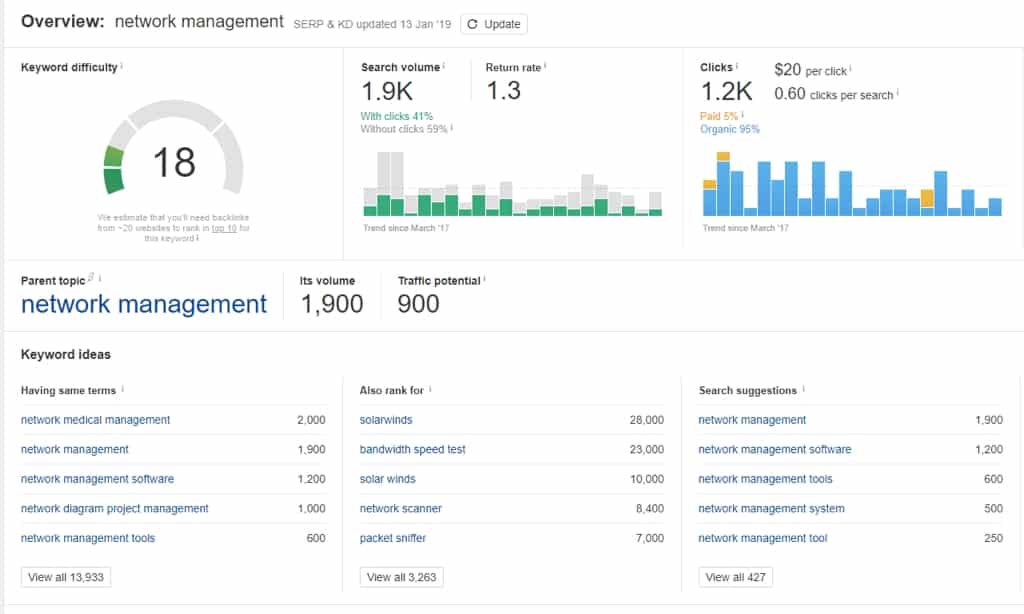 Monthly search volume is consistent with a niche category like this. The $20 per click figure (that's the average amount marketers are bidding on Google for a paid campaign) shows the competitiveness of this keyword. That's because a B2B purchase for network management services will definitely be valued in the thousands of dollars.
If you look closer, Ahrefs is also suggesting further tweaks to your strategy. The 'search suggestions' are variations of the main keyword that other sites have successfully deployed. You could attract higher search volumes by incorporating these tweaks to your copy.
It's important to identify your niche within the managed IT services space. So if your company specializes in data backup and cybersecurity, then concentrate on finding keyword opportunities within that segment. Focusing efforts on the entire gamut of managed IT might attract more traffic but will result in poor ROI as not all your leads will be marketing qualified.
I've identified the keywords. What do I do next?
One of the most effective methods of targeting keywords is to include them in a blog post. A well-written blog post makes it easier for Google to index your page as there's more text for the crawler to analyze.
Some best practices for your blog posts are:
Use your target keyword in the title tag as it will signal to search engines what the page is about.
Write in a natural, conversational tone and include variations of the same keyword. For example, if you're talking about network security, then be sure to add explainers on packet sniffing and DNS spoofing.
As your content engine revs up, you'll have plenty of opportunity for internal linking. This refers to the practice of linking to other pages on your site within the blog post — giving Google a better idea of your site structure and reducing bounce rates. Both are great for SEO purposes.
In fact, an insightful blog post can also propel you to the top of the SERPs. And the better the content, the more referral traffic it'll get, boosting your domain authority.
---
Have you read?
# World's Best Countries To Invest In Or Do Business.
# Countries With The Best Quality of Life, 2019.
# Most Startup Friendly Countries In The World.
# The World's Safest Cities Ranking.
---
Add CEOWORLD magazine to your Google News feed.
---
Follow CEOWORLD magazine headlines on:
Google News
,
LinkedIn
,
Twitter
, and
Facebook
.
---
Thank you for supporting our journalism. Subscribe here.
---
For media queries, please contact:
info@ceoworld.biz
---