These Are The Top 20 Most Expensive Artworks In The World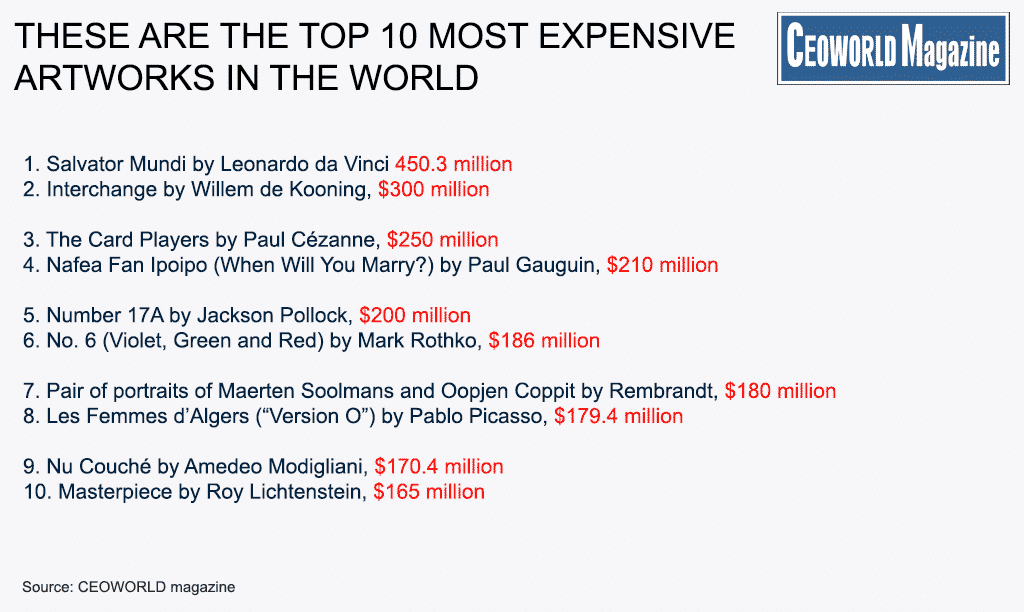 Salvator Mundi by Leonardo da Vinci became the world's most expensive artwork ever sold, going for $450.3 million at Christie's auction house in New York.
Some art experts, dealers, and collectors questioned the authenticity of the 500-year-old rare masterpiece as truly a Da Vinci, but with a price tag that far surpassed initial estimates the concern now seems irrelevant.
The jaw-droppingly expensive work of arts.
These are the 20 most expensive artworks in the world:
Salvator Mundi by Leonardo da Vinci ——– 450.3 million
Interchange by Willem de Kooning ——– $300 million
The Card Players by Paul Cézanne ——– $250 million
Nafea Fan Ipoipo (When Will You Marry?) by Paul Gauguin ——– $210 million
Number 17A by Jackson Pollock ——– $200 million
No. 6 (Violet, Green and Red) by Mark Rothko ——– $186 million
Pair of portraits of Maerten Soolmans and Oopjen Coppit by Rembrandt ——– $180 million
Les Femmes d'Algers ("Version O") by Pablo Picasso ——– $179.4 million
Nu Couché by Amedeo Modigliani ——– $170.4 million
Masterpiece by Roy Lichtenstein ——– $165 million
Woman III by Willem de Kooning ——– $163.5 million
Portrait of Adele Bloch-Bauer I by Gustav Klimt ——– $160.4 million
Le Rêve by Pablo Picasso ——– $159 million
Portrait of Dr. Gachet by Vincent van Gogh ——– $151 million
Adele Bloch-Bauer II by Gustav Klimt ——– $150 million
Three Studies of Lucian Freud by Francis Bacon ——– $146.4 million
Bal du moulin de la Galette by Pierre-Auguste Renoir ——– $143 million
Garçon à la pipe by Pablo Picasso ——– $132 million
The Scream by Edvard Munch ——– $125 million
Reclining Nude With Blue Cushion by Amedeo Modigliani ——– $123 million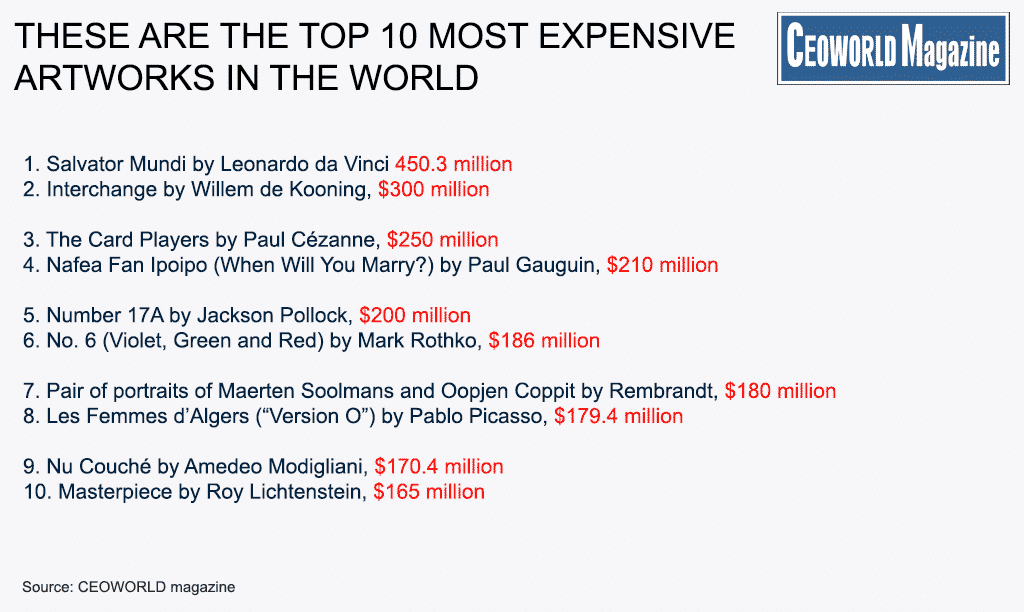 Dr. Amarendra Bhushan Dhiraj is the CEO and editorial director at CEOWORLD magazine, the leading global business magazine written strictly for CEOs, CFOs, top managers, company directors, investors, senior executives, business leaders, high net worth individuals, and the most globally powerful men and women.
Latest posts by Dr. Amarendra Bhushan Dhiraj
Leave a Reply