These Are The Top 20 Most Expensive Artworks In The World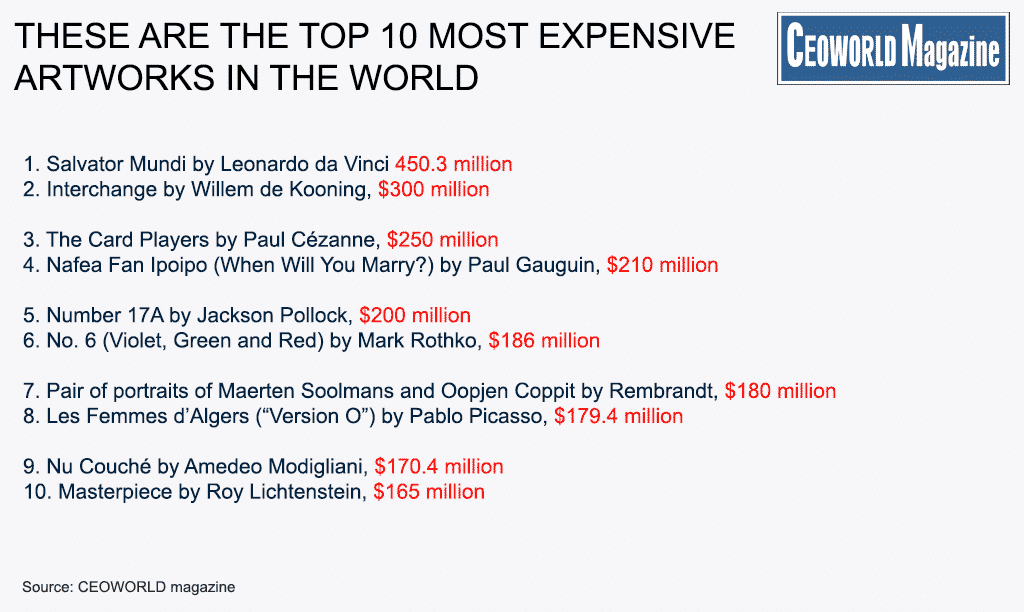 Salvator Mundi by Leonardo da Vinci became the world's most expensive artwork ever sold, going for $450.3 million at Christie's auction house in New York.
Some art experts, dealers, and collectors questioned the authenticity of the 500-year-old rare masterpiece as truly a Da Vinci, but with a price tag that far surpassed initial estimates the concern now seems irrelevant.
The jaw-droppingly expensive work of arts.
These are the 20 most expensive artworks in the world:
Salvator Mundi by Leonardo da Vinci ——– 450.3 million
Interchange by Willem de Kooning ——– $300 million
The Card Players by Paul Cézanne ——– $250 million
Nafea Fan Ipoipo (When Will You Marry?) by Paul Gauguin ——– $210 million
Number 17A by Jackson Pollock ——– $200 million
No. 6 (Violet, Green and Red) by Mark Rothko ——– $186 million
Pair of portraits of Maerten Soolmans and Oopjen Coppit by Rembrandt ——– $180 million
Les Femmes d'Algers ("Version O") by Pablo Picasso ——– $179.4 million
Nu Couché by Amedeo Modigliani ——– $170.4 million
Masterpiece by Roy Lichtenstein ——– $165 million
Woman III by Willem de Kooning ——– $163.5 million
Portrait of Adele Bloch-Bauer I by Gustav Klimt ——– $160.4 million
Le Rêve by Pablo Picasso ——– $159 million
Portrait of Dr. Gachet by Vincent van Gogh ——– $151 million
Adele Bloch-Bauer II by Gustav Klimt ——– $150 million
Three Studies of Lucian Freud by Francis Bacon ——– $146.4 million
Bal du moulin de la Galette by Pierre-Auguste Renoir ——– $143 million
Garçon à la pipe by Pablo Picasso ——– $132 million
The Scream by Edvard Munch ——– $125 million
Reclining Nude With Blue Cushion by Amedeo Modigliani ——– $123 million