Expertise and Knowledge: Access to Industry Leaders and Subject Matter Experts by Hiring a Speaker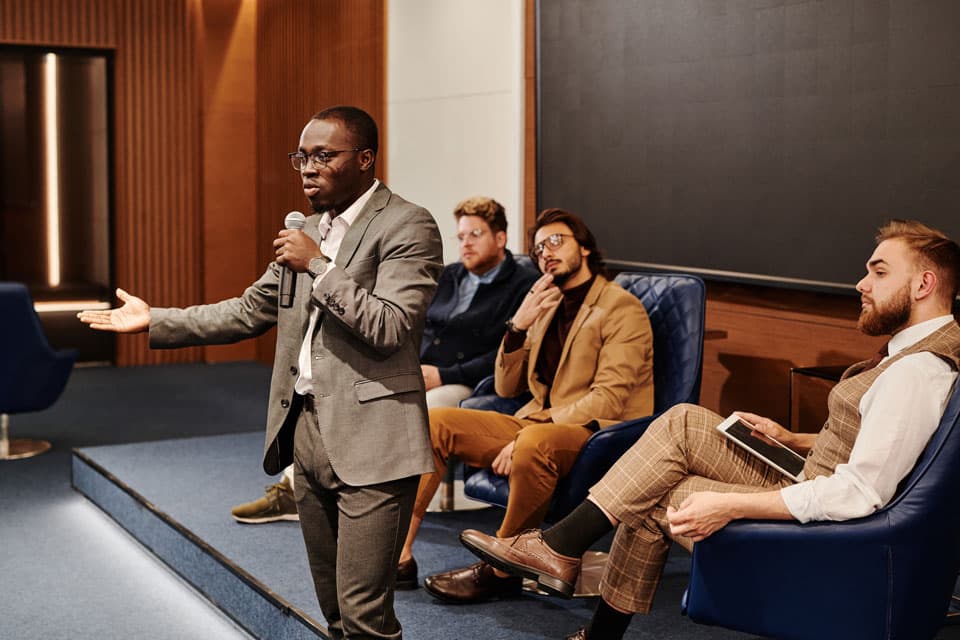 One of the most compelling arguments in favor of employing a speaker is the opportunity to have access to thought leaders and experts in the field. These experts may not only help you get an advantage over the competition, but they can also give invaluable insights into your sector. They'll be able to fill you in on the latest industry developments, best practices and technological advancements that might affect your company.
In addition, a Keynote speaker can provide valuable insights on how to optimize your operations and increase your returns. By engaging with industry experts and learning from their experiences, you can gain valuable knowledge about what works and what doesn't in your field. This knowledge can empower you to make informed decisions that will shape the future success of your company.
Inspiration and motivation: Energize and engage your employees and teams 
If you're looking for a method to get your team or staff excited and involved, hiring a speaker may do the trick. A fantastic speaker will inspire your team and give them the information they need to succeed. They may give helpful advice on how to communicate and work together better and insights on how to work together more efficiently. They can show you how to keep your spirits up and your mind on the work at hand. A skilled orator may modify their presentation based on the group's specific requirements to keep everyone listening and participating. Hiring a speaker may help foster an atmosphere where everyone is encouraged to give their best effort. Consequently, your company's output will improve, and productivity will rise.
Unique perspectives and insights: Gain fresh ideas and strategies for success 
Any group would benefit greatly from hiring a speaker. A speaker's ability to share their own experiences and insights with the audience might spark new ways of thinking and provide useful tips for moving forward. They have the potential to give novel approaches to pressing issues and invaluable guidance on how to overcome obstacles. Speakers may also be excellent motivators, urging the audience to work together towards a common objective. They are knowledgeable in the area and can advise on making the most of available tools and minimizing waste. Speakers can connect with audiences of any size, making them a great choice for conferences and other big gatherings. Hiring a speaker may help you learn from someone else's expertise and acquire fresh insight into how to grow your company.
Professional development: Enhance skills and learning opportunities for your staff 
Employing a speaker to impart knowledge and expand employees' horizons is a great investment in their professional growth. Your team may benefit from the new ideas, views and insights a speaker can bring. In addition, they may advise them on how to make the most of the resources at their disposal. In addition, inviting an inspirational speaker to share their story with your workforce may be a great way to boost morale and productivity. It may offer them the confidence to try something new and extend their limits.
Inviting a speaker to your company will not only educate your workforce but will also provide them with a chance to meet and mingle with other experts in the industry, which might lead to new business partnerships or even employment. For these reasons, investing in a professional speaker is worthwhile for any company.
Brand enhancement: Elevate your company's reputation and image 
Hiring a speaker to improve your company's standing is a great approach to creating a long-lasting impact on new clients, business associates and investors. Hiring a professional speaker may help establish a distinct and favorable brand identity. They can teach you how to connect with influential people and spread your message more successfully. Further, they may advise you on boosting your brand's profile in the industry and establishing a solid web identity. You may get credibility and respect from influential members in your field by tapping into their knowledge and experience.
In addition, a skilled speaker will offer your conference attendees something to think about and discuss long after the event. Because of this, more people will become aware of your company.
Networking and connection: Build valuable relationships within your industry 
Any company would benefit greatly from the services of a speaker who specializes in making and maintaining connections. Long-term success may depend on your ability to network, and they will show you the ropes on how to make connections that matter in your field. Speakers may teach attendees how to make the most of networking events by teaching those techniques like how to approach strangers and strike up discussions. They can also guide how to keep in touch with those people throughout time, whether via email or social media. A speaker may also advise making the most of professional connections to advance one's career. You may learn a lot by hearing an expert talk on these subjects, leading to better connections in your field and greater success for your firm.
---
Have you read?
The highest-paid tech CEOs in the United States.
Highest-Paid Biopharmaceutical CEOs in the United States.
Executive Pay: Top 8 Highest-Paid Hotel CEOs.
Openly LGBTQ CEOs at the helm of major global companies.
Top countries that admire their CEOs and other C-suite leadership teams the most.
Top Women CEOs of America's largest public companies (2023 List).
Ready to join the CEOWORLD magazine Executive Council– Find out if you are eligible to apply.
---
Add CEOWORLD magazine to your Google News feed.
---
Follow CEOWORLD magazine headlines on:
Google News
,
LinkedIn
,
Twitter
, and
Facebook
.
---
Thank you for supporting our journalism. Subscribe here.
---
For media queries, please contact:
info@ceoworld.biz
---
Tags :
Mexico Insider
Norway Insider
Philippines Insider
President Insider
Senior Executives Insider
Senior Executives Officers Insider
Senior Partner Insider
Senior Vice President Insider
Shadow Director Insider
Trustees Insider
United States Insider