Top 10 Unique And Luxurious Travel Experiences In Ireland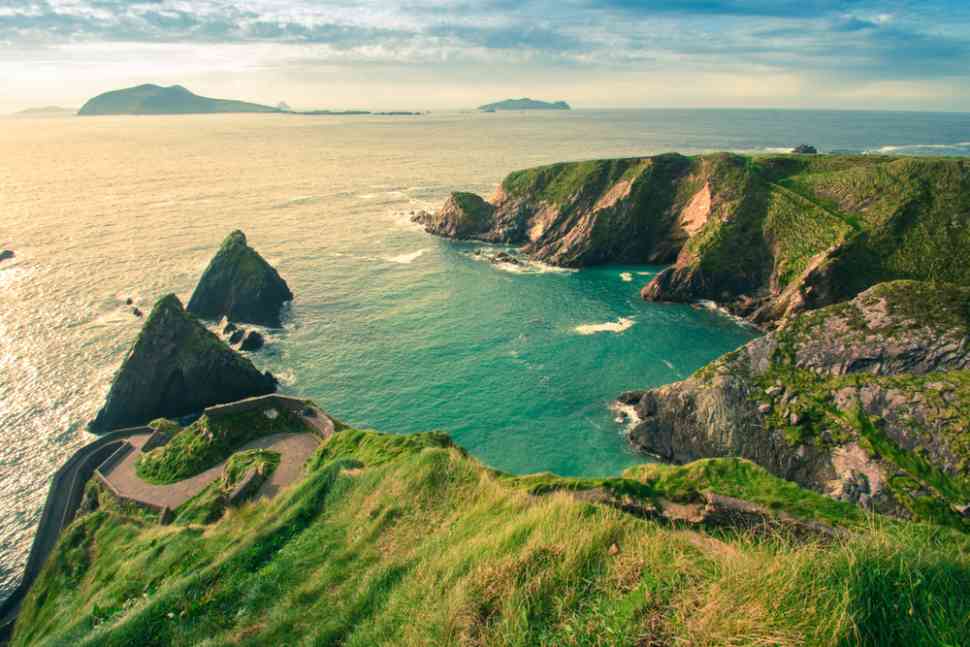 When one speaks of Europe – specifically, the island of Ireland – one immediately pictures massive castles, high green pastures, the wild Atlantic coast, and beautiful surf beaches. Ireland lives up to its reputation by delivering all that in the most spectacular capacity. Ireland is incredibly charming, from leafy forests to snug cottages and cities flourishing with historical architecture.
While brimming with five-star resorts, the island also offers the luxury of space and a genuine welcome as time slows down amidst the beauty of nature. We have curated a list of some exciting and luxurious things to experience during your trip to Ireland.
Take a drive across the Wild Atlantic Way

Ireland is a gold mine of picturesque views. And what better way to explore the island's beauty than to drive across the winding roads with the wind brushing your hair? The Wild Atlantic Way's breathtaking route stretches 2,500 km along the West Coast of Ireland. The coastal routes allow you to witness the Northern Lights dancing in their glory.
As you pass through various regions, you will expose yourself to outdoorsy activities like kayaking, surfing, diving, trekking on the famous Connemara ponies, hiking up the sacred Croagh Patrick Mountain, cycling the Great Western Greenway, and much more.
Have a taste of the local seafood


Ireland is home to an enormously rewarding fish culture on the verge of the Atlantic Ocean. In every corner and every restaurant, you will find plenty of options where you will be served fresh seafood straight from the boat to your table. Some favorites are wild Atlantic salmon, scallops, black soles, mussels, and Dublin Bay prawns.

Go on a brewery and distillery tour


Your time in Ireland is incomplete without a laidback taste of the "craic" and a pint of Guinness. And there is no perfect way to go about it other than a tour of breweries and distilleries like Guinness Brewery in Dublin, Jameson Distillery in Cork, and Old Bushmills in County Antrim. A special mention would be the Guinness Storehouse in Dublin, the home of the "Black Stuff". The place offers a fun experience for people.

Splurge on retail in Dublin


Dublin, a popular tourist attraction in Ireland, is swarming with the most fashionable boutiques. The city has options to thrift from and dons those high-class designer labels. The Irish table has many shopping stops, but a trip to Grafton Street is an absolute must as it is the home of the world's leading jewelry designers, Tiffany & Co.

Spend a day golfing with a view
Whether you're a newbie simply mesmerized by the sport or a professional golfer, Ireland is considered a hub for all who love golf. The island has some of the most beautiful golf courses in the world. But it would be unfair not to mention the Old Head Golf Links, near Kinsale on the South West coast.
The location is close to the Atlantic Ocean and comprises beautiful landscapes stretching across miles of land overlooking the cliffs, enormous waves, and the lighthouse. Indeed, a view to die for.
Sleep on a luxury train
Regarding spending your vacation in luxury, Ireland has a unique experience for you. You can book yourself a ride on the Belmond Grand Hibernian train.
Considered one of Europe's most spectacular overnight trains, the locomotive is an incredible mix of elegance and classic decor. You can now indulge in the beauty of Ireland while staying in luxury en-suite cabins and enjoying food in a fine dining restaurant.
Visit the races


Horse racing is yet another popular Irish sport. And there is only one way to enjoy your stay in Ireland fully. Go on a customized real tour of the races. This would include luxury transport, a day at the races, and a visit to one of Ireland'sIreland's top training yards where you can meet the horses before watching them race.

Horse riding on the Dingle Peninsula


Now that you have experienced the magnificent sport, wouldn't it be fun to be a part of it in a completely unrelated way? The mountains of the Dingle Peninsula on the South West coast are unmissable for trekking on horseback. Your route could begin at Mount Brandon and through the Conor Pass to be stunned by the views of the Atlantic.

Stay in a castle
One could never return to your home country without having stayed at a castle in Ireland. The unforgettable experience comes with many perks. Ashford Castle Hotel is fully equipped with hospitable staff and five-star accommodations, including a Parkland golf course.
Lismore Castle in County Waterford is the best choice for those who want a private castle. The 12th-century castle is still owned by the Duke of Devonshire, who has renovated the place into something that radiates modern cultures and historic grandiosity.
Take back some special Irish souvenirs


The Emerald Isle is best suited if you wish to commemorate your experience on this breathtaking island. The local artisans are versed in crafting gifts like warm, naturally dyed blankets and traditional tweeds from Donegal, knitwear from Connemara, and organic seaweed beauty products from Sligo.
Have you read?
Greatness: What Is It? What Does it Take to Achieve It by Leo Bottary.
Corporate tourism in NYC by a charter bus.
The highest-paid tech CEOs in the United States.
How to Use PR to Grow Your Business by Adrienne Wojtaszek.
The Three Most Important Qualities for Effective CEOs and All Leaders by Rabbi Daniel Cohen.
---
Add CEOWORLD magazine to your Google News feed.
---
Follow CEOWORLD magazine headlines on:
Google News
,
LinkedIn
,
Twitter
, and
Facebook
.
---
Thank you for supporting our journalism. Subscribe here.
---
For media queries, please contact:
info@ceoworld.biz
---
Tags :
Chief Happiness Officer Insider
Chief Health Officer Insider
Chief Human Resources Officer (CHRO) Insider
Chief Inclusion Officer Insider
Chief Information Governance Officer (CIGO) Insider
Executive vice president Insider
External Director Insider
Ireland Insider