Apple is close to reaching a valuation of $3 trillion.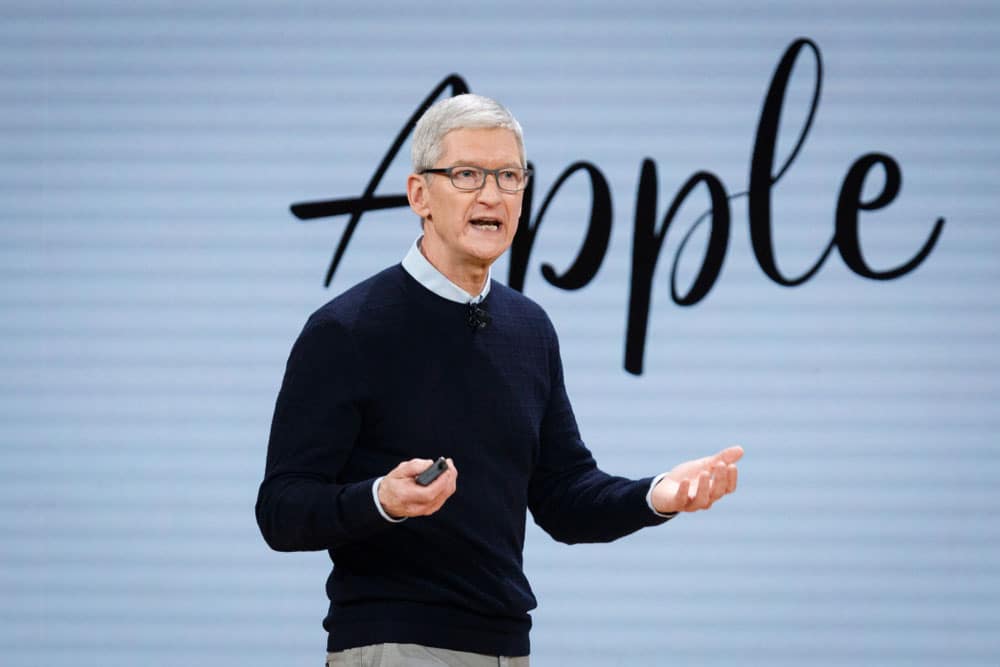 Timothy Donald Cook (Tim Cook), chief executive officer of Apple Inc.
Apple, the world's most-valuable listed company, is on the brink of two major milestones: an all-time record valuation and a $3 trillion market capitalization. Microsoft (market cap of $2.47 trillion), Saudi Aramco (market cap of $2.05 trillion), Google parent Alphabet (market cap of $1.58 trillion), and Amazon (market cap of $1.23 trillion) are the only other companies valued at over $1 trillion. Nvidia Corporation isn't far behind. Nvidia's market valuation ($963 billion) is just shy of $1 trillion.
As of May 26, 2023, Apple's shares have surged by 35.02% year-to-date, reaching a trading price of just over $175.43. This has been a positive development for the tech giant, as its market cap has now surpassed $2.75 trillion. This puts Apple within close range of its record-breaking market cap of $2.9 trillion that it attained in January 2022.
To put that into perspective, Apple's value now surpasses the nominal gross domestic product (GDP) of some of the world's top economies, including Italy ($2.16 trillion), Canada ($2.08 trillion), Brazil ($2.02 trillion), Russia ($2.06trillion), South Korea ($1.72 trillion) and Australia ($1.70 trillion).
Apple's impressive $670 billion gain in 2023 has allowed it to retain its position as the world's largest company by market capitalization. If the stock continues to rise by another 10%, Apple would become the first company in history to reach a valuation of $3 trillion.
Market capitalisation or "market cap" is a measure of a company's total market dollar value based on its stock price, and is calculated by multiplying the total number of a company's outstanding shares by the current market price of one share.
Apple became the first publicly traded U.S. company to hit a $1 trillion market cap during intraday trading on Aug. 2, 2018. It hit a $2 trillion valuation just over two years later on Aug. 19, 2020.
Apple CEO Tim Cook was recently ranked No. 4 in a list of the world's best CEOs for 2023; meanwhile, Apple Inc. ranked No. 3 in the CEOWORLD magazine's ranking of the most influential companies in the world.
How Apple Makes Its Money: The majority of the company's income comes from the iPhone, Mac, and iPad product lines, which were originally conceptualized during Steve Jobs' tenure at Apple. Apple Inc. (AAPL) posted a net income of $99.8 billion on revenue of $394.3 billion for its 2022 fiscal year (FY), which ended Sept. 24, 2022.
iPhone: $205.5 billion
Mac: $40.2 billion
iPad: $29.3 billion
Wearables, home, accessories: $41.2 billion
Services: $78.1 billion
---
Have you read?
World's trendiest countries, 2023.
World's Richest People (Top Billionaires, 2023).
Best Apps for Reading News for Google's Android and Apple's iOS.
Music successful CEOs and C-level executives listen to.
Which are the healthiest countries in the world for 2023?
Ready to join the CEOWORLD magazine Executive Council– Find out if you are eligible to apply.
---
Add CEOWORLD magazine to your Google News feed.
---
Follow CEOWORLD magazine headlines on:
Google News
,
LinkedIn
,
Twitter
, and
Facebook
.
---
Thank you for supporting our journalism. Subscribe here.
---
For media queries, please contact:
info@ceoworld.biz
---
Tags :
Mexico Insider
Norway Insider
Philippines Insider
President Insider
Senior Executives Insider
Senior Executives Officers Insider
Senior Partner Insider
Senior Vice President Insider
Shadow Director Insider
Trustees Insider