Richest Tennis Players In The World And Their Net Worth, 2023
Tennis is undoubtedly one of the most watched sports in the world. This is evident from the fact that approximately 87 million people play tennis globally, roughly 1.17% of the world's population. It goes without saying that tennis and tennis players have a vast fan following. Apart from tournament fees, tennis players earn significantly from endorsements and sponsorship deals. Here is a compiled list of the wealthiest tennis players in the world and their net worth.
With a net worth of $6.7 billion, Jessica Pegula is the richest tennis player in the world in 2023. The 28-year-old from Buffalo, New York, is worth more than Roger Federer, Serena Williams, Novak Djokovic, and Rafael Nadal combined. She's the daughter of Terry Pegula, the world's 377th richest person who made a fortune in oil and gas and has since turned it into a sports empire. He is the owner of Pegula Sports and Entertainment which owns the Buffalo Sabres of the National Hockey League (NHL), and, with his wife Kim Pegula, the Buffalo Bills of the National Football League (NFL).
With a net worth of around 2 billion dollars, the Romanian tennis legend Ion Tiriac is the 2nd richest tennis player. After he retired as a tennis player in the 1970s, Tiriac coached and managed top players like Guillermo Vilas, Marat Safin, and Boris Becker.
The greatest of all time. Without question, the finest player to have ever played the sport. With a net worth of $550 million, Roger Federer is 3rd richest tennis player in the world, followed by Serena Williams ($250 Million) and Novak Djokovic ($220 million).
Regarded as the greatest female tennis player of all time, Serena Williams' record speaks for itself. With 23 Grand Slam titles, only one behind the record of Margaret Court, Williams has been one of the most dominant forces in women's tennis in the modern era.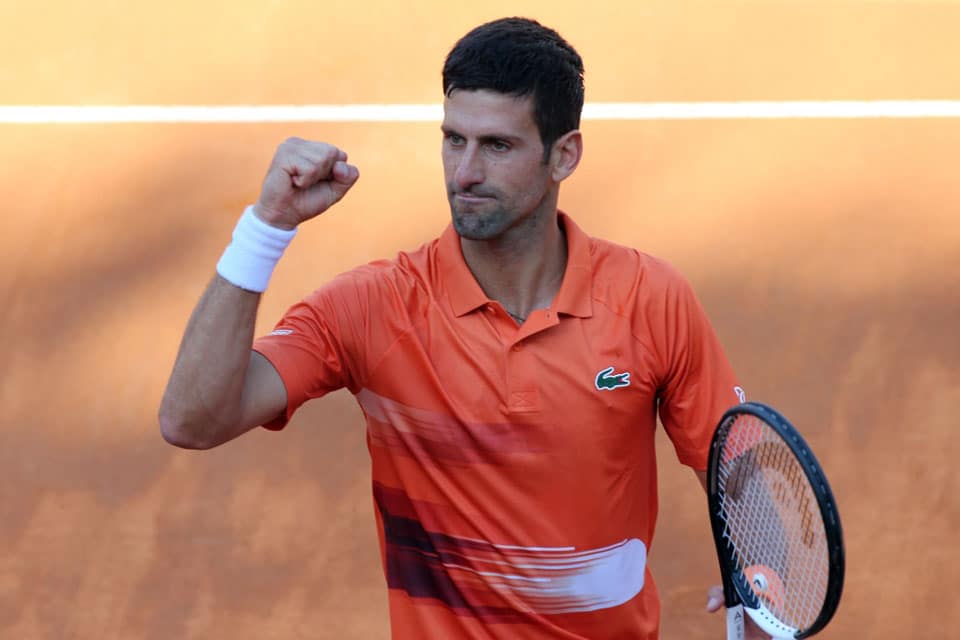 A modern-day great in the era of Roger Federer and Rafa Nadal, Novak Djokovic has cemented himself as a force to be reckoned with. With 22 Grand Slam titles, the Serbian star will go down in history as one of the greats of the game.
Jessica Pegula: $6.7 billion
Ion Tiriac: $2 billion
Roger Federer: $550 million
Serena Williams: $250 Million
Novak Djokovic: $220 million
Rafael Nadal: $220 Million
Maria Sharapova: $180 million
Andre Agassi: $175 Million
Pete Sampras: $150 Million
Andy Murray: $100 Million
John McEnroe: $100 Million
Venus Williams: $95 million
Anna Kournikova: $50 million
Li Na: $50 million
Bjorn Borg: $40 million
Andy Roddick: $40 million
Agnieszka Radwańska: $25 Million
Billie Jean King: $20 Million
Jim Courier: $18 Million
Chris Evert: $16 million
Ana Ivanovic: $16 million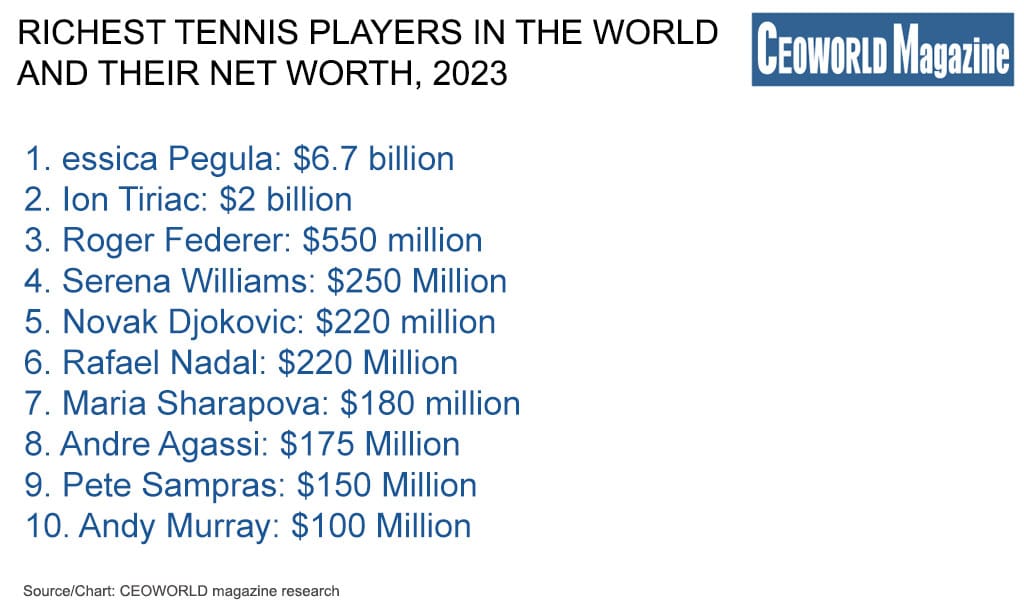 Have you read?
Improving Diversity Via Work From Home Jobs for Disabled Adults by Dr. Gleb Tsipursky.
How to Make Your Award Application Stand Out by Mike Szczesny.
Heartbeat –The Center of Your Smart Home Ecosystem.
How Technology and Venture Capital Can Work Together for Future Equity by Yinka Faleti.
REACH NEW AUDIENCES FOR PURPOSE AND PROFIT by Paul M. Katz.
Tags :
Billionaire Insider
Billionaires Insider
Capitalist Insider
Centimillionaires Insider
Economics Insider
Economy Insider
Hectomillionaire Insider
High Net Worth individuals Insider
Mega Rich Insider
Millionaire Insider
Millionaires Insider
Money Insider
Multi Millionaire Insider
Multimillionaire Insider
Richest Insider
Successful People Insider
Super Rich Insider
Super Successful People Insider
Think Tank Insider
Ultra High Net Worth individuals Insider
Ultra Rich Insider
Ultra Wealthy Insider
Wealth Insider
Wealth Manager Insider
Wealthiest Insider