The World's Richest People (November 18, 2022)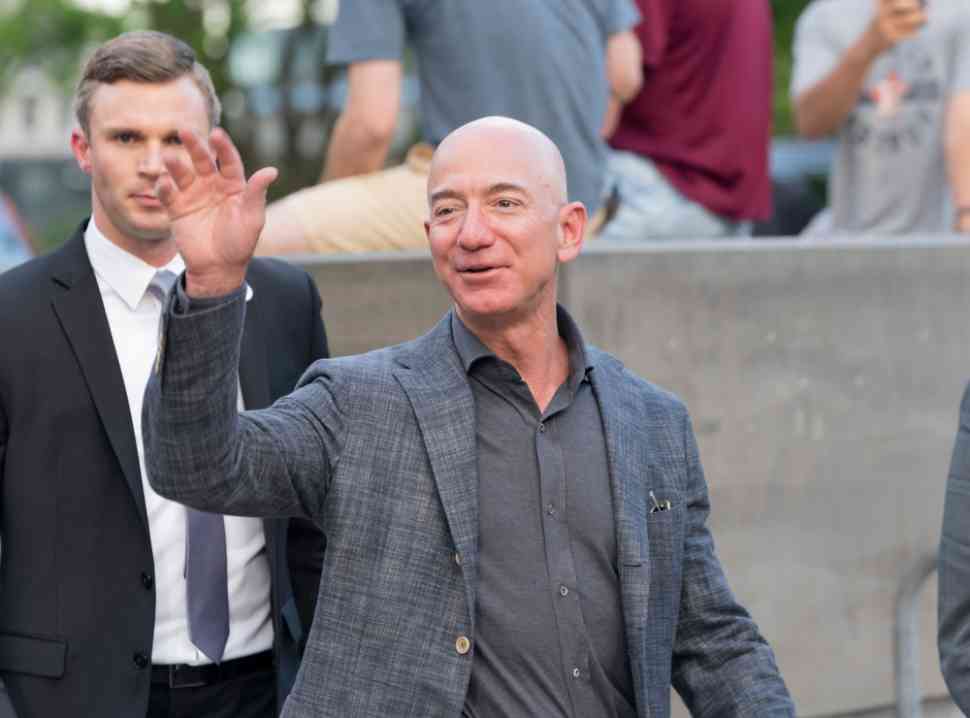 Jeff Bezos
As of November 18, 2022, with a net worth of roughly $191.4 billion, Elon Musk is the richest person in the world, followed by Bernard Arnault (No. 2, $176.9 billion), Gautam Adani (No. 3, $141.4 billion); and Jeff Bezos (No. 4, $118.2 billion).
Warren Buffett is the fifth-richest person globally, with a whopping $107.2 billion. Bill Gates ranked 6th with a personal wealth of $104.2 billion, followed by Larry Ellison with $102.4 billion. Mukesh Ambani is placed 8th with a net worth of $93.0 billion. Carlos slim Helu ($87.0 billion) occupied the 9th position on the top 10 richest people in the world list, followed by Larry Page (No. 10, $85.1 billion). Here is the latest list of the world's top 25 richest persons.
     BILLIONAIRES LIST  2022
Elon Musk: $191.4 billion
Bernard Arnault & family: $176.9 billion
Gautam Adani & family: $141.4 billion
Jeff Bezos: $118.2 billion
Warren Buffett: $107.2 billion
Bill Gates: $104.2 billion
Larry Ellison: $102.4 billion
Mukesh Ambani: $93.0 billion
Carlos slim Helu & family: $87.0 billion
Larry Page: $85.1 billion
Sergey Brin: $81.7 billion
Steve Ballmer: $79.0 billion
Michael Bloomberg: $76.8 billion
Francoise Bettencourt Meyers & family: $73.0 billion
Zhong Shanshan: $68.7 billion
Jim Walton: $62.9 billion
Rob Walton: $61.6 billion
Amancio Ortega: $61.0 billion
Alice Walton: $60.7 billion
Julia Koch & family: $59.1 billion
Charles Koch: $59.1 billion
David Thomson & family: $51.8 billion
Michael dell: $51.6 billion
Zhang Yiming: $49.5 billion
Phil Knight & family: $41.4 billion
Rodolphe Saade & family: $41.4 billion
Have you read?
Is It Time to Lose "Hey Guys?"​ – Gender Pronouns and Customer Service by Monique Richardson.
Dynamic Star Co-founder Brad Zackson on What to Know Before Investing in Multi-Family Rental Properties.
The Technopreneurship chessboard: Powering Business and Economy with disruptive Technologies by Prof. (Dr.) Manoj Joshi.
Should You Break Up with Some of Your Customers by Joseph A. Michelli, Ph.D., C.S.P.
7 Mistakes to Avoid in Hiring and Firing During Uncertain Economic Times by Dr. Gleb Tsipursky.
---
Add CEOWORLD magazine to your Google News feed.
---
Follow CEOWORLD magazine headlines on:
Google News
,
LinkedIn
,
Twitter
, and
Facebook
.
---
Thank you for supporting our journalism. Subscribe here.
---
For media queries, please contact:
info@ceoworld.biz
---
Tags :
Mega Rich Insider
Richest Insider
Think Tank Insider
Wealth Insider
Wealth Manager Insider