The Simplest Life Lesson of All – Just Say "Yes"
There we were, in the middle of the jungle, walking knee deep up a brown river, dripping wet, our sarongs trailing in the water as we navigated our way and kept our balance across slippery rocks with the use of long bamboo poles. We were completely alone but for our guide and the 2 metre long snake we had just seen exiting from the water and slithering up the opposite bank.
But more on that later.
I am in Bali researching exactly how I can live and work here as a digital nomad from 2023. Without question, some in-place research is necessary – there is only so much you can glean from the internet. For starters – Do I really want to make this my working base? Will I like living here? Will I make friends? Where can I hang out and meet other business nomads and locals alike? Are there co-working spaces to suit my business needs? What is internet connectivity like? How will I get around? Can I handle a motorbike? Can I manage the traffic? Where will I eat? Where will I sleep? Where do I want to base myself? Does that street/hotel/villa/cafe/co-working space actually look like the glossy pictures on the website?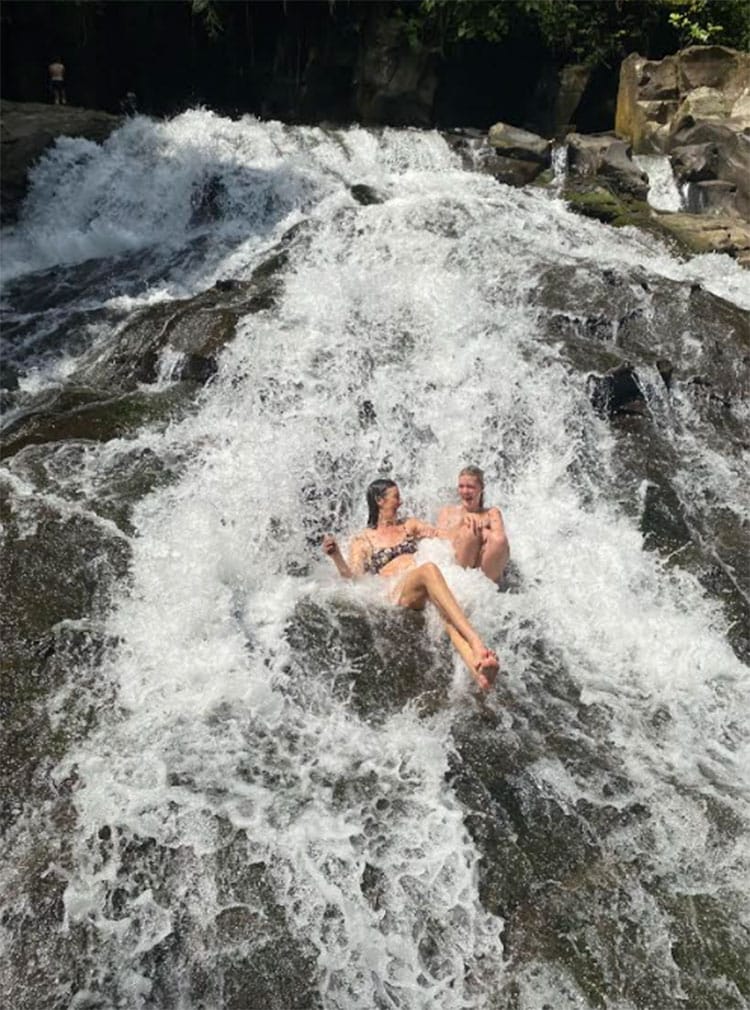 In my recent article for CEOWORLD magazine – "Bali and the "Wanna Be" Digital Nomad" – I shared how Covid, while having delayed my plans to commence my new nomadic lifestyle, has actually smoothed my way to living and working offshore. The reconnaissance trip to Bali was worthwhile, helping me narrow my preferred home-base locations to Ubud or Bingin. I have also found and trialled co-working spaces, discovered the thrill of riding a motorbike, and made a lot of new connections. My plans are firming up nicely.
But what I didn't plan for on this trip was a little life lesson reminder of the beauty, power and sheer joy associated with a spontaneous "Yes".
And so, back to the river.
My daughter was keen to explore some of the famous waterfalls dotted around Ubud. After a little research we chose 2 quite well known spectacular waterfalls: Kanto Lampo and Tibumana and then after checking google earth and working out whether it would be a lunatic idea to try and get there ourselves on a motorbike (yes, it would be) or whether it would be worth paying a driver to take us there (another yes), we threw in a third, apparently lesser known waterfall and set off to be thrilled.
Kanto Lampo was wonderful – an instagram influencer's dream and, so it would seem, the dream of everyone else in Bali who has an instagram account. Luckily we arrived early and so got to enjoy standing under the steady flow of the fall pretty much on our own for a few minutes. Within 10 minutes however, we were joined by a steady and consistent stream of loved up couples and we spent a highly enjoyable half hour watching each couple recreate the exact same photo kissing under the waterfall with the girl's leg jauntily cocked in the air at the knee.
Next stop, the lesser known fall. When we arrived I was thrilled to see no loved up couples in the empty field (aka car park), and the lack of an entrance fee signalled that this place is, at least for now, not yet an influencers paradise. We descended the 500 or so steps to the river and followed the sign to the waterfall. At first glance the waterfall was more a torrential cascade across rocks as opposed to a long drop fall. We were completely alone but for a Balinese man who greeted us and explained that as one of the local custodians of the waterfall, it was his job to help tourists physically navigate their way across the rocks without dying – terrific.
He instructed us to remove our shoes, grab hold of the rope attached to the rocks beside the apparently death-inducing cascade and hoist ourselves up and along the top of the waterfall. So far so good.
The waterfall, he explained, emanated from a very spiritual and hidden part of the river upstream. If we had time, he said, as a local community member he could take us up the river to this spiritual place that most tourists never get to see. It would take only 30 minutes.
I'm not going to lie – it sounded like we were being pitched a line. Plus I've seen enough horror movies to know for damn sure that you never, ever follow the strange man off the beaten track into the jungle when no-one one earth knows where you are or what time you are due back.
But, without pressing us further, he guided us to scoot along our bums into the middle of the waterfall. Slipping and sliding over algae covered rocks he merrily and unnecessarily called – 'mind your pants' – as we desperately clung to our bikinis. He then grabbed my phone and proceeded to take 1000 photos and create the most incredible slow motion reel of us screaming in delight as the waterfall pummelled over us. He had us strike the poses that had most recently bemused me at the previous waterfall and I have never laughed so much in my life.
Trust built, fun had, we agreed to head off into the great unknown with our new friend in search of the spiritual place not open to tourists.
What proceeded will absolutely feature in the movie of my life (where I am played by Laura Dern or Reese Witherspoon or perhaps Julia Roberts) and in great detail in my next book (all about living stupendously) upon which said movie will be based. As we wandered up the river dwarfed on either side by thick impenetrable jungle, our guide pointed out the sinkholes and poison plants (but failed to notice the snake) and advised us to follow his steps exactly.
Ok.
We walked for a good 20 minutes, with water now waist deep before turning a bend to see the jungle replaced by two sheer cliff walls down which a stunning drop waterfall plunged. Walking through this, we waded around another bend surrounded by walls of rock and plunging vines to find another waterfall under which the locals had rigged up a swing from the vines. I kid you not.
Of course we went on the swing.
The experience was incredible, surreal – only enhanced by the theme song from "The Titanic" that our guide played on his home made flute as he strolled in front of us along the river.
As we parted, he pressed us not to share the location of the waterfall on the internet. He wants it to stay hidden, not commercialised, not ruined by big tourism, and only available to the lucky few who stumble across it by chance and are brave enough to say "Yes" to a bloke in a sarong playing a flute.
Lesson learned. 
---
Written by Kate Christie.
Have you read?
3 Ways Your Digital Experience is Lacking—And How to Fix It by Brian Wallace.
The Power of Paradox by Dr. William Putsis.
Hybrid and Remote Mentoring for Effective Integration of Junior Employees by Dr. Gleb Tsipursky.
Leadership Matters – Even in Outer Space written by Rick Williams.
How Linking Purpose and Strategy Benefits Employees by Ignacio Vaccaro.
5 Strategies for Solving Unsolvable Problems in Business by Jay Bousada.
---
Add CEOWORLD magazine to your Google News feed.
---
Follow CEOWORLD magazine headlines on:
Google News
,
LinkedIn
,
Twitter
, and
Facebook
.
---
Thank you for supporting our journalism. Subscribe here.
---
For media queries, please contact:
info@ceoworld.biz
---
Tags :
Billionaire Insider
Centimillionaires Insider
Hectomillionaire Insider
Millionaires Insider
Super Successful People Insider