CEOs Work out – 5 Exercises To Do In The Office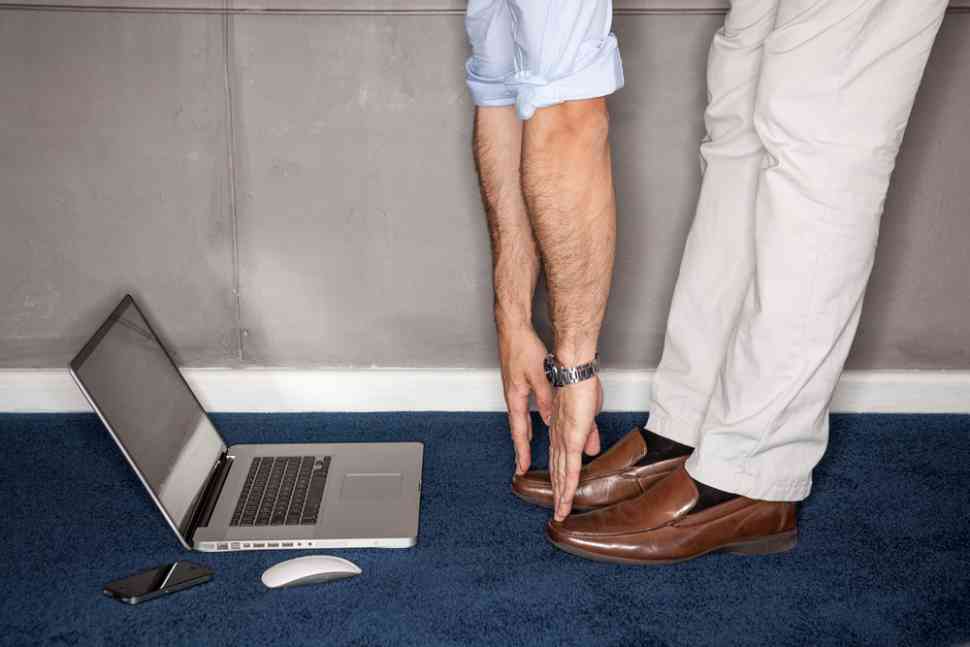 A sedentary lifestyle and demotivation are a big problem in modern societies. In particular, lack of movement is associated with a number of chronic diseases and musculoskeletal problems. The great technological development of recent decades has resulted in an increase in the rate of sedentary work. In combination with sedentary work, it has been observed that employees suffer from chronic stress, which is a result of:
Exhausting schedules

Poor posture

Bad food choices

Lack of exercise

Increased consumption of alcohol after work
Increasing physical activity and exercise can cause increased productivity, reduce stress as well as minimize musculoskeletal diseases. Especially crucial is resistance exercise as it directly affects the prevention and improvement of musculoskeletal diseases. However, the majority of employees report that they do not find time to exercise. Here are five exercises that can be done in the office to compensate for the effects of sedentary work.
1st exercise: isometric buttock activation from a sitting position
University of Waterloo professor and specialist in waist diseases Stuart Mcgill in his book "low back disorders" refers to gluteal amnesia syndrome. Based on this theory, the muscle fibers of the buttock are constantly stretched and thus lose the ability to contract, which causes a burden on the lumbar spine.
Technique: sit on your office chair, maintaining good posture with your feet on the ground. Take a breath through the nose, and on the exhale, squeeze the ground by squeezing the buttocks vigorously for 10 seconds. Perform 5-7 times again during the day.
Benefit: activation of the buttocks. Improving posture
2nd exercise: medial hip bend from a sitting position
Long hours of sedentary work lead to a decrease in hip mobility and an increase in the tension of the gluteus medius. Assisted medial turning will result in increased hip mobility and reduced gluteal tension.
Technique: sit on your office chair, maintaining good posture with your feet on the ground. Then place the ankle of one leg on the thigh of the other leg. Finally, press the knee of the crossed leg against the ground and hold for 2-3 seconds. Repeat 10 times per leg 2-3 times during the day.
Benefit: increased hip mobility
3rd exercise: static activation of the broad-spiking dorsal
The long use of the computer results in overexertion of the back muscles and tightening of the pectoral muscles. Increasing the latissimus dorsi tension and stretching the chest muscles will automatically improve posture.
Technique: Sit on your office chair, maintaining good posture with your feet on the ground. Take an inhalation and exhale; bring the elbows next to the body holding increased tension in the latissimus dorsi. Maintain your position for 2-3 seconds and repeat for 5-6 times 2-3 times during the day.
Benefit: improving posture
4th exercise: carpal tightenings with a special grip
Grip strength has been associated in many studies with an increase in life expectancy. In a recent study, it was observed that the strength of the grip is a determining factor for the self-care of the elderly.
Technique: apply your hands to a spring handle and perform continuous tightening. Do 3-4 sets of 15-20 repetitions.
Benefit: grip strength
5th exercise: breathing
Another study shows that 12 weeks of breathing exercise led to a reduction in stress as well as a decrease in the chances of heart disease.
Technique: sit on your office chair, maintaining good posture with your feet on the ground. Inhale through the nose, counting from 1 to 4. Hold your breath from 1 to 7. Exhale through the mouth, counting from 1 to 8. Repeat 3 to 10 times during the day or whenever you feel stressed.
Benefit: reducing anxiety
General instructions
These specific five exercises that can be done in the office will help in general health and in the treatment of musculoskeletal diseases. However, these should be combined with:
Increase in physical activity

Improvement of nutrition

Improvement of sleep quality
To make these changes easily, you can decide to go to work by bike or on foot. Also, you could prepare your meals from the day before, this way you will help you avoid eating junk food. Many small changes can bring great results, so do not hesitate to make them a part of your life.
Track Latest News Live on CEOWORLD magazine and get news updates from the United States and around the world. The views expressed are those of the author and are not necessarily those of the CEOWORLD magazine.
Follow CEOWORLD magazine headlines on:
Google News
,
LinkedIn
,
Twitter
, and
Facebook
.
Thank you for supporting our journalism. Subscribe here.
For media queries, please contact:
info@ceoworld.biz
Tags :
Board Members Insider
CEO Excellence Insider
CEO Peer Advisory Insider
Chief Information Governance Officer (CIGO) Insider
Chief Merchandising Officer Insider
Globalization Insider