Matera: The Cappadocia of Italy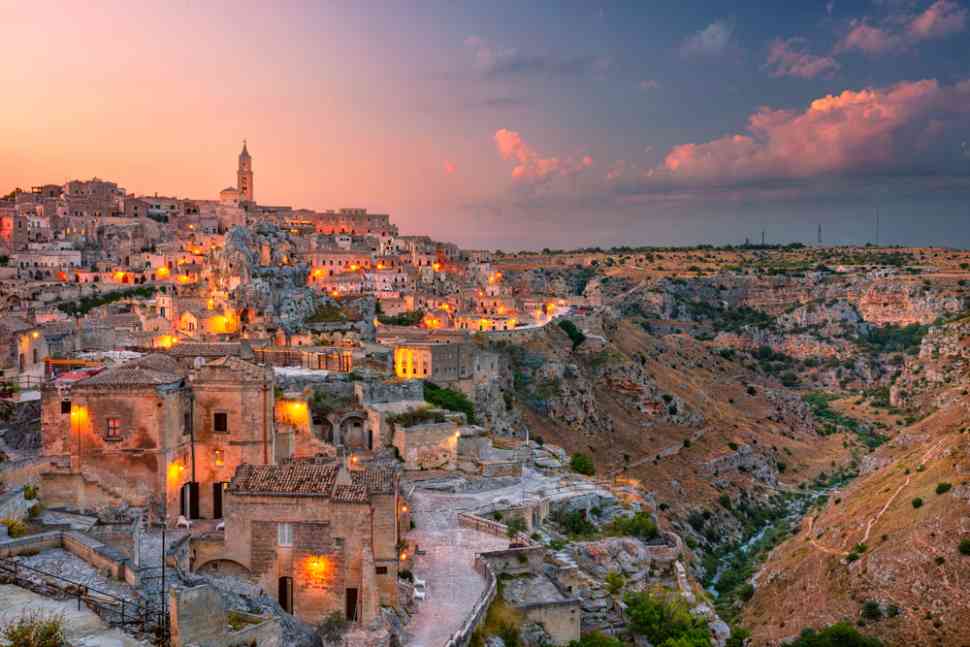 Matera is surely one of the oldest cities in the world that will take you to the Middle Ages and perhaps further back in time. With the Stone here, the sunset has a different color. The once "shame of Italy" was transformed in 2019 into the cultural capital of Europe and promised a return to history, delicious traditional dishes, hospitable people, and peace of mind. Some people call this place "Cappadocia of Italy" due to the stone formation that allowed people to live inside the caves. It is a must for all travelers looking for something different, something delicious, calm, and full of historical moments. Take this journey and remember that life is an album of beautiful moments. Let's see together what the place has to offer to every traveler.
General information
Matera is a town in southern Italy and is located in the region of Basilicata. People only speak Italian, and most of them are not fluent in English as in most parts of Italy. Next to Matera is a gorge crossed by the Gravina River. After many efforts, in 1993, the Sassi of Matera has finally been Fdeclared a UNESCO World Heritage Site. It is a city that is practically carved into the rock. It is considered one of the oldest cities in the world, as its caves have been inhabited for 9000 years. Matera, along with Petra of Jordan, has been considered to be a model of a sustainable city over the years. This is because underground canal systems are absolutely perfect.
Sassi
The" Sassi di Matera" which means "stones of Matera," is now a cultural heritage not only of Italy but of the whole world. The Sassi were caves where people lived from the prehistoric period. They were considered the disgrace of Italy, as the people who lived there were in conditions of destitution. Also, many diseases made their appearance as the inhabitants shared their homes with the animals. For these reasons, in 1952, the Italian government decided that the inhabitants of Matera would have to be transferred to more modern housing. So, Matera was left completely empty. In the late 1980s, a strong investment interest began to appear. Although its inhabitants never returned back, their descendants opened hotels and tourist accommodations. In 2019 Matera (together with Plovdiv) returns as the cultural capital of Europe and thus completely changes its fate.
Stay
Matera, as mentioned above, is famous for its Sassi, so staying in them is probably a must if you are about to have a trip there. In particular, those built at quite high altitudes offer endless views you may never see again in your life. The accommodation there is perhaps costly for some people since it offers a unique experience, but in any case, it is not overestimated. The accommodation for a Sassi 4 stars in Matera costs about 200 USD. However, one may find even lower prices; there are plenty of hotels and Airbnb properties at very affordable prices.
Transportation
To get to Matera, you will have to fly to Bari. From there by train and in about 1.5 hours you will be at your destination. The hygiene on the train is quite satisfying, and perhaps this is the most convenient way to travel. An alternative suggestion is to fly to Naples and from there by car after 3 hours you will be in Matera. Renting your own car will allow you to see many regions of southern Italy and learn the culture of the southern Italians.
Food
You will be able to taste many traditional Italian dishes; the most famous ones are: la cialledd, la crapiata, cutturidd, orecchiette alla materana, and le strazzate. Remember to accompany every lunch and dinner with an exceptional glass of wine since Italy is also famous for its wines. Some famous restaurants you can go to are: Baccanti and Paoluccio, which serve local products of excellent quality. The best way to explore the place is by walking around on your own. A walk through the streets of Matera will provide you with plenty of wonderful options for food, coffee, and wine.
Track Latest News Live on CEOWORLD magazine and get news updates from the United States and around the world. The views expressed are those of the author and are not necessarily those of the CEOWORLD magazine.
Follow CEOWORLD magazine headlines on:
Google News
,
LinkedIn
,
Twitter
, and
Facebook
.
Thank you for supporting our journalism. Subscribe here.
For media queries, please contact:
info@ceoworld.biz
Tags :
Chief Research Officer Insider
Chief Revenue Officer Insider
Chief risk officer Insider
Chief sales officer Insider
Chief science officer Insider
Chief security officer Insider