Wadi Rum – One Of The Supreme Deserts In The World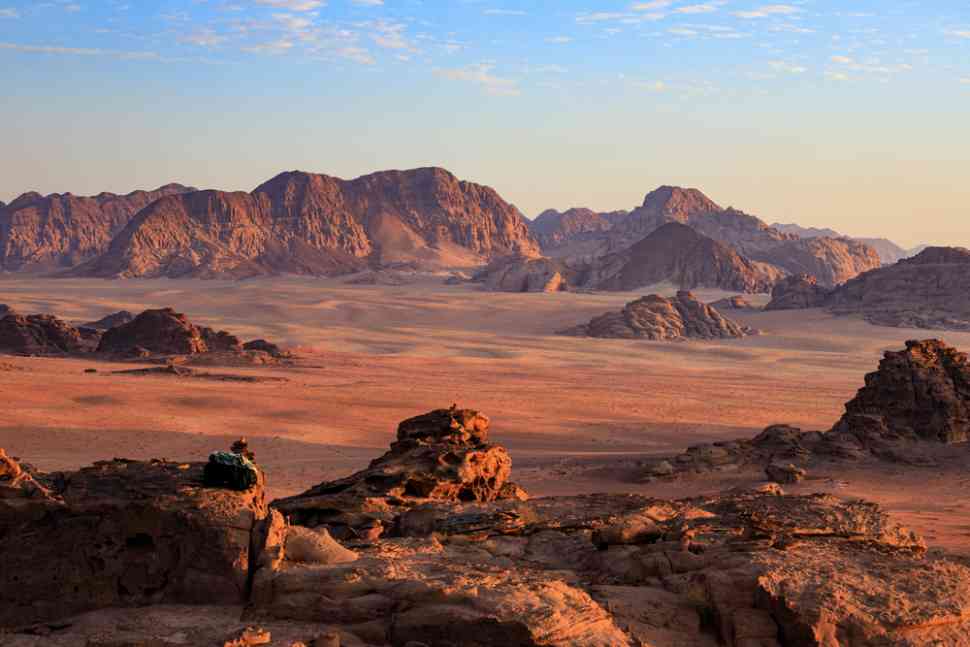 Sunset in the desert Wadi Rum, Jordan
Wadi Rum is a nationally protected park located in the south part of Jordan. It is a rocky desert with no visible signs of life. Apart from the camels that belong to locals and are used for transportation or a tourist attraction, there is not much life in the scenery. There is hardly any rain out there and in the morning time, it can be quite warm even in winter. If you are interested to discover the place here are some tips to help you on your journey.
A place for films
If it is the first time you heard of this dessert don't be surprised to learn that there are many chances you have seen its strange scenery in the movies. The first movie ever filmed there was Larence of Arabia in 1962. However, lately, the desert has attracted the interest of many filmmakers. In 2012 Prometheus was filmed there. Three years later we have scenes of The Martian at the Wadi Rum park. Finally, in 2016 Rogue One: A Star Story and Star Wars: Rise of Skywalker in 2019 have also scenes that have been shot there. The place is ideal for science fiction movies and this is because it reminds us of other planets like Mars as we have seen in the photos. The audience can be easily convinced that this is what life in outer space will look like in a few decades. If you go for a ride with a local be sure to ask them to get a picture of you at the spot where Matt Damon was sitting in The Martian. The research station in this movie is supposed to be in Wadi Rum and Matt Damon plays the main character of Mark Watney. 
Where to stay
Over the last years, the place has become a tourist attraction especially because many locals promise to give you a lifetime experience by allowing you to live in the desert. There are many options for your stay in Wadi Rum. You can stay there for as cheap as 10$ per night as we as for 200$ or more depending on the season. The expensive choice will lead you to the famous "bubbles". Rooms that have the shape of a sphere instead of the normal square shapes are quite unique. The best part is that these bubbles are made of glass or other transparent materials so you can watch the stars during the night. I strongly advise you to pick a place that will provide at least air-conditioning in your "room" since temperatures in the desert can reach very low numbers. Dinner and breakfast are usually included since there are no restaurants nearby where you can pick the meal of your choice. The meals are prepared by the locals and are more than tasty. They are produced using their own techniques and that adds an extra mystery to the whole process. Out there they have their ovens in the ground and they cover them with sand. The heat of the sun in the morning works to prepare the food and the outcome is delicious. Generally, there are many packages offered by tourist agents that offer a combination of accommodation and tour guiding. If you just book the place you are planning to stay the night and decide to have a tour with a professional later, people at the reception will be more than happy to help you. In my opinion, it is worth it both to stay for a night in the desert and to have a guided tour with a jeep and an hour of riding a camel.
The "cleaning" plants
One of the things you may admire if you go there with a guide is how rich this place can be. Along the desert, there are small plants growing that are not to be eaten. Ask your guide to make a demonstration for you and you will be surprised by what the desert holds for you. The guide will cut a small quantity of these plants and start smashing them with a rock. Then he will put the plants on your hands, throw some water and ask you to rub the plants with your hands. Suddenly you will see foam being created out of nowhere and your hands will be completely clean. This plant is actually used by the local population in large quantities to clean their clothes, dishes, and themselves. Completely organic and friendly to the environment this "soap" has accompanied the local culture for centuries.
---
Add CEOWORLD magazine to your Google News feed.
---
Follow CEOWORLD magazine headlines on:
Google News
,
LinkedIn
,
Twitter
, and
Facebook
.
---
Thank you for supporting our journalism. Subscribe here.
---
For media queries, please contact:
info@ceoworld.biz
---
Tags :
Business Leaders Insider
Chief Behavioral Officer Insider
Chief Budget Officer Insider
Chief Ecosystem Officer Insider
Chief People Officer (CPO) Insider
Co Founders Insider