Top Hospitality Management Colleges In Singapore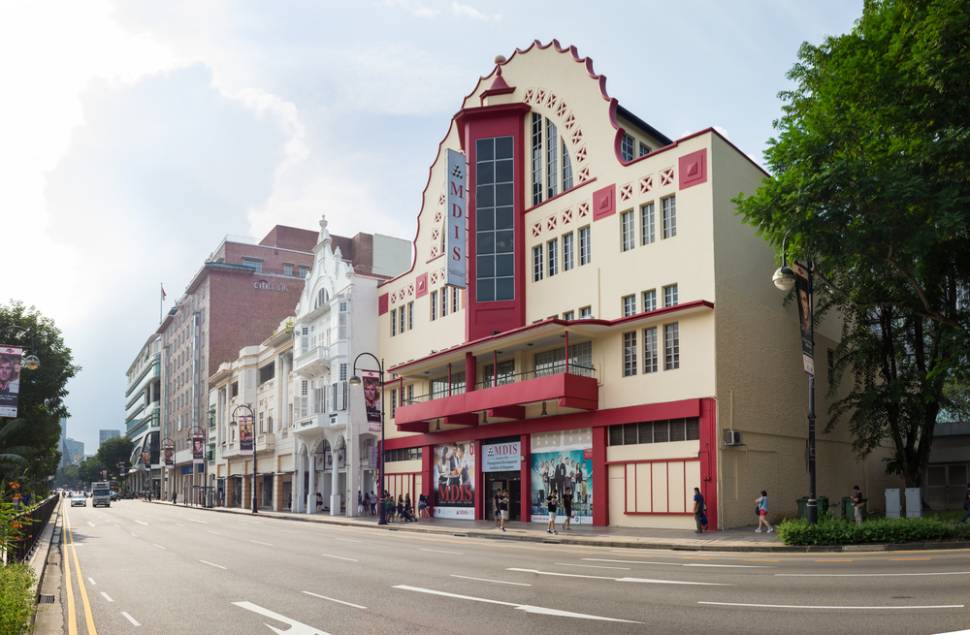 Building of Management Development Institute of Singapore
Singapore is the smartest city in the world, according to the Swiss-based International Institute for Management Development (IMD). The city-state has received this honor thanks to its well-planned housing schemes, healthcare measures, and transport. Singapore's internationalized education system is considered to be among the best in the world. And Higher education is cost-effective compared to other international study destinations such as the US, the UK, and Australia. The strict law enforcement makes Singapore a safe city.
Students from almost 30 countries study in Singapore. So, you get to experience many cultures. Many multinational companies have started their offices in Singapore as it is a global economic hub. And Singapore has been known for its abundance of opportunities in the hospitality industry. So, you can find jobs that pay well after completing your study program.
The top hospitality management colleges in Singapore are:
Management Development Institute of Singapore (MDIS)
Courses offered: Diploma in Hospitality Management, Diploma in Hotel Management MDIS is Singapore's oldest professional non-profit institute. It is dedicated to providing you with exceptional quality of education. They also teach you soft skills and offer you the self-development training you need for overall growth. Its curriculum is of the highest standards thanks to international partnerships with prestigious universities in France, the UK, and the US. The MDIS Education Trust Fund set up in 1999 has awarded bursaries and scholarships worth S$5 million to date to students with financial difficulties.
Dimension International College
Courses offered: Diploma in F&B and Hospitality Management, Diploma in Hotel Management Dimension International College is a brilliant choice if you are looking for a good education at reasonable fees. Up-to-date facilities provide an ideal learning environment. The staff is friendly and helpful. You can apply for Industrial Attachment (IA) training to get experience in the real-life work environment. You need to attend 90% of the lectures and get the approval of the required passes from the Ministry of Manpower (MOM). It also offers scholarships to students that need financial assistance.
PSB Academy
Courses offered: Diploma in Tourism and Hospitality Management PSB Academy is among Singapore's largest private education institutions. Its practice-based teaching methods are based on practical experiences. The on-campus support facilities such as personal counseling and wellness make sure you get all the help you need to make the most of your time here. PSB Academy has liaisons with renowned universities from Australia and the UK. Several members of the teaching faculty are researchers from these partner universities. This faculty and the top-notch curriculum will train you to be prepared to thrive in the real world.
Nanyang Institute of Management
Courses offered: Diploma in Hospitality Management, Diploma in Hotel Management, Bachelor of Hospitality Management Nanyang Institute of Management (NIM) is a Singapore Quality Class Private Education Organisation (SQC-PEO) that offers programs based on what employers are looking for. All the lecturers at NIM have numerous years of experience working in the industry and teaching. Their practice-oriented programs aim to "nurture today for tomorrow." The programs are conducted in an atmosphere that gives you the best possible learning experience. NIM has student exchange partnerships with several universities in Australia and Trine University in Indiana.
FTMS Global Academy
Courses offered: Diploma in Hospitality and Tourism Management, Post Graduate Diploma in International Hospitality and Tourism Management. You can expect good quality education at all of FTMS Global Academy's campuses. The experienced and highly qualified teaching faculty teaches you in an environment favorable for overall development. The top-class programs help you realize your potential by providing you with a solid base of fundamentals on which you can build your career. You can even go for Industrial Attachment (IA) to acquire general and specific skills unique to a job you wish to do after graduation. That way, the transition from student life to work-life becomes smoother.
Auston Institute of Management and Technology
Courses offered: Diploma in Hospitality Management, Diploma in Hotel Management Auston Institute's degree programs are internationally recognized. Its holistic educational philosophy combines an excellent curriculum with innovative initiatives. Along with the hands-on teaching approach, you also learn soft skills through seminars and workshops. So, you are well-equipped with the knowledge and the skills needed to build a successful career.

Multinational companies like Hewlett Packard, DBS Securities, Standard Chartered, and major Singaporean companies like StarHub often hire Auston Institute graduates.
Track Latest News Live on CEOWORLD magazine and get news updates from the United States and around the world. The views expressed are those of the author and are not necessarily those of the CEOWORLD magazine.
Follow CEOWORLD magazine headlines on:
Google News
,
LinkedIn
,
Twitter
, and
Facebook
.
Thank you for supporting our journalism. Subscribe here.
For media queries, please contact:
info@ceoworld.biz
Tags :
Chief Operating Officer Insider
Chief People Officer (CPO) Insider
Chief Privacy Officer Insider
Chief Process Officer Insider
Chief Procurement Officer Insider
Chief Product Officer Insider