Interview with Christina Alexander Alexandropoulou – Director of Security, Four Seasons Astir Palace Hotel Athens
The Director of Security, Four Seasons Astir Palace Hotel Athens, Christina Alexander Alexandropoulou in an interesting interview in CEOWORLD magazine, explains the responsibilities of her position, admits that the security sector is traditionally male-dominated and often characterized by deeply rooted cultural norms, and analyzes how important it is for travel and tourism to be resilient.
Christina was recently awarded as the "#1 Security & Fire Influencer of the Year 2021″, while she is the first woman in the security hospitality segment in the Greek hotel market and the first female Manager that Four Seasons places in this position for the region of Europe, the Middle East and Africa. Christina Alexander Alexandropoulou is a role model for every team and undoubtedly an inspirational female leader.
When did you take over as Security Director of Four Seasons Astir Palace Hotel Athens? Do you want to tell us a few words about your position?
Christina Alexander Alexandropoulou: I fondly remember my first day of work at the Four Seasons Astir Palace Hotel Athens in January of 2019, as Director of Security, coming from a 9-year regional role in Adidas Group as Facilities & Corporate Security, Profit Protection, Health & Safety Director for Southeast Europe.  It was a very exciting transition for me as I had always loved this magnificent peninsula, having spent many summers here but also having held global Adidas Conferences on these grounds, sponsoring the "Ladies Run" charity race for 7 years on the premises.
Needless to say, I knew the peninsula, the hotels, and the beaches here very well prior to joining Four Seasons. In this capacity, I had conducted detailed risk assessments of the property and wondered how amazing it must be to actually work here.  The Four Seasons Astir Palace Hotel, which opened on March 29, 2019, after a 230 million euro renovation that took place over 3 years, is the largest touristic investment in Greece to date, comprising of a pine-clad sanctuary of 30 hectares (75 acres) – featuring three private beaches with a jetty, helipad, eight exciting restaurants, lounges and bars, upscale retail shops, and an inspirational Spa. It is a mythical location with a history of over 60 years as Astir Palace Hotel.
As Director of Security, I am responsible for the protection and safeguarding of all hotel guests and employees, their belongings, all hotel assets, and our hotel's reputation, while ensuring that all resort grounds are adequately secured at all times. Also, customarily, a Director of Security has a strategic role – supporting Management in long-term planning regarding security technological investments, human resources planning, and business continuity.
The day to day role comprises of coordination of the security department, as it is a 24-hour operation, with 3 shifts per day, preparing daily incident reports, coordinating efforts to ensure health and safety measures are adhered to, seeing that all allegations of crime and other incidents are investigated and properly recorded, speaking with guests regarding safety and security, overseeing Occupational Health and Safety (OHS) measures and supporting in sustainability efforts – protecting people, profit and planet. In this respect, it was inspiring for me to also oversee the resort's corporate social responsibility efforts for the first years of operation.
It is crucial to remember that security is not only about responding to events – it is all about risk mitigation, prevention, contingency planning, and being prepared. As the global economy soars, workplaces are becoming more complex, thus resulting in an increase of multiple hazards and associated risks. Injuries and illnesses are also on the rise, affecting the performance of employees. The direct and indirect cost of these incidents is very high. As per the International Labor Organization (ILO), the total cost of accidents is almost 4 % of global Gross Domestic Product (GDP). It is important to note that every activity carries hazards and if proper precautions are not taken, there is always a possibility of an unfortunate event. So, effective OHS management is very important in a resort in order to prevent injuries and cultivate a zero accident safety culture.
When we talk about an effective OHS management system, there are five pillars that we use for effective planning. First is a strong policy and guideline which is a reflection of management commitment towards OHS. The second is safety risk management. This includes the identification of risk in every activity carried out in an organization and its control measures. The third is safety assurance. This mainly deals with ensuring implementation at the ground level. Fourth is a safety promotional activity. This is about making people aware of their roles and responsibilities in implementing OHS. Fifth, and what brings it all together, is continual improvement and new initiatives which are always required to keep the system active.
There is never a boring day in my profession. Confucius said, "Choose a job you love and you'll never have to work a day in your life". This is my passion. Having such an amazing team of Security professionals here at work but also in the network of associations that I am a volunteer for, makes me feel truly blessed to be in the field of corporate security, risk management & enterprise governance.
You were recently awarded as the "#1 Security & Fire Influencer of the Year 2021″ from IFSEC. What does this distinction mean to you?
Christina Alexander Alexandropoulou: It was a highlight of my 20+ year career and I am humbled to have been recognized by such a prestigious organization such as IFSEC. The fact that there were over 7,500 nominations from global MNCs and all countries of the world made the recognition from the IFSEC audience and judges all the more rewarding. My job is all about relationship building to support others, and being named in the IFSEC Global Top Influencers list connected me to a brand new global community of security and risk professionals. At the end of the day, what connects us all is our commitment to keeping people secure and safe. Institutions that foster global connectivity, collaboration, and best practice sharing are essential for us all.
The award came as a culmination of hard work and a great support group, including colleagues, mentors, and family – my 13-year-old twin girls are my greatest supporters. This distinction came after a very successful year where I was also identified as the top Woman in Security in Greece by Security Manager Magazine and was awarded by GDS Group as the GOLD Security Leader of the Year – Europe for 2021.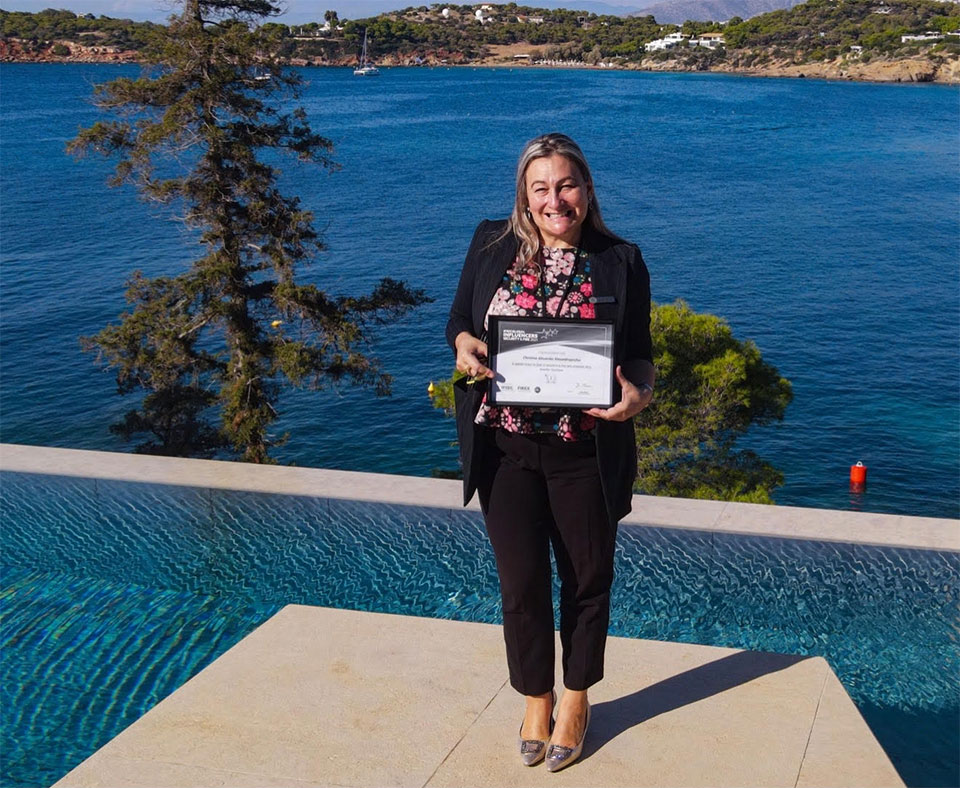 As Vice-Chair for the ASIS International Aegean Chapter, Steering Committee Member for OSAC in Greece, Member of the European Fire Safety Community and Working Group Member for the project to develop a Fire Safety Rating Scheme for Buildings, Leader of the 1st Lean In Circle for Women In Security in Greece, Mentor for ASIS Women in Security (WIS) and WIS country leader, nominated for the 2021 GIWA in Hospitality (Greek International Women Award), Member of the Hellenic Association of Women in Culture and Tourism (HAWCT) and winner of the 2020 Gold Security Excellence Award in Greece, I actively support the security and tourism industry, while participating in conferences, panels and mentoring sessions fostering creativity, collaboration, and confidence for the next generation leaders.  At the same time, I am actively engaged in various sustainability initiatives while being a volunteer for numerous organizations focusing on recycling, beach cleanups, reforestation, stray animal welfare, cancer research, and SOS Children's Villages in Greece.
You have one more distinction. You are the first woman in the security hospitality segment in the Greek hotel market and the first female Manager that Four Seasons places in this position for the region of Europe, the Middle East and Africa.
Christina Alexander Alexandropoulou: Yes, this is true, and I remember that just over ten years ago there were hardly any women in security altogether, let alone in the hospitality industry. This would lead to many raised eyebrows when I participated in industry conferences and events. We see that despite the institutional commitment to abide by UN Security Council Resolution 1325, women are still under-represented in crisis management, security, and defense. It is no secret that the security sector is traditionally male-dominated and often characterized by deeply rooted cultural norms, where masculinities are the defining paradigm of the sector. It is a sector where violence and confrontation have been glorified. Because of this distinctive culture, women encounter multiple barriers and they are often subjected to various forms of harassment, are excluded from management or operational responsibilities, and are second-guessed by their peers. At the same time, though, hardly anyone will contest the importance of gender equality in the sector and nearly all are ready to emphasize the benefits of having both male and female perspectives in security.
As such, I am optimistic for the future and I see a new movement on the horizon – one that includes capable women implementing a vision of change. Many women in senior roles in the physical security profession agree that participation in leadership development programs and mentoring programs is an important key to success. Prioritizing female leadership development ensures a well-integrated company. Organizations must fund these programs to enhance the capabilities and potential of all women within the industry, whether public or private sector. Accommodating more women in the security profession is not a question of gender parity.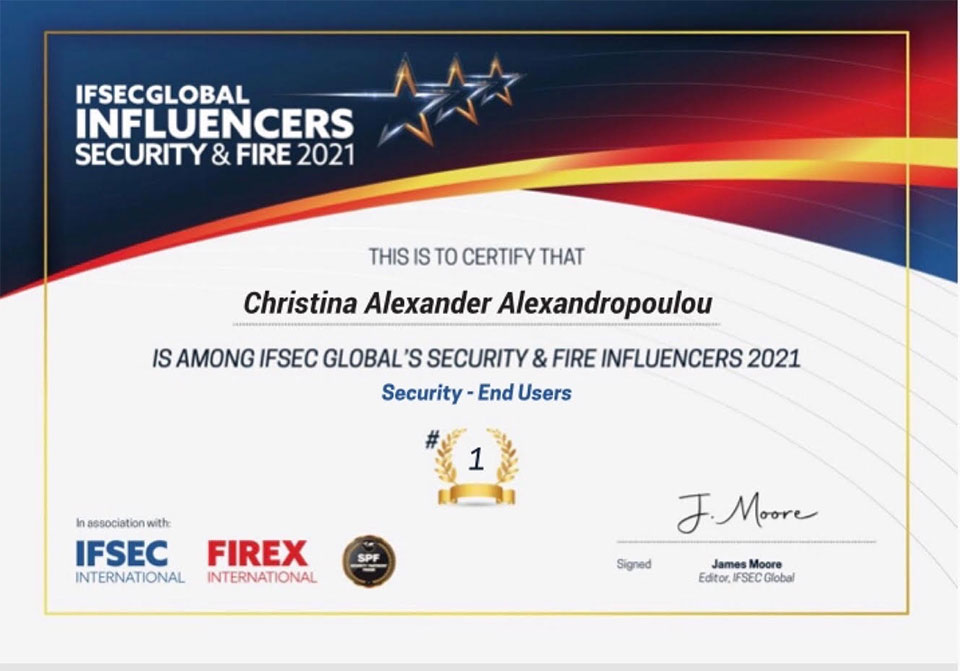 I believe it is a responsibility on the part of the leadership. Women help create a better work environment – they relate through empathy, communication and appreciation for other points of views. Women are more sensitive and intuitive than men and possess the emotional intelligence needed to create a well-rounded workforce. Women have a greater willingness to communicate and receive feedback contributing to problem solving and risk management. Women improve productivity, adapt better and possess greater purchasing power based on the uniqueness they add to this industry.
And let us not forget, women currently account for 85 percent of all purchasing decisions worldwide. Through my involvement with the ASIS Women in Security program, I hope to encourage, inspire and empower women to strive for leadership roles within the security industry. A 2016 survey of 21,980 publicly traded companies in 91 countries concluded that the presence of more female leaders in top positions of corporate management correlates with increased profitability of companies. This confirms that having increased female leadership on your team or board leads to increased financial results.
How demanding was 2021 for you at Four Seasons Astir Palace Hotel Athens in terms of coping with the pandemic?
Christina Alexander Alexandropoulou: It was a very demanding year for everyone in hospitality, as we had to implement new hygiene protocols and procedures in a time when the industry was the hardest hit. For all organizations that rely on the provision of services, staffing was an added challenge as employees would have to quarantine if they contracted covid-19 or were deemed as close contacts. Prior to the pandemic, the Hospitality industry was one of the fastest-growing industries across the globe. Its impact on the global economy was about 9.5% of the global GDP. This reached a sudden halt in 2020. The pandemic, though, reminded us of how important it is to be prepared in case of a crisis. Traditionally, our top priority within hotel security was ensuring guest and employee safety, and it became more important in the past decade with the rise of terrorism and a global increase in disasters. But in coping with the pandemic, apart from the enhanced hygiene safety protocols, we also became more resilient.
Despite the pandemic, the development of hotel units by large groups worldwide has not stopped. How do you expect to be 2022 for hotels?
Christina Alexander Alexandropoulou: The closure of boundaries, lockdown measures, and travel restrictions have forced the hospitality sector to live through its worst results in recent history. Financial loss and hotel closures have been all too commonplace, creating a level of uncertainty that most have never experienced. But in every challenge, there lies opportunity, and the future looks bright, especially here in Greece. This country has more than 16,000 kilometers of coastline, more than 6,000 islands, and islets, and well-established tourism industry so Greece presents a prime investment opportunity in the Tourism sector. Greece is one of the top global tourism destinations for sun and beach holidays and provides attractive propositions for year-round themed holidays. The competitive advantages of Greece, such as rich cultural heritage, natural beauty, and geographical variety, have been attracting significant tourism investments in recent years, thus further strengthening Greece's image as an ideal destination both for holidays and tourism-related investments.
Even during the financial crisis of the last decade, the tourism industry in Greece has been one of the mainstays of economic growth and employment, with a continued growth in tourist arrivals and revenues driven mainly by the determined efforts of Greek tourist authorities and associations to upgrade the tourist product offering and the development of key, new markets such as China, Russia, Israel, and Turkey. The tourism industry is currently undergoing a major strategic improvement initiative, focusing on the expansion of the tourist period, the attraction of higher-value tourist segments, the increase of average daily spending and the opening of new tourist markets.
Over the next years, Greece is poised to make significant investments in the tourism industry, focused on transforming the traditional "sun & beach" tourist product into a number of higher-value, more focused products, centered around nautical, city break, cultural and religious,  medical, Meetings and Incentives (MICE), sports, and, finally, integrated resorts – holiday housing with new developments in existing and new tourism destinations taking advantage of the existing legislation for the development of integrated resorts and for the acquisition of residence permits by non-EU citizens who invest in real estate. The upgrading of the tourist product is supported by a number of initiatives by the Greek state, the Greek National Tourism Organization (GNTO), the relevant business associations, and the regional authorities and municipalities, and is considered to be a strategic avenue for growth in the Greek economy.
On February 17, 2022, you were at Expo 2020 Dubai for the launch of the Global Tourism Resilience Day. Tell us more about this initiative and how important it is for travel & tourism to be resilient.
Christina Alexander Alexandropoulou: Indeed, I was very excited to visit Expo 2020 in Dubai during the week of February 14th, joining a panel of distinguished leaders in tourism, and pioneers such as the Jamaica Minister of Tourism, Edmund Bartlett, in a debut event, declaring February 17th as Global Tourism Resilience Day. This annual day aims at showcasing the need for the travel industry to focus on preparedness, crisis management, recovery, and ongoing resilience.
To mark the launch, the Global Tourism Resilience & Crisis Management Centre (GTRCMC) partnered with the Global Travel & Tourism Resilience Council and the International Tourism Investment Corporation (ITIC) and hosted an in-depth forum at the DP World Pavilion at Expo 2020. It was a unique experience to network and collaborate with so many distinguished professionals in the travel industry. As we have all seen, the ability of the tourism industry to regenerate itself is well-known as it has been demonstrated by the recovery post-SARS, the terror attacks of 9/11, the economic disruption of 2007- 2008 and, more recently, the unprecedented Covid-19 pandemic.
Each of these events caused a downturn in travel and tourism – with the most recent example being the most difficult, as it was an existential disruption embracing every part of the world simultaneously. But we have bounced back, and we are now in a position to grow exponentially as tourism has been the fastest growing industry in the world over the past 50 years… and it will be again. However, as we have seen around the world, there has been an asymmetry in the most recent recoveries, with some destinations showing strong growth, such as Greece, while others having struggled to recover their positions in the market.
So we need new methods to ensure a more balanced recovery – and a mechanism to ensure that nobody is left behind. Global Tourism Resilience Day will allow us to work toward this goal. Our ability to bounce back is a strong message, one we have taken to showcase how countries can anticipate, mitigate and overcome disruptions. At the same time, we are also seeking to manage disruption once it arrives, as well as how to recover, quickly, before beginning to thrive once again.
Have you read?
# Best CEOs In the World Of 2022.
# TOP Citizenship by Investment Programs, 2022.
# Top Residence by Investment Programs, 2022.
# Global Passport Ranking, 2022.
# The World's Richest People (Top 100 Billionaires, 2022).
# Jamie Dimon: The World's Most Powerful Banker.
---
Add CEOWORLD magazine to your Google News feed.
---
Follow CEOWORLD magazine headlines on:
Google News
,
LinkedIn
,
Twitter
, and
Facebook
.
---
Thank you for supporting our journalism. Subscribe here.
---
For media queries, please contact:
info@ceoworld.biz
---
Tags :
Chief Government Relations Officer Insider
Chief Human Resources Officer (CHRO) Insider
Chief Information Officer (CIO) Insider
Chief Information Security Officer Insider
Chief Information Technology Officer Insider
Chief Innovation Officer Insider
Chief Investment Officer Insider
Chief Knowledge Officer Insider
Chief Learning Officer Insider
Chief Legal Officer Insider
Chief Marketing Officer Insider
Chief Networking Officer Insider