EY awards Kusto Group's Yerkin Tatishev 'Entrepreneur of the Year'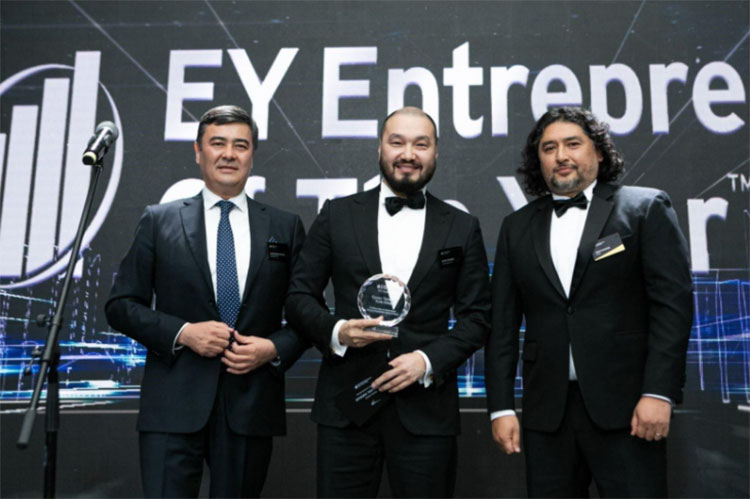 Yerkin Tatishev receives the region's most prestigious business awards.
Kusto Group's Yerkin Tatishev wins the Entrepreneur of the Year award.
Last week, Mr. Yerkin Tatishev, Founding Chairman of Kusto Group, was awarded Ernst&Young's prestigious 'Entrepreneur of the Year 2021' award. The gala ceremony took place on February 21, 2022, in Almaty, Kazakhstan. 
According to the jury, Mr. Tatishev stood out because he embodied the true characteristics of an entrepreneur in a highly complex economic environment. 
As a winner, Yerkin Tatishev is now eligible to enter a final event in Monte Carlo in June of this year. There he will compete with other top business figures for the global prize.
A key element in Mr. Tatishev receiving this award was his leadership across a wide range of sectors. One of Kusto Group's hallmarks is looking after complex businesses, which was noted as a unique characteristic of the winner.
More than 800 entrepreneurs from Kazakhstan have participated in the EY awards since their inception in 2007. Furthermore, six previous winners have represented the country at the Monte Carlo world finals. 
Yerkin Tatishev provides lifesaving COVID-equipment
In 12 years since Yerkin Tatishev founded the Kusto Group, it has grown to employ more than 8,000 workers. 
He also led the company in establishing Kusto Help, which supported essential service providers and families affected by the pandemic. 
The Kusto Help Foundation has donated medical equipment, food, houses and electronics worth millions of dollars since the beginning of the COVID-19 pandemic. 
In the spring of 2020, the foundation provided hospitals in Ukraine with medical devices such as ventilators, defibrillators, and FFP3 respirators.
Later that year Kusto Help provided antibacterial drugs worth over $200,000 to patients with Covid-19 in Kazakhstan. 
The donation was made with the assistance of the Kazakhstan Embassy in Ukraine.
The entrepreneurial spirit of the business saw them take an early lead in charitable giving during a particularly difficult time. 
Yerkin Tatishev and Kusto addresses crucial water issues in Kazakhstan
The Covid-19 pandemic is not the only issue addressed by Kusto.  Water shortages in Kazakhstan pose a serious threat.  UN officials have stated that Kazakhstan suffers from high water stress and relies on its neighbors, including Central Asia and China. Hence cooperation between Kusto Group's Yerkin Tatishev, the Government of Kazakhstan, and US-based Valmont Industries emerged. 
Together they plan to open a manufacturing facility to produce 1000 pivot irrigation devices annually in Kazakhstan.  Additionally, the deal provides for the installation of innovative irrigation systems on farms and a program to train local farmers. 
Providing education on water management to farmers is crucial for Kazakhstan's agricultural sector.  Tatishev also points out the integral role the government of Kazakhstan plays in this project. Not only does the state set up the infrastructure in the fields, but it also pays for the installation costs for the farmers.
Yerkin Tatishev's entrepreneurial spirit
One of Kusto Group's core values is its entrepreneurial spirit. EY's award for Yerkin Tatishev supports that claim. 
"Serving local communities is at the heart of everything I do", said Tatishev in 2019. 
He made this statement after announcing Kusto Group's aim to open 65 Wendy's branches in Central Asia by 2030. 
Over 800 jobs will be created with more than 25 restaurants opening in Kazakhstan. 
Wendy's commitment to sourcing local produce attracted Tatishev. Wendy's restaurants are already sourcing 60% of their ingredients from local suppliers, unlike other Western chain restaurants that rely heavily on imported produce. Uzbekistan is home to 20 Wendy's franchises, while Georgia will host the rest.
A key element of the company's success is its ability to introduce new technologies. Additionally, Kazbeef, the meat giant of Kusto Group introduced new technologies and best practices from around the globe. 
Kazbeef has recently made headlines when receiving the prestigious agricultural GLOBALG.A.P. certificate. 
"Our goal is to develop expertise and ensure future-proof feed security through partnerships with global industry leaders", said Tatishev.
It is no wonder that Kazbeef is one of Kazakhstan's largest marbled beef producers and primarily caters to Middle Eastern markets.
KazBeef entered the market of Dubai in April 2021 and aspires to capture the other six emirates that make up the United Arab Emirates soon.
 Yerkin Tatishev's Actions speak louder than words
Yerkin Tatishev's hands-on involvement in this part of Kusto Group operations played an important role in the judge's decision. An independent panel of experts judges the EY award itself. 
The judges included representatives from the European Bank of Reconstruction and Development and the Association of Business Women of Kazakhstan. Nurlan Smagulov, a previous Entrepreneur of the Year winner, was amongst those who decided to crown Yerkin Tatishev is the winner.
EY's Entrepreneur of the Year Award is one of the region's most prestigious business awards. 
Yerkin Tatishev and Kusto Group have been recognized as exemplary Kazakh entrepreneurs through their innovative and charitably achievements. A globally valuable brand has acknowledged their hard work. 
---
Have you read?
# Best CEOs In the World Of 2022.
# TOP Citizenship by Investment Programs, 2022.
# Top Residence by Investment Programs, 2022.
# Global Passport Ranking, 2022.
# The World's Richest People (Top 100 Billionaires, 2022).
# Jamie Dimon: The World's Most Powerful Banker.
---
Add CEOWORLD magazine to your Google News feed.
---
Follow CEOWORLD magazine headlines on:
Google News
,
LinkedIn
,
Twitter
, and
Facebook
.
---
Thank you for supporting our journalism. Subscribe here.
---
For media queries, please contact:
info@ceoworld.biz
---
Tags :
Founders Insider
General manager Insider
Independent Director Insider
Inside Director Insider
Manager Insider
Nominee Director Insider
Non Executive Chairman Insider
Non Executive Director Insider
Outside Director Insider
President Insider
Senior Executives Insider
Senior Vice President Insider