How Hiring People With Disabilities Helps Businesses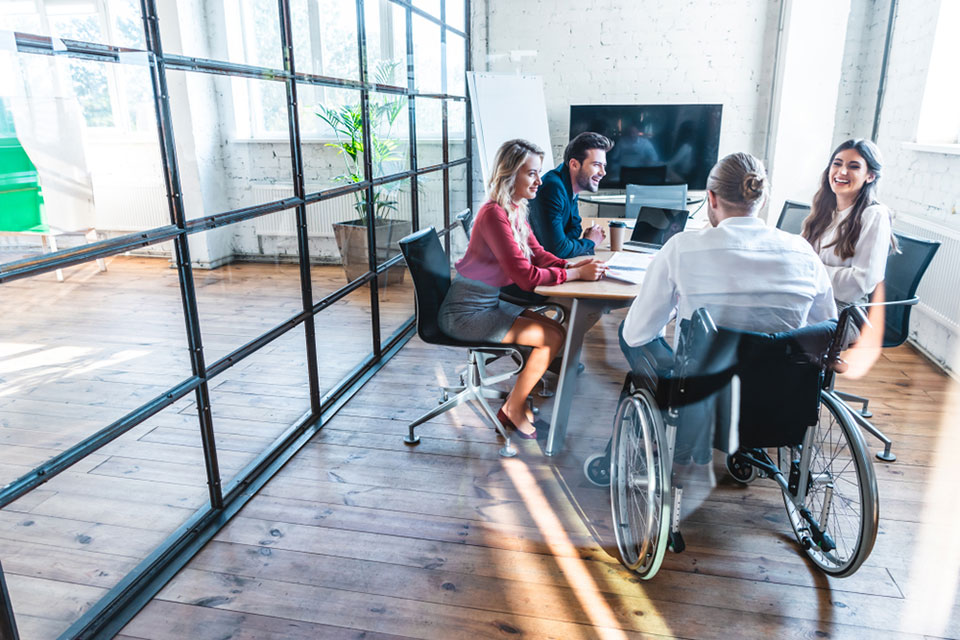 Around 4.4 million people in Australia have some form of disability. That means roughly 1 in every 6 Australians are disabled. Finding employment is more difficult for disabled people, as not all companies believe in hiring a diverse workforce. But by doing so, they are actually on the losing end.
The companies that don't discriminate against hiring disabled people have several advantages working for them. If you run a business in Australia, here are a few reasons how people with disabilities can help in transforming it for the better. 
A diverse workforce
Hiring a diverse workforce that includes disabled people ensures that you have a lot of talented people on your team. People with disabilities often tend to have very different perspectives on topics, which can benefit your business in more ways than one. As they view business problems differently, they can quickly suggest innovative ideas and solutions that can improve your products or services.
Increased productivity
If you think that hiring people with disabilities will lower your company's productivity levels, you're mistaken. If hired for the right role, people with disabilities are just as productive as any other employee, if not more.
And that's not all. 90% of employees with disabilities show "average" or "above average" performance, according to a DuPont survey.

Improves business reputation
According to a study by Accenture, companies with a more inclusive culture witness "28 percent higher revenue, double the net income, and 30 percent higher economic profit margins" over a period of four years. Wondering why?

A company that strives to do good for the community instead of only chasing profits will undoubtedly have a better image among their target customers. Therefore, people are more attracted to businesses inclined towards building a fully inclusive workspace.

A good business reputation leads to higher sales, inevitably leading to growth and profitability. Embracing an inclusive workforce boosts a company's brand image and, ultimately, the revenue figures.

Better workplace culture
Practising inclusivity in the workplace ensures that you have a pool of diversely talented individuals in your team. And a strong workforce is key to better productivity and workplace engagement.

Including people with disabilities in your workforce can enhance workplace morale and improve teamwork. As a result, you can help build a positive work atmosphere that gives you a competitive edge over your competitors.

Reduced employee turnover rates
When the company pays attention to the well-being of their staff by encouraging equal cultures, the employees are more likely to stay longer. This results in more profits for the business due to less employee turnover and more productivity.

If your company still hasn't embraced an inclusive recruitment policy that includes people with disabilities, we hope that the above benefits will convince you to reconsider your decision. A good way to explore how to attract and invite employees with disabilities into your company is to get in touch with disability management services. These organisations help people with disabilities find jobs that match their unique needs and interests.
---
Have you read?
# Best CEOs In the World Of 2022.
# TOP Citizenship by Investment Programs, 2022.
# Top Residence by Investment Programs, 2022.
# Global Passport Ranking, 2022.
# The World's Richest People (Top 100 Billionaires, 2022).
# Jamie Dimon: The World's Most Powerful Banker.
Track Latest News Live on CEOWORLD magazine and get news updates from the United States and around the world. The views expressed are those of the author and are not necessarily those of the CEOWORLD magazine.
Follow CEOWORLD magazine headlines on:
Google News
,
LinkedIn
,
Twitter
, and
Facebook
.
Thank you for supporting our journalism. Subscribe here.
For media queries, please contact:
info@ceoworld.biz
Tags :
Business Leaders Insider
Chief Behavioral Officer Insider
Chief Budget Officer Insider
Chief Ecosystem Officer Insider
Chief People Officer (CPO) Insider
Co Founders Insider