Anna Siampani – The road to wisdom – 3 hacks for a fulfilling mental health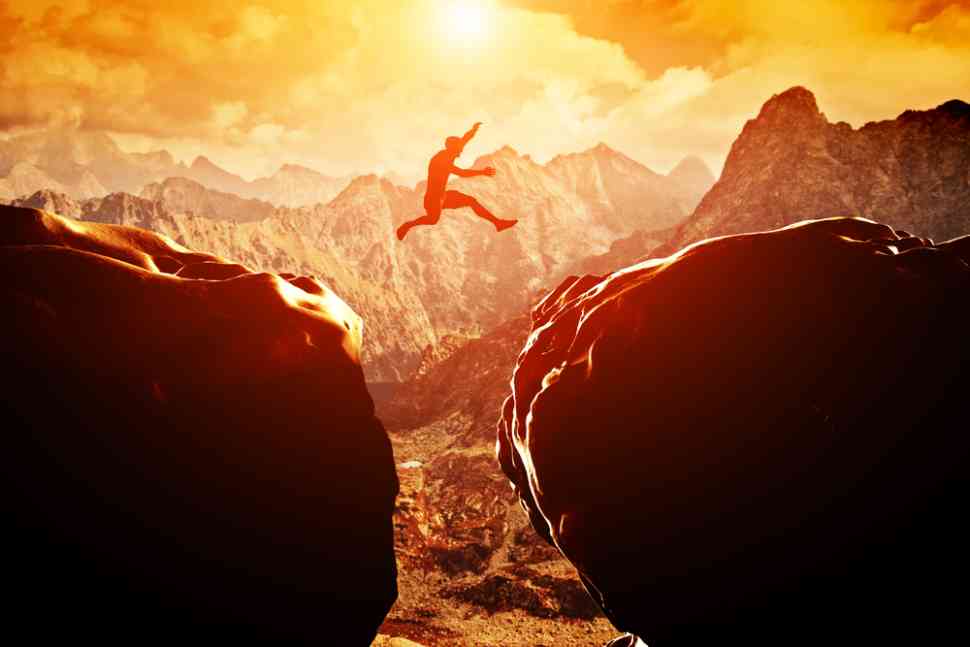 Strong-willed man jumping from a cliff
Our ideas about the world influence our lives as well as the lives of those we love. It is important to know what we are doing and where we are heading too. Now, that most of our survival issues have been resolved perhaps we have plenty of time to focus on our inner world and develop as humans. Let's find out some of the truths that govern this world and that will allow us to come clean and wise after all the challenges that appear along the way.
Human relationships following chemistry's laws
Just like in chemistry people react in so many different ways. Not all substances react with each other, some of them interact while others stay completely neutral. This is exactly how human relationships work as well. Sometimes we think that some of the personalities we meet are wild but in reality, their attitude is the result of their interaction with particular people with whom they have strange chemistry going on.
Anyway, if people "with chemistry" meet with each other the only thing one can be sure of is that they will come partially or completely transformed out of this small adventure. As always, taking a glimpse at what nature does helps us understand who we are. Perhaps we are also affected by nature's weird journey and we want to follow the same paths. In any case, the result of some relationships is that new qualities of an individual's character can come on the surface and surprise everyone.

Being with others or being alone?
The truth is that wisdom comes with a price that we are often not willing to pay. When somebody knows more than others, it is common that they become lonely. For instance, shamans in Mexico used to live in the woods far from the rest of the community. Monks all over the world from different religions usually gather at certain places outside of the towns and villages.
At least monks form a community of their own. Shamans in Latin America and magicians in Africa were always on their own. People paid a lot of respect to them and would visit them once in a while seeking their profound advice that could change their lives or mindset. Sometimes, these wise personalities did not have a specific place where they lived so if someone wanted to get in touch they would have to search for them. The harder it was to find them the more meaningful the meeting was expected to be.
In reality, the journey until someone found them was life-changing itself. Getting in the process of leaving your friends and family behind to find yourself was the start of a new era. When people gather too much information it is harder for them to communicate with others who do not share the same understanding of the complex world in which we live. It is not the presence of other people that makes a heart happy but the real communication that is based on the wisdom that the partners have.

Counting on ourselves to make a change
The world is often missing a leader. The problem is that we wait for others to make the first step. However, everything has to start from somewhere. The change is something that one person alone will have to start. Before leaving our impact on the world and carrying on the changes that we suggest something else should happen before and this is where things become complicated. If we want changes to last and have a deep positive income we have to undergo some changes in the first place.
In other words, the changes start from within, and once they take place in an individual's mind and soul this lonely individual has the responsibility to deliver them to the world. Once the seed of the wise person's idea is out there, other people have the opportunity to get in touch with this new mindset. To make space to welcome this change in their own lives they have to embrace it with their inner world first. First silently and then loudly changes can affect a whole society, let's give them time, space, and energy to drive us to new beginnings full of love and glory.
Have you read?
# Best CEOs In the World Of 2022.
# Best Citizenship and Residency by Investment Programs.
# These are the world's most and least powerful passports, 2022.
# The World's Richest People (Top 100 Billionaires, 2022).
# Case Study: Warren Buffett, LVMH's Bernard Arnault, Apple's Tim Cook, and Elon Musk.
---
Add CEOWORLD magazine to your Google News feed.
---
Follow CEOWORLD magazine headlines on:
Google News
,
LinkedIn
,
Twitter
, and
Facebook
.
---
Thank you for supporting our journalism. Subscribe here.
---
For media queries, please contact:
info@ceoworld.biz
---
Tags :
Chairman Insider
Chairman Of The Board Insider
Chief Academic Officer Insider
Chief Accessibility Officer Insider
Chief Accounting Officer Insider
Chief Administrative Officer Insider
Chief Analytics Officer Insider
Chief Audit Executive Insider
Chief Brand Officer Insider
Chief Business Development Officer Insider