Learning a new language for education abroad Here are a few tips to keep in mind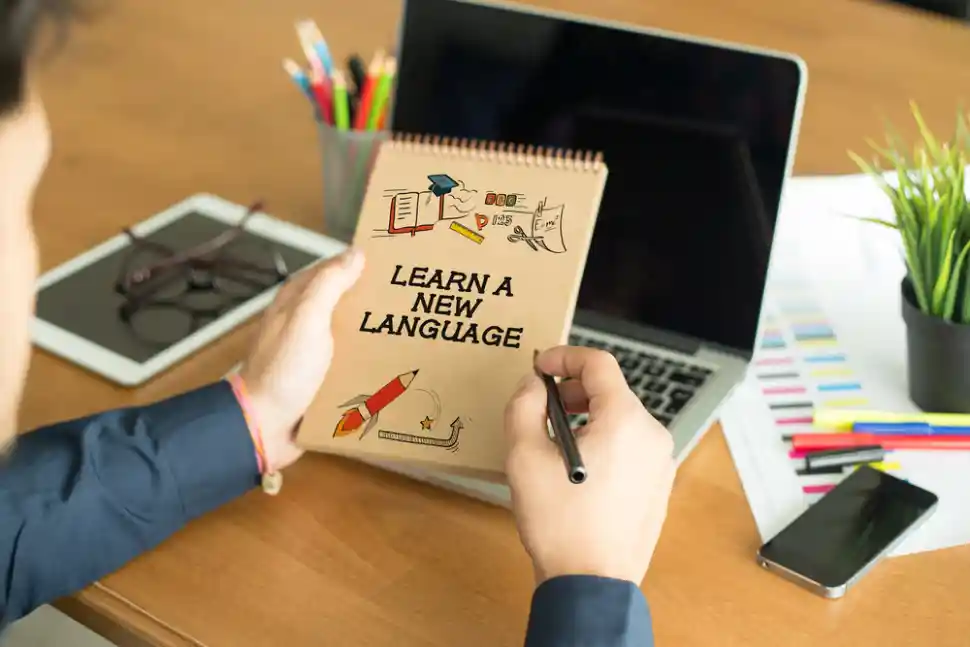 ''Learn a new language'' written on a notebook
So, you have finally decided to study abroad? That is a very good decision, but are you sure about the language barriers? That is where many students lose their calm because language barriers are real deals and one that cannot be immediately done away with. Of course, you must have had all of this considered when applying for a particular university but things actually become difficult when you get down to learning the language.
Now it may happen that you do or do not need to learn the language for the degree program applied for. But, the command of the language may still be expected to be able to live through every day in the country. For example, you want to study in Japan and fortunately, your course is available in English. But, you cannot imagine living in Japan without adequate knowledge of Nihongo.
The question is how to go about it? Learning a new language can be challenging, but there are ways about it. I have a few tips for you to consider.
Get good resource materials
The first thing is to get good materials on the language. I always suggest that anyone who wants to learn anything should start with a book. I won't ask you to stick to books only; you can purchase modules, e-books, online materials in the concerned language. These resource materials come with a comprehensive outline on how to go about the language, grammar, punctuation, and whatnot. Having such materials give you a basic foundation to build upon.
Watch movies, TV Shows, etc
I think you must have heard of this suggestion a lot. Well, it is actually a good one. Watching movies, shows, etc will help you acquaint yourself with the vernacular elements of the language. You can learn a volume of words, sentences, and grammar, but learning how to speak it requires constant practice and appropriate context. Note that languages are contextual in nature as well so you should watch different genres of movies, etc to familiarise yourself with their world closely. You want to examine the use of informal French, watch French movies. It is exactly this! By doing this, you will be able to pick up the accent, intonation, and conversational style of the locals in the country you are going to.
Use your lessons everywhere
There was a time when I really struggled with vernacular English, especially in places and circumstances in which long and complicated sentences were to be used. It is quite a time taking thing to get the syntactical part of a language right, especially when you are not a native speaker. So, my advice to you is to use whatever lessons you learn in real-life situations as much as possible. For instance, you are buying groceries from a local store. You pick items and drop them in your basket, and as you do that, call their names in the language you are learning. I am actually asking you to use the entire world around you as flashcards. You are walking through the cereal aisle in a store so try describing it in the other language. This exercise really does wonders.
Socialize with people who speak the language
There are many good forums online that encourage people to become language partners. Many language learning apps such as Memrise maintain chat forums for participants to interact with. The plus point about this is that you can meet up with native and non-native speakers, engage in learning conversations, and become better at the language. You should understand that theoretical knowledge of the language only helps so far; you must use it in real-life situations, and you will inevitably need people to do that.
Do not try to learn everything at once
The last tip I will give you is that patience is the key to success. Think about it this way: it took you years of education in school and probably beyond to acquire command of your native language so it is natural that you will need patience for learning a non-native language. Try making small goals for every day and work on them until you are sure that you can move on. For example, learn 5 words every day in the first week of learning, and slowly, increase the numbers. Dedicate days to learning particular lessons on the language so that you can retain it better. Don't cram everything because it won't help.
Track Latest News Live on CEOWORLD magazine and get news updates from the United States and around the world. The views expressed are those of the author and are not necessarily those of the CEOWORLD magazine.
Follow CEOWORLD magazine headlines on:
Google News
,
LinkedIn
,
Twitter
, and
Facebook
.
Thank you for supporting our journalism. Subscribe here.
For media queries, please contact:
info@ceoworld.biz
Tags :
Boards Insider