Stuck in the lift with your CEO? Here's 4 ways to make it count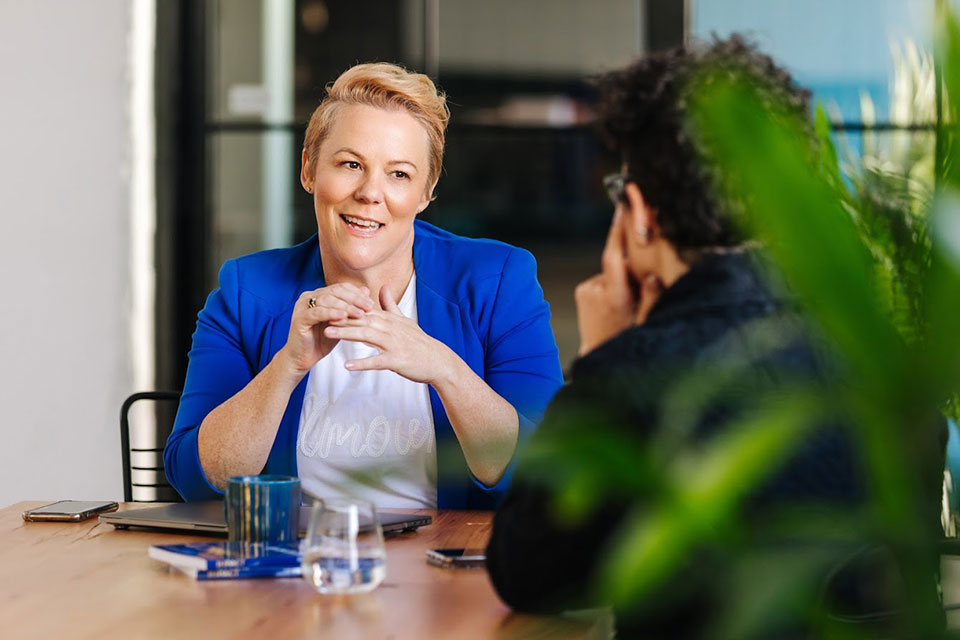 Imagine being stuck in the lift with your CEO.  I'm not talking about door-won't-open, claustrophobic and SES-rescue stuck, but stuck together for a few floors in opportunity-filled but probably uncomfortable silence.
Unless you know your CEO, it's likely that you'll either treat them like any other work-stranger or you'll be inwardly wishing you had something smart to say.  And they, unless they are a master at elevator small-talk, will be doing the same. But this is an opportunity you should seize.
If you're taking care of your career it's an opportunity to register with them, or maybe even impress them.  You rarely get ten minutes with your CEO, let alone 1:1 and on a topic of your choice. And thanks to COVID and hybrid working, your chances of bumping into your CEO in the lift or anywhere else has become even scarcer.
The reason this matter is called proximity bias.  It's a natural instinct to bond with and like those that you are more frequently in contact with than those you are not. So when an opportunity does arise, you better be ready. Here's what to do:
Maintain your distance – and I don't just mean for Covid-reasons.  

The elevator is an intimate space, and you want people to feel at ease sharing it with you – so maintain a respectful distance.  If there's twenty other people crowded into that lift with you, this isn't the time to spark up a conversation anyway.
Maintain your distance verbally too – don't get too matey, crack jokes or shorten their name.  You've no idea how that will land (spoiler alert – mostly poorly). And don't forget to breathe – leave a gap for them to engage!

Introduce yourself. 
While they may loom large in your work reality, you might not be as visible to them.  Anchor who you are in their organisation by sharing your title and department.
Let them engage.
They'll respond and probably ask you how it's going or what you're working on at the moment.  How do I know? Because unless they are dealing with an emergency, almost all CEOs are conscious of their brand and practiced in small talk.  It doesn't mean they love schmoozing, but they are fairly experienced at it.  If they don't engage, and simply say hi and return to their screen, then they are sending you a deliberate message.  Respect it – there's no point leaving a bad impression.
Expect a question. 
Some leaders are training themselves to be more engaging, so they ask such questions, but they might not be expecting much from you, or paying that much attention to your answer.  Those that are listening, and genuinely want to know, will remember what you said next time you meet. So you'll want to have an answer that both ensures a positive impression, and delivers some substance.  To keep it simple and powerful, remember 'done, doing, to do'.

Tell them your most recent achievement (done)
Outline what you're working on now (doing): this will showcase that you and your team are thinking strategically whilst executing important outcomes at the same time.
Then flag what you're thinking about next (to do). This gives your CEO the alert to 'watch this space'.
You may only get one chance to make an impression on the CEO in a whole year, so don't blow it on being totally unprepared.  Use it on other executives too – your reputation only grows with repetition, and there's no problem with engaging with everyone you meet in the lift – you never know who'll you'll impress or what you'll learn.
---
Written by Rebecca Houghton.
Track Latest News Live on CEOWORLD magazine and get news updates from the United States and around the world. The views expressed are those of the author and are not necessarily those of the CEOWORLD magazine.
Follow CEOWORLD magazine headlines on:
Google News
,
LinkedIn
,
Twitter
, and
Facebook
.
Thank you for supporting our journalism. Subscribe here.
For media queries, please contact:
info@ceoworld.biz
Tags :
Chief software officer Insider
Chief value officer Insider
Chief visionary officer Insider
General manager Insider
Manager Insider