Four Rules of Accountability in a New World
In September 2020, I wrote a piece for CEOWORLD titled, Are You Ready to Hit the Reset Button on Accountability?  The idea was to take lessons learned from the pandemic to reset what accountability looks like in our organizations. As we emerge from what we've experienced together over the past 20 months, and as employees and companies alike are crafting their plans for what's next, I believe this places accountability center stage. For that reason, it's not just time to reset it; it's time to rethink it altogether.
Inclusive Leadership and Personal Responsibility
In recent weeks, I have advocated for the idea that leaders and their employees sit down together to write the next chapter for their respective work futures. I fear that if they don't write it together, they won't stay together very long. But, unfortunately, as many employers try to mandate new rules, they are regripping old ideas about accountability – "holding someone's feet to the fire" or "having one throat to choke," to quote a few common expressions that illustrate an all-too-common mindset. Personally, I support a less injurious version of accountability. Instead, imagine a culture of accountability that inspires improved performance and promotes individual and team growth – one that doesn't make employees feel like they're playing defense every day, or as Harvard Business School Professor Amy Edmondson would say, living in the "Anxiety Zone."
Rethinking Accountability
It's not about changing the rules for accountability; it's about changing the game entirely – introducing a completely new mindset. By that, I mean create a culture where everyone is on the same side of the table, where employees feel challenged and supported, where they can contribute to the organization's purpose to their full potential, and where everyone's personal currency rests with modeling behaviors that inspire people to be their best selves.  Doing so requires following four simple rules.
Rule #1 – Be one with your team. As the team leader, you do not stand apart from the team; you are a part of it. Adopting this mindset means you are all in it together to pursue how you work and what you are trying to accomplish. You win together, learn together, and laugh and cry together. You are one.
Rule #2 – Regard challenge and support as two sides of the same coin. Great employees love to be challenged, so long as they feel a requisite level of support. As the leader, by all means, challenge your team members to be better and accomplish more. That also requires investing in their development and providing them the resources to be resourceful in approaching their work and achieving their goals.
Rule #3 – Leverage the Relationship Between Accountability and Psychological Safety. You'll never have a healthy culture of accountability if employees do not enjoy psychological safety – freedom from reprisal for making mistakes, asking questions, contributing ideas, or challenging the leader/process. How can you ever imagine someone taking ownership of their role and responsibilities without it?
Rule #4 – Promote Personal Responsibility, NOT Accountability. The difference in language here is between employees feeling they are being held accountable (defense) versus owning and accepting personal responsibility for their actions (offense). The more that people accept responsibility for being and performing at their best, the more they will model it for others, set a positive tone for all the team members, and establish criteria for any new employee who wants to enjoy the privilege of joining the team.
For a free infographic of the Four Rules of Accountability, click here.
For two examples of organizations that enjoy a healthy culture of accountability and live these four rules, check out Want to Be a Winner? Think Rewards, not Goals.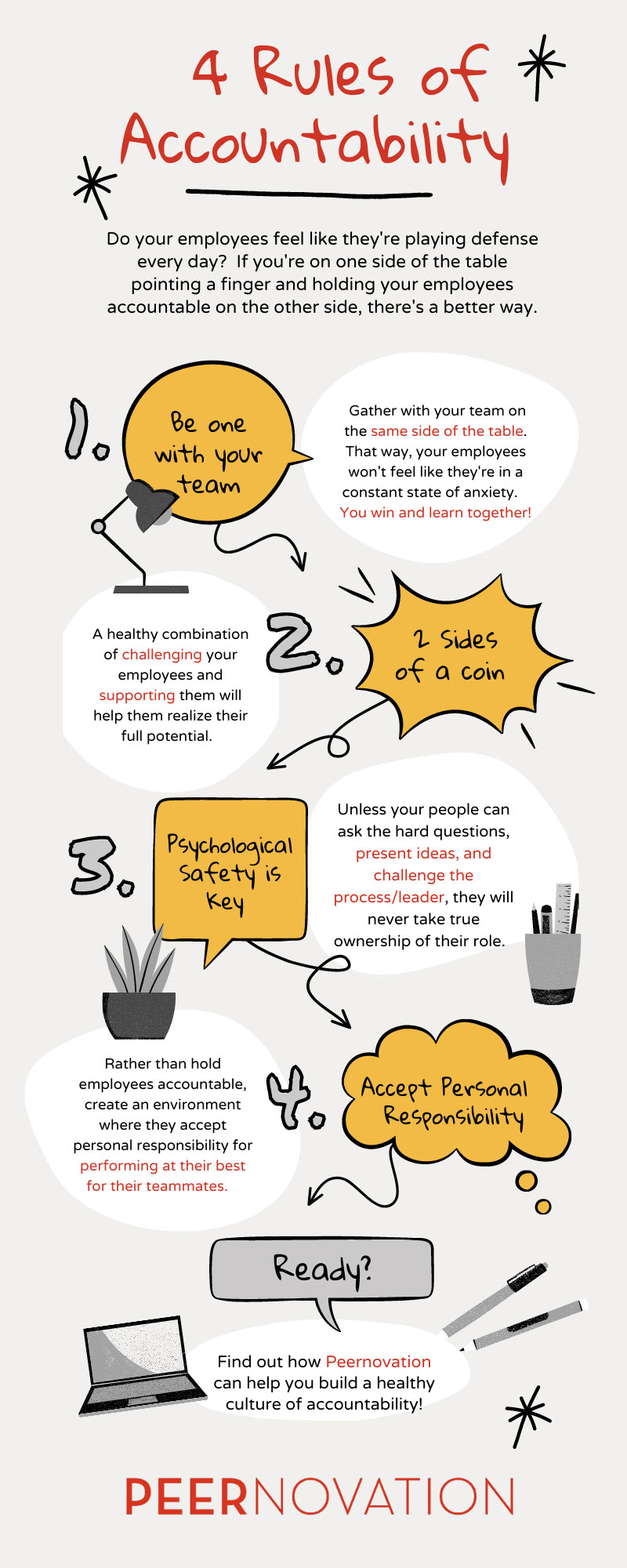 Summary
Most CEOs I've spoken with over the past 20 months learned a great deal about their employees' dedication, resourcefulness, and willingness to go above and beyond – all without someone physically watching over their shoulder. They did it together. They did it as one.
Peter Senge once said, "People don't resist change; they resist being changed." So, as you enlist your employees to write your future of work together, continue what you started by painting a picture of what productivity will look like in the coming months and years and agreeing on the four rules that will drive a healthy culture of accountability for all involved.
---
Add CEOWORLD magazine to your Google News feed.
---
Follow CEOWORLD magazine headlines on:
Google News
,
LinkedIn
,
Twitter
, and
Facebook
.
---
Thank you for supporting our journalism. Subscribe here.
---
For media queries, please contact:
info@ceoworld.biz
---