Human-Centered Design Includes Empowering Humans and Machines to Work Together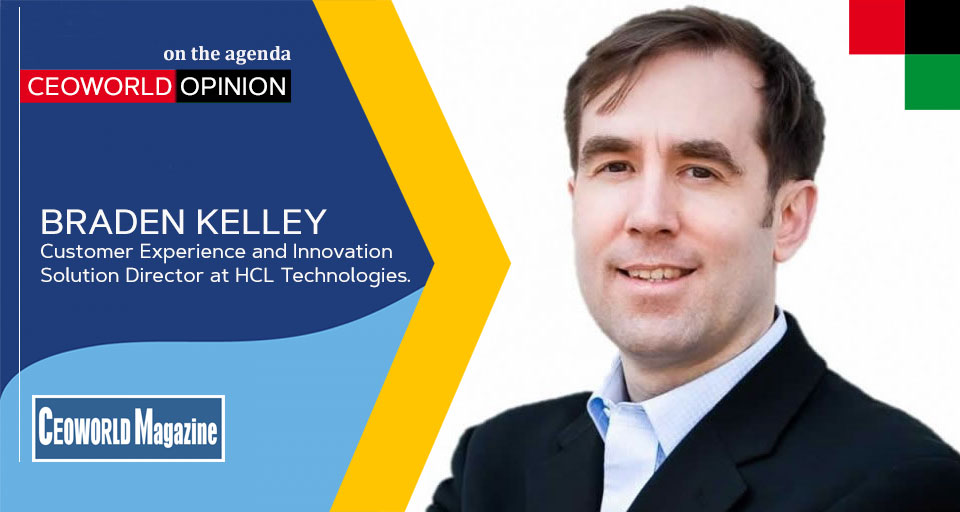 Braden Kelley, Customer Experience and Innovation Solution Director at HCL Technologies
Stop Pursuing Artificial Intelligence and Focus on Augmented Intelligence Instead.
Almost nine years ago, I was early to the artificial intelligence party as a business person when I crafted a success guide and a series of articles for Crowd Computing Systems (now dba as Workfusion) to help executives make sense of the technology and its potential to empower greater efficiency and effectiveness in the workforce.
'The Crowd Computing Revolution' highlighted the methods underpinning the opportunities, including The Knowledge Funnel concept pioneered by Roger Martin in his bestselling book The Design of Business.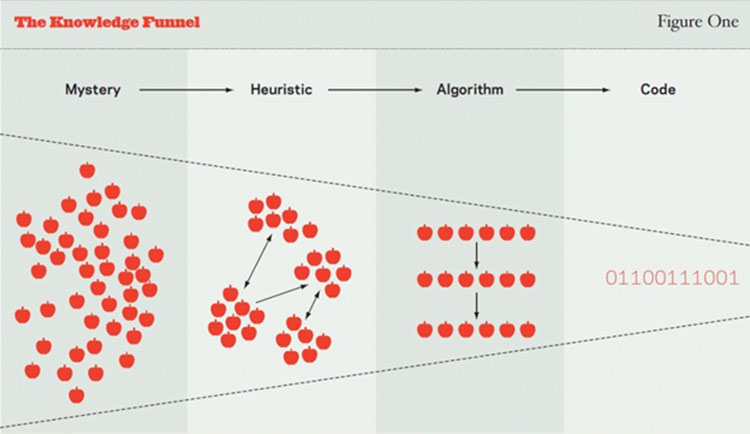 Source: The Design of Business by Roger Martin
This simple yet powerful framework shows how as we learn more about a work area:
Our understanding allows us to move the piece of work from something that is mysterious and performed in an ad hoc way by experts,
To a level of maturity where we start to observe the patterns (or heuristics) in the work,
To a stage where the work is well-understood and can be reduced to an algorithm (or set of best practices) performed by lower skilled employees,
And possibly even implemented as a piece of code to be executed by a robot or computer.
It is this framework that shows what it takes to make it possible to apply artificial intelligence in any area of business. It also provides the foundation for us to move away from a focus on artificial intelligence to a more comprehensive and enlightened focus on augmented intelligence. When a job owner leverages human and technology resources outside of themselves (including artificial intelligence) to increase their capabilities, that is augmented intelligence. 
Refocusing on Augmented Intelligence Instead of Artificial Intelligence
Thinking in terms of augmented intelligence instead of artificial intelligence allows us to move away from a mindset of replacing humans with machines to a mindset of redesigning work to allow humans and machines to effectively work together for the benefit of the company, the employee and the customer.
Shifting to a focus on augmented intelligence over artificial intelligence also allows us to switch from the technology push approach of artificial intelligence vendors to a technology pull approach driven instead by human-centered designers redesigning the work.
The underpinnings of this atomization of work and conscious redesign is captured in my framework for task and micro-task division from 2012:
The Atomization of Work
As we have become better at atomizing work, companies have not only become more comfortable with designing work to be executed by machines instead of employees, but also more amenable to many different sizes and shapes of work being completed by people outside the organization, including:
Entire job functions (Contractors or Outsourcing Firms – global outsourcing market peaked in 2014 at $104.6 Billion – Statista)
Whole business processes (Business Process Outsourcing (BPO) Firms – $299 Billion market in 2021 – Statista)
Projects or initiatives (Outside Consultants)
Crowdsourcing of Discrete tasks (99Designs, Crowdspring, etc. – global crowdsourcing market was $9.5 Billion in 2018 – Absolute Market Insights)
Micro tasks (Amazon Mechanical Turk, artificial intelligence, etc.)
Revisiting this topic area nine years later it is interesting to note that the Business Process Outsourcing (BPO) market appears to have grown from $11 Billion in 2011 to $299 Billion in 2021 while the outsourcing of entire job functions has declined from a peak in 2014 of $104.6 Billion. This would appear to reflect an evolution in company strategy to retake ownership of job functions and instead only outsource portions of the work. Research firm Absolute Market Insights forecasts that companies' comfort with the atomization of work will continue as they predict the global crowdsourcing market will grow from $9.5B in 2018 to $155B by 2027.
 Crowdsourcing versus Artificial Intelligence
While artificial intelligence is getting all of the media attention, the forecasted growth rate in the crowdsourcing market is nearly as steep as that forecast for artificial intelligence. Crowdsourcing started with prizes like The Longitude Rewards, but now thanks to the power of the Internet, companies and individuals all around the world are atomizing their work into projects and processes and tapping into the power of the crowd using loosely-organized, non-employee workforces like:
Amazon's Mechanical Turk to execute micro-tasks
Top Coder and Crowdspring to get whole tasks completed
Innocentive, NineSigma and Idea Connection to leverage the crowd to solve difficult challenges
Sites like these enable organizations to access knowledge, expertise, perspectives, or capacity that they don't currently have in their organization, or to get a task or challenge completed at a lower cost. Check out my white paper Harnessing the Global Talent Pool to Accelerate Innovation to learn more about this topic and some of the strategies for successfully leveraging external talent.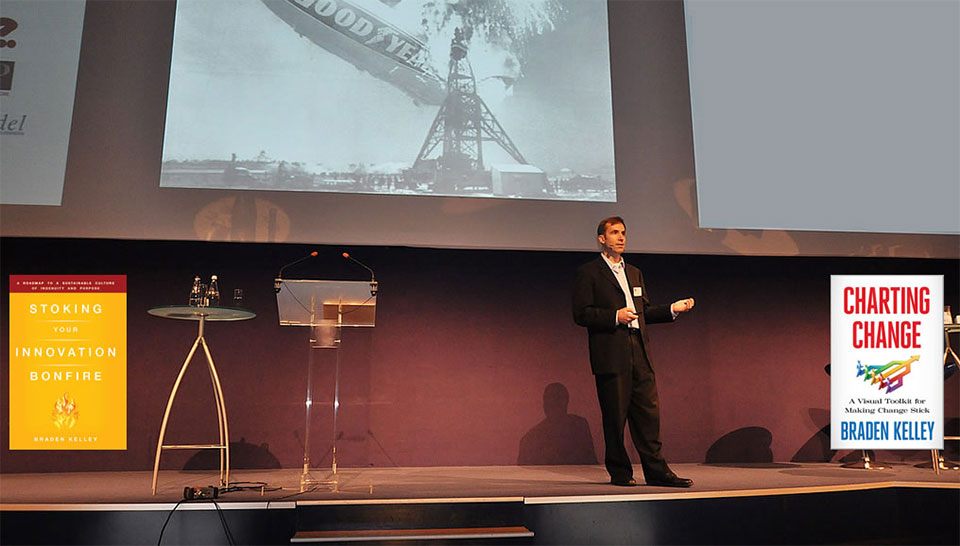 Redesigning Work to Leverage Augmented Intelligence
Business Architects have the opportunity to plan how work can move from mystery to heuristics to algorithms to code. Business Architects have the opportunity to redesign work in the most efficient way possible to leverage both man and machine to get the work done at the lowest cost possible. Technology now exists to allow Business Architects and managers to move beyond allocating work on a job, project, or process basis, and instead design flexible workflows that combine the use of humans and machines to complete the tasks they are best suited for, or even for humans to augment the work of machines.
It starts with examining the workflow of each process and identifying which micro-tasks humans are best suited to perform and which micro-tasks machines are most efficient and cost-effective at performing. Business architects then assign the right micro-task to the right resource. In the case of human resources, this could be an employee, a contractor, an external expert, or even a resource you don't even know or control (via a crowd workforce like Amazon Mechanical Turk, Elance, etc.).
Where to Leverage Artificial Intelligence
For the micro-tasks to be performed by artificial intelligence, assign a level of confidence in the quality of the assigned resource's output and a define a process for grading it. In situations where you have a high level of confidence in the micro-task's output quality (i.e. validating a piece of OCR data as a number), you can move directly onto the next micro-task in the workflow. But, if you have a low level of confidence in a particular micro-task output performed by a machine (i.e. validating that a person looks or sounds angry), assign an alternate process to validate that output (such as using someone via Amazon Mechanical Turk to validate that "yes, this person is angry").
It's probably clear by now that to facilitate an augmented intelligence approach where man and machine are collaborating to complete work, you're going to need an intelligent workflow system to manage everything. These systems will continue to be one of the greatest growth areas in the software market.
Conclusion
Augmented intelligence represents an incredible opportunity for man and machine to work together to create better business outcomes and an improved customer experience. But, it's going to require the development of new capabilities by individuals and organizations to empower the human-centered redesign of work to make it possible.
Switching from a mindset of pushing artificial intelligence into the organization to an augmented intelligence mindset that atomizes and redesigns work to leverage the best resource for each atomic unit of work will lead to both greater business efficiency and greater employee job satisfaction. The thoughtful redesign of work leveraging human-centered design will employ artificial intelligence where it is appropriate, external resources as needed, and internal human resources where they can add the greatest potential value.
---
Written by Braden Kelley, Customer Experience and Innovation Solution Director at HCL Technologies.
---
Add CEOWORLD magazine to your Google News feed.
---
Follow CEOWORLD magazine headlines on:
Google News
,
LinkedIn
,
Twitter
, and
Facebook
.
---
Thank you for supporting our journalism. Subscribe here.
---
For media queries, please contact:
info@ceoworld.biz
---