CEOs Tell Us What Happens in the Learning Zone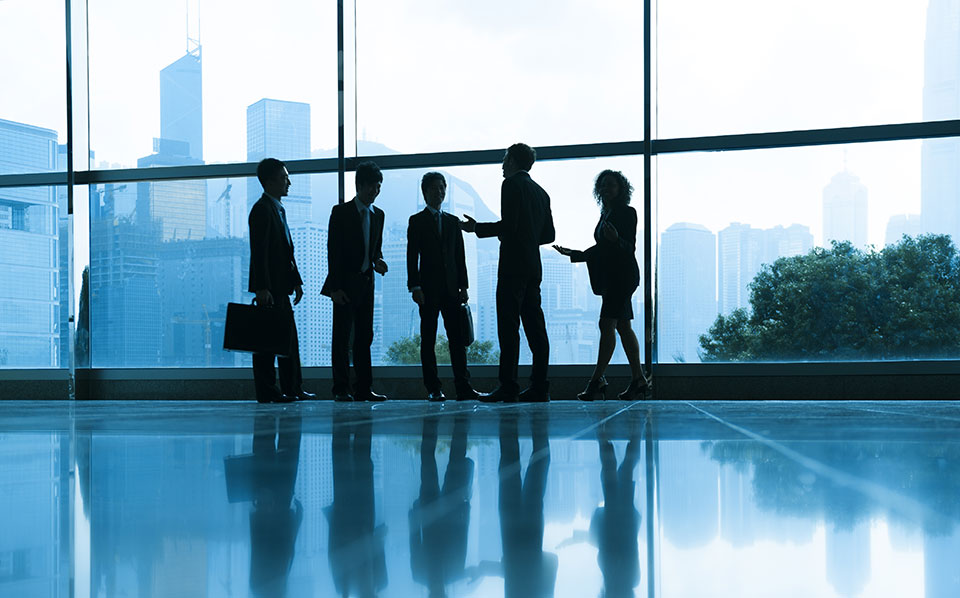 It's been more than 20 years since Novartis Professor of Leadership at Harvard Business School, Amy Edmondson, first identified the concept of psychological safety and its importance to work teams. Professor Edmondson defines it as "a belief that no one will be punished or humiliated for speaking up with ideas, questions, concerns, or mistakes." Psychological safety is not about being nice; it is an essential ingredient for creating a healthy culture of accountability and productivity.
Edmondson illustrated this point by creating a 2×2 that shows us the relationship between psychological safety and accountability in an organization.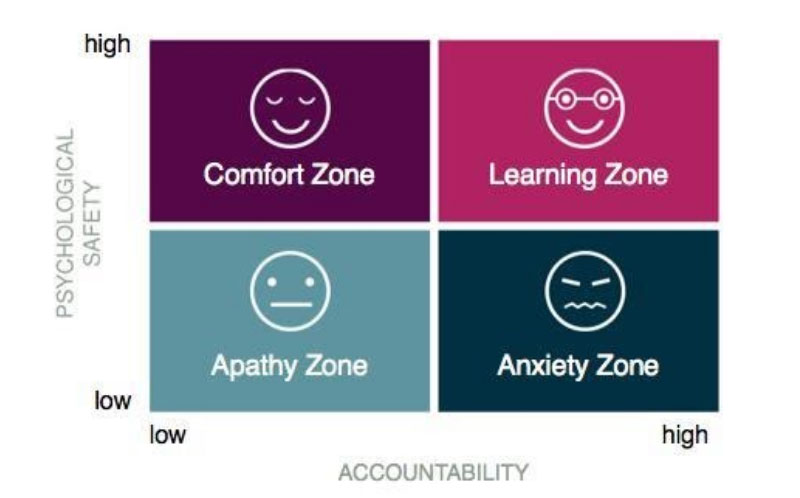 The Learning Zone
If there is low psychological safety and low accountability, the organization lives in the Apathy Zone. If psychological safety is high and accountability is low, it places everyone in the Comfort Zone. (This zone taps into a leader's fear that being too focused on psychological safety would come at the expense of accountability). Psychological safety and accountability are co-dependent. A culture where accountability is high and safety is low puts employees in the Anxiety Zone. In this state, they will either remain paralyzed by fear or leave the organization. For example, a CEO recently told me that one of his direct reports wasn't taking enough ownership of his department. Upon further conversation, the CEO realized that he was the likely culprit. He surmised that because his direct report lacked any semblance of psychological safety, that that person was too afraid to assume the level of ownership the leader wanted. It became clear to everyone that nothing was likely to change if the CEO didn't adjust his behavior first.
The Learning Zone serves as the sweet spot. There is high psychological safety and high levels of accountability, allowing for greater transparency, a willingness to challenge one another, and the courage to buck the status quo for the good of the organization. My work with high-performing CEO groups supports this model and offers insights into what happens inside The Learning Zone. That said, I'm going to stand on the shoulders of Edmondson's work for a moment to describe what CEOs have shown me.
After completing hundreds of interviews with CEO peer advisory group leaders and members, and facilitating more than 200 workshops throughout the US, UK, Canada, and Australia, it became evident that the highest performing groups operated in The Learning Zone and enjoy a robust Learning-Achieving Cycle while they are there.
Inside the Learning Zone 
The Learning-Achieving Cycle is a reinforcing loop of learning, sharing, applying, achieving, learning, and so on. We learn better when we learn together. In 2019, global research analyst Josh Bersin revealed that when we read an article one time (for example), we typically remember 28% of what we read after two days. After reviewing the piece a second time, our retention jumps to 46%. Yet when we engage others, who have also read the article, by asking questions and sharing experiences, we remember 69%. Bersin notes that the act of learning together creates "memory pathways" that stick in our minds.
A book club offers a great example of how this works. Bring six people together, have them read the same book, and invite them to talk for a few hours about what they read.  Everyone will come away with a deeper understanding of the content that will stick with them longer.
However, high-performing peer groups are about more than just learning for the sake of knowledge acquisition and understanding.  Members also give one another the courage and the encouragement to apply what they come to know.  And when they do that, even if there is some trial and error, once the CEO starts seeing positive results from using a new concept or methodology, she wants to continue the process – hence the reinforcing loop.
Great groups engage in rich dialogue that inspires the trial of new ideas in the real world. Great teams do the same thing.  It's how the best teams constantly improve and why they perform at a consistently high level.
How You Can Get Your Team In the "Zone"
Here's how CEO peer advisory groups do it.  They rely on the five factors – the fuel that drives the Learning-Achieving Cycle. 1)  Members are selective about who can join the group. They invite people with a shared purpose and clarity about the values and behaviors that drive the group and enjoy diverse experiences and backgrounds. 2) They work hard at creating a psychologically safe environment and challenge one another to leverage its advantages by being open and vulnerable. 3)The more open the CEOs are, the more productive they become because they are willing to share, engage more deeply, and achieve better learning outcomes. 4) Their psychological safety and resulting productivity inspire a healthy accountability culture, which opens psychological safety even more. 5) The leader of the group serves as the steward of the other four factors.
If a group of CEOs can do it, your organization can do it, too – it's time for you to stand on their shoulders now. It starts with being intentional about it.
——-
Written by Leo Bottary.
---
Add CEOWORLD magazine to your Google News feed.
---
Follow CEOWORLD magazine headlines on:
Google News
,
LinkedIn
,
Twitter
, and
Facebook
.
---
Thank you for supporting our journalism. Subscribe here.
---
For media queries, please contact:
info@ceoworld.biz
---
Tags :
Chief Commercial Officer Insider
Chief Communications Officer Insider
Chief Compliance Officer Insider
Chief Content Officer Insider
Chief Creative Officer Insider