Valyou Furniture Review: The Loft Sofa Makes Comfort Look Sophisticated
When it comes to finding new furniture, nothing is more exhausting than shopping online. Shady sellers, long shipping times and low quality are all common issues plaguing the process that can't be accounted for until it's too late, but with the covid-19 pandemic forcing people out of stores and into their homes, I was left with virtually no choice but to buy online.
Then, a coworker came to me with an amazing solution when he recommended I check out Valyou Furniture — and my online shopping experience was changed for the better, forever!
My main focus was finding cool pieces for my living room, specifically searching for a couch that was simultaneously sleek and super comfortable. Valyou Furniture's Loft sofa, created in collaboration with famed Italian designer Mario Capasa, fit the bill perfectly with its HD memory foam and goose feather fill cushions and mega modern finish.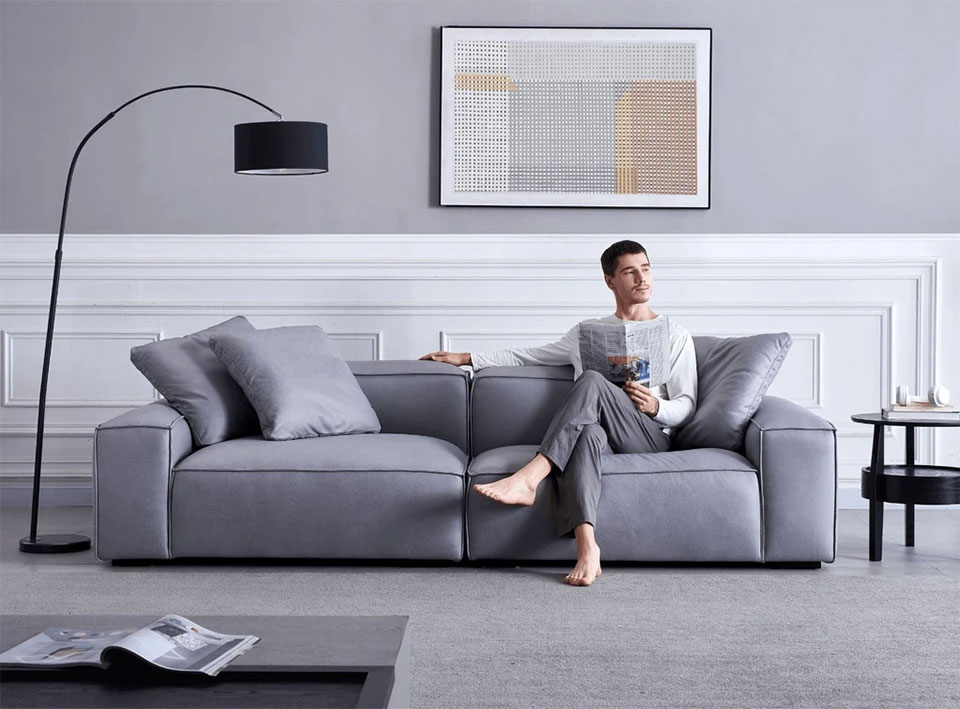 Plus, the technical leather the Loft is crafted with is fourteen times stronger than traditional leather and completely scratch resistant, a must-have in my house considering I have pets. With a variety of colorways to choose from, I eventually chose the brown Tabac option, enticed in by its warm vibe. I also decided to get Valyou's Loft Ottoman to match, giving some extra room to stretch out and add to the homey, relaxing experience.
I was also super impressed when I saw Valyou's website even lists the amount of boxes every piece of furniture comes in so I could prepare ahead, plus easy to follow PDF instructions and a video tutorial on the assembly process. A quick further look told me my Loft sofa would come in just two cartons with an additional box for the ottoman, and that I'd have my new seating area set up within minutes of its delivery to my doorstep.
Another thing that really drew me in about Valyou's shopping experience was how it offers financing options to pay over time. Though the company's prices are already super affordable compared to the competition, the ability to spread the cost over the course of months was a really nice and unexpected relief for my bank account and other financial obligations.
My only concern, as always with online shopping, was about what would happen if one of the pieces arrived with a defect or issue, but Valyou's great warranty policy and 14-day return program made me feel super confident that if anything was to go wrong my problem would be resolved quickly and effectively. But lo and behold, my new Loft sofa and ottoman arrived in perfect condition, ready to turn my house into a home!
Overall, I'm beyond happy with my experience shopping with Valyou Furniture, and me and my pets have spent many happy nights enjoying our newly decked out living room together. And finally, thanks to Valyou, my faith in digital retail is finally restored. Next time I need anything for my home, Valyou will absolutely be my go-to — and should be yours too!
---
Add CEOWORLD magazine to your Google News feed.
---
Follow CEOWORLD magazine headlines on:
Google News
,
LinkedIn
,
Twitter
, and
Facebook
.
---
Thank you for supporting our journalism. Subscribe here.
---
For media queries, please contact:
info@ceoworld.biz
---
Tags :
Chief Government Relations Officer Insider
Chief Human Resources Officer (CHRO) Insider
Chief Information Officer (CIO) Insider
Chief Information Security Officer Insider
Chief Information Technology Officer Insider