Digital Transformation and the Need for a Better Service Experience
A Forbes and McKinsey study found that $900 billion was wasted on digital transformation projects in 2018, with 70% of digital transformation projects failing. Now, as the world tries to rebound from the global pandemic, 80% of organisations have accelerated their digital transformation strategies to meet both internal and external challenges, including employee's changing needs.
Considering these statistics, it's important that your organisation learns from the failures, and successes, of others. In particular, such that your digital transformation project(s) doesn't become part of this statistic, but instead result in more smiles and less time wasted.
Analyzing Your Digital Transformation Need
There are many available definitions of what digital transformation is, with these usually having three common elements related to increasing value across:
New products and services (and revenue streams) that leverage technology and data
Improved customer engagement mechanisms that again exploit technology and data
Optimised back-office operations that remove the reliance on, and issues with, ad hoc manual workflows.
You'll find that each of these need to be focused on service experience to succeed – with the new capabilities built around people and their expectations not the technological capabilities that are available. Ultimately, digital transformation is about better business through better operations and outcomes.
The HappySignals 3-Part Approach to Digital Transformation
In leveraging service experience improvement to help deliver digital transformation success, there's a need to do three key things:
    Introduce the right measurement mechanisms and metrics
    Employ data-driven decision making
    Drive the needed cultural change.
Each of these is covered in more detail below.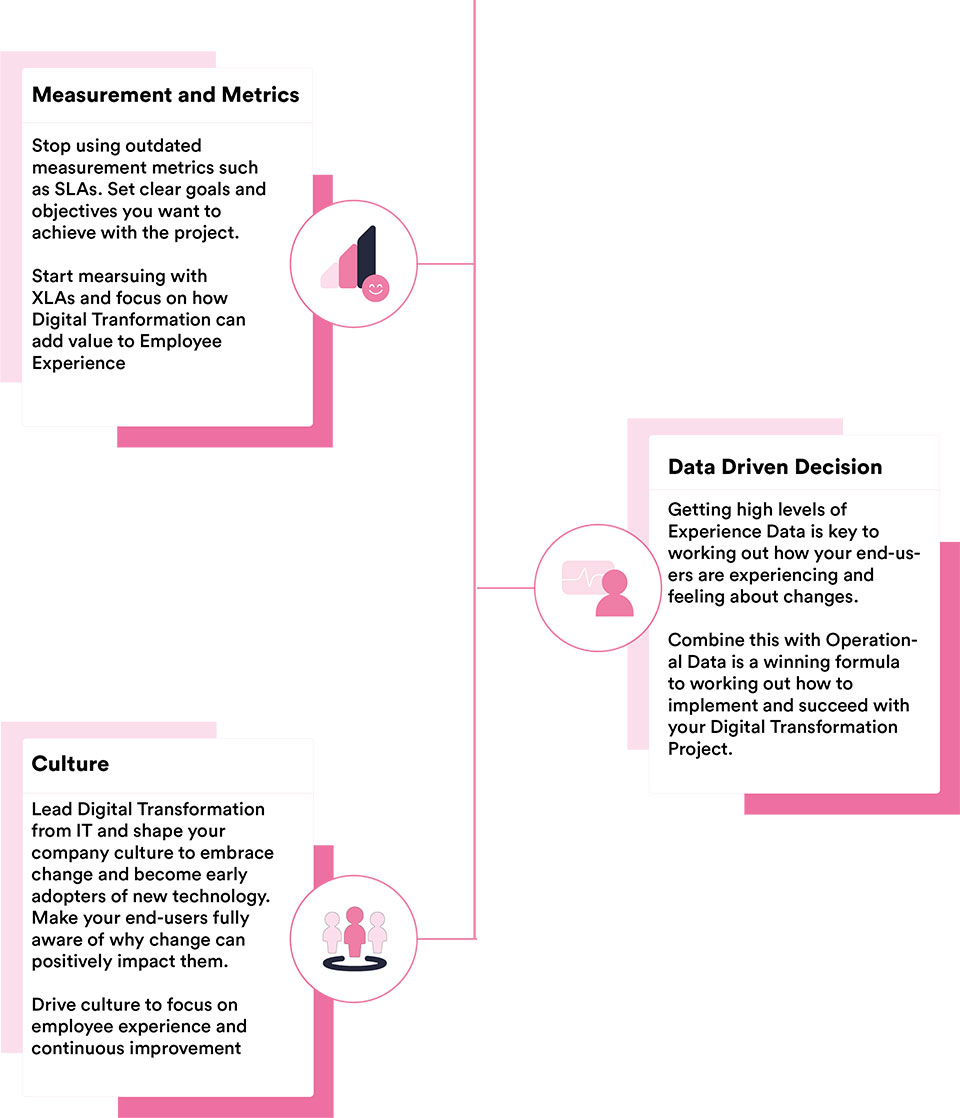 1. Measurement and Metrics
Digital transformation projects are often started in the wrong way – perhaps by looking at what the available technology can do. Instead, I recommend that the first step when starting a digital transformation project is to "ask from the project managers and even the whole team one relevant question – what is the target or desired outcome for this project?"
This creation of a goal or desired outcome for the project leads to how you can and should be measuring the project, and this doesn't mean basic/traditional service level agreement (SLA) measurement metrics such as time and costs.
Whatever the reason, or reasons, your organisation is undertaking digital transformation, your measurement needs to focus on the impact of the outcome and, internally, the value of employee experience and how a project can lead employees to better processes, straightforward workflows, and – more importantly – an increase in productivity. This measurement mechanism is called experience level agreements (XLAs).
Examples of your organisation's digital transformation goals could be:
Creating easier and quicker workflows to increase employee experience
Increasing employee productivity by X%
Improving collaboration with the service desk to increase the level of service given to employees
Increasing remote working efficiency so employees can access office tools more quickly.
One of our clients Avanti West Coast (previously known as Virgin Trains) approached their projects by taking half a day to define what they actually want to achieve from each project and how the change will positively impact their employees and/or customers. Looking at the desired outcome and the additional value that will be created.
In particular, digital transformation success assessment needs to be measuring how it impacts employee experience, not just whether a project was on-time or within budget.
2. Data-Driven Decision Making with Experience Data
Employee experience is a business and IT trend that has grown significantly in recent years, and this should be a main outcome of any digital transformation project. However, to create a successful project and to positively impact employee experience, there's a need to start gathering and analysing end-user needs and pain points through experience data.
The HappySignals Experience Management Platform for IT allows you to collect end-user experience data and to combine it with your company's operational data, to identify where you can positively impact your employees' experience with digital transformation (or where the opposite is happening). For example, Campari Group embarked on a sizable digital transformation journey and needed visibility into how the rapid transformation would affect employees and how transforming IT services would better support end-users' work.
Now, with HappySignals, Campari Group has full visibility on their IT service performance and can make informed decisions throughout their transformational journey. They can link it to when actions or services are going live in different locations and get immediate feedback from employees. Campari has also witnessed a much higher feedback response rate due to the way the survey is delivered to the end user and the visibility of their corrective responses.
Through HappySignals, you can collect valuable feedback on how your end users experience changes and new services, allowing you to make data-driven decisions instead of acting on gut feelings alone. Importantly, this is a continuous stream of feedback about how well your IT organization and its staff are performing in the eyes of employees (or customers). Think of it as continuous, experience-based pulse-taking rather than the use of an ad-hoc SurveyMonkey-like survey facility – and through it you're getting real-time insight into your service and support performance, which includes granular feedback on the causes of both end-user happiness and unhappiness.
3. Culture
Organisational culture can impact digital transformation in many ways. Therefore, understanding the various impacts of your business culture, and what to prepare for, is vital when planning your digital transformation strategy.
First, digital transformation needs to be led from the IT department, not by individual business units. This may seem an obvious statement since IT usually fronts the cost of digital transformation projects. However, it's often found that individual business sections will lead the implementation.
Creating a culture that is ready to embrace change and new innovations, and understand why this transformation is taking place, will be highly impactful on success. Adopting new technologies early can help drive your company culture to become more forward thinking as well as the understanding of the need for new trending technology or new innovations arising on the horizon.
For example, automation and artificial intelligence (AI) are key trends for 2021 (along with digital transformation) according to a recent ITSM.tools survey. The use of which can drastically reduce costs, freeing up budget for further investments, as well as streamlining tedious workflows that have been demoralising your workforce and diminishing their productivity.
Culture also relates to the way people work and the processes they use when carrying out their daily business activities. Therefore, if employees are heavily reliant on using certain workflows or processes, they could be resistant to change and may not understand why change needs to happen. This potential resistance needs to be handled using organizational change management tools and techniques.
In Summary
Digital transformation should always begin with discovery sessions on why it's being undertaken and how it can shape and influence a better employee experience.
Once the digital transformation goal or goals have been created, setting the right measurements and metrics is vital to continuously measure the success of the changes made throughout the transformation
The use of experience data has never been more vital in helping to measure and identify where your end-users pain points are and how you can improve their experience.
Shape your culture to drive change and make your end users understand why new technology and innovation is vital for continual improvement, in particular how it can improve employee experience and boost their happiness and productivity.
---
Written by Sami Kallio, Chief Executive Officer at HappySignals.
---
Add CEOWORLD magazine to your Google News feed.
---
Follow CEOWORLD magazine headlines on:
Google News
,
LinkedIn
,
Twitter
, and
Facebook
.
---
Thank you for supporting our journalism. Subscribe here.
---
For media queries, please contact:
info@ceoworld.biz
---
Tags :
Chairwoman Insider
Financial Directors Insider
Vice Chairman Insider
Vice president Insider