Russian Billionaire Alexei Mordashov Backs Putin's Call For Companies To Reinvest Their Profits
Alexei Mordashov, the billionaire owner of steelmaker Severstal, backs Putin's call for businesses to reinvest profits. With a net worth of roughly $32.8 billion, Alexei Mordashov is the richest person in Russia.
Russian President Vladimir Putin wants to get the economy growing again after the coronavirus pandemic with a burst of spending. His government is working overtime to find the money to pay for it. Russia's economy contracted by 3% in 2020. Russian GDP growth is forecasted at 3.2, 3.2, and 2.3 percent in 2021, 2022, and 2023, respectively.
Alexey Mordashov, a majority shareholder in steel company Severstal, said the company would "definitely" take up the president's recent call for businesses to reinvest their windfalls rather than reward investors.
"It's important to acknowledge that Mr. Putin is our president and the leader of our nation, and he reflects pretty much what every average Russian has in mind," he added.
"There is certain public [demand], which is not reflected in hard structures or legislation but there is a certain request . . . There is demand for social justice and inclusion," the country's richest man has said. "And I believe big business should pay attention to it."
Alexei Mordashov is the wealthiest person in Russia, followed by Vladimir Lisin (No. 2, $30.6 billion), Vladimir Potanin (No. 3, $30.5 billion); and Leonid Mikhelson (No. 4, $27.2 billion).
Vagit Alekperov is the fifth-richest person in Russia, with $26.2 billion. Gennady Timchenko ranked 6th with a personal wealth of $24.2 billion, followed by Andrey Melnichenko with $19.8 billion. Alisher Usmanov is placed 8th with a net worth of $18.7 billion. Pavel Durov ($17.2 billion) occupied the 9th position on the top 10 richest people in Russia list, followed by Suleiman Kerimov (No. 10, $16.5 billion).
Meet the top 10 richest Russian billionaires 2021
Alexey Mordashov: $32.8 billion
Vladimir Lisin: $30.6 billion
Vladimir Potanin: $30.5 billion
Leonid Mikhelson: $27.2 billion
Vagit Alekperov: $26.2 billion
Gennady Timchenko: $24.2 billion
Andrey Melnichenko: $19.8 billion
Alisher Usmanov: $18.7 billion
Pavel Durov: $17.2 billion
Suleiman Kerimov: $16.5 billion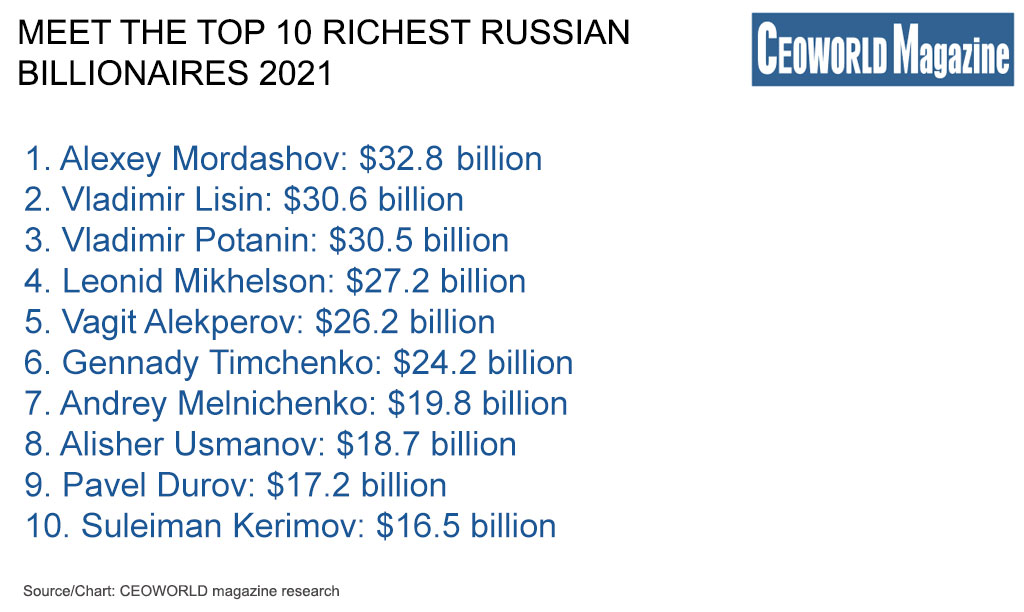 ---
Add CEOWORLD magazine to your Google News feed.
---
Follow CEOWORLD magazine headlines on:
Google News
,
LinkedIn
,
Twitter
, and
Facebook
.
---
Thank you for supporting our journalism. Subscribe here.
---
For media queries, please contact:
info@ceoworld.biz
---
Tags :
Billionaire Insider
Capitalist Insider
Chief Commercial Officer Insider
Chief Communications Officer Insider
Chief Compliance Officer Insider
Chief Content Officer Insider
Chief Creative Officer Insider
Millionaires Insider
Money Insider
Richest Insider
Wealth Insider
Wealthiest Insider