EUROPE's Wealthiest: Bernard Arnault Is Now Twice As Rich As Francoise Bettencourt Meyers
LVMH chief Bernard Arnault' net worth has shot up so much since the beginning of this year that he is now twice as rich as Francoise Bettencourt Meyers. At the time of writing Bernard Arnault' net worth is estimated at $196.9 billion, while Francoise Bettencourt Meyers is worth $93 billion.
Bernard Arnault is one of the few billionaires to see his wealth increase since the onset of the coronavirus pandemic, making him the richest person on Earth, and placing him $1.6 billion ahead of the second-most wealthy billionaire, Jeff Bezos.
Francoise Bettencourt Meyers is locked in a tug-of-war with Bernard Arnault for the title of EUROPE's richest person. Both Bernard Arnault and Francoise Bettencourt Meyers currently command vast fortunes, although Bernard Arnault has a slight edge over Adani – US$104 billion.
Bernard Arnault is the richest person in Europe with $196.9 billion in wealth, while Francoise Bettencourt Meyers is second with $93 billion in wealth. They are followed by the self-made fashion king Amancio Ortega of Spain whose net worth is currently pegged at $87.1 billion.
EUROPE's top 10 richest people, as of June 15, 2021
Bernard Arnault: $196.9 billion
Francoise Bettencourt Meyers: $93.0 billion
Amancio Ortega: $87.1 billion
François Pinault: $56.3 billion
Beate Heister & Karl Albrecht Jr.: $41.9 billion
Klaus-Michael Kuehne: $37.2 billion
Giovanni Ferrero: $35.7 billion
Dieter Schwarz: $34.5 billion
Alain Wertheimer: $33.8 billion
Gerard Wertheimer: $33.8 billion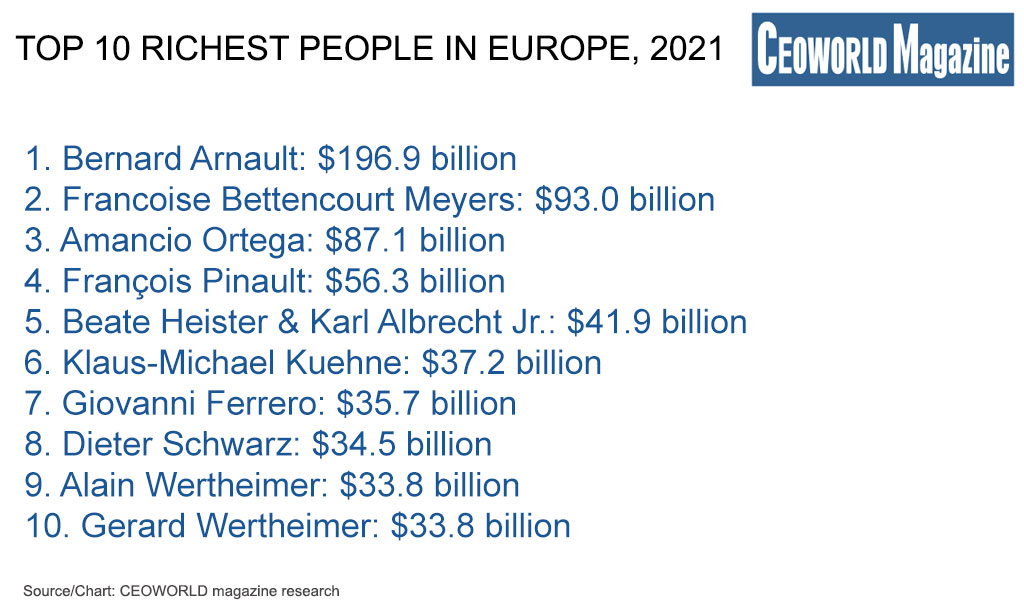 ---
Add CEOWORLD magazine to your Google News feed.
---
Follow CEOWORLD magazine headlines on:
Google News
,
LinkedIn
,
Twitter
, and
Facebook
.
---
Thank you for supporting our journalism. Subscribe here.
---
For media queries, please contact:
info@ceoworld.biz
---
Tags :
Billionaire Insider
Capitalist Insider
Millionaires Insider
Money Insider
Richest Insider
Wealth Insider
Wealthiest Insider