CEO Spotlight: Dr. Abdulla Al Humaidi, Chief Executive Officer of Kuwaiti European Holding Company (KEH)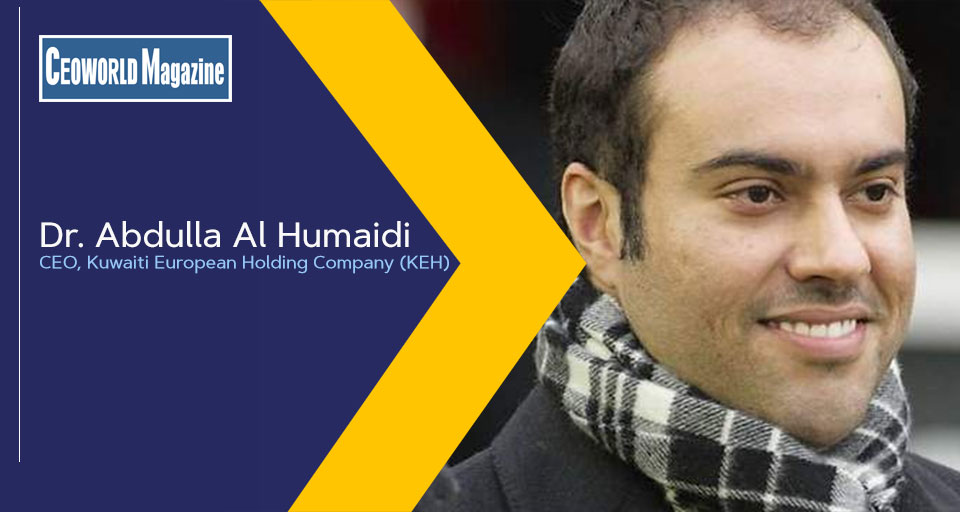 Dr. Abdulla Al Humaidi, CEO at Kuwaiti European Holding Company (KEH)
While a career as an entrepreneur can be enticing for many, it is not necessarily an easy goal for which to aim. Often, such a career can only be realized after years of hard work and many long hours. In order to make it through the work often required of such an endeavor, it can help to maintain what is often referred to as an "entrepreneurial mindset". To better explain what this entails, we've turned to the work of Dr. Abdulla Al Humaidi. The CEO of Kuwaiti European Holding Company (KEH) has molded his career on his ability to stay focused on key entrepreneurial tenets, making him a great case study for this topic.
Dr. Abdulla Al Humaidi and the Importance of Education
In many ways, the work of an entrepreneur is largely fueled by the degree to which one can stay educated about their field and the world around them. Education can allow us to spot new trends, new ideas, or think about existing problems in new and innovative ways. This style of thinking can be an important prerequisite for the efforts of the modern entrepreneur. In this way, a focus on education can lay the foundation for a successful career in business.
It's important to note, however, that education can come in many different forms. Some entrepreneurs go to business school to gain a formal understanding of their field as a whole. Others learn on the job, perhaps picking up a set of skills through a past career and applying it to their entrepreneurial work moving forward. No matter how an educational foundation is gained, the more an entrepreneur can focus on consistent learning, the more successful they often are.
This is clearly manifested in the work of Abdulla Al Humaidi, who makes it a point to stay educated about his business, related sectors of industry, and the world at large. This has been accomplished through reading, interacting with others in his field, and engaging in projects from which he can pull new learnings. No matter the specific means he uses to gain these learnings, a big takeaway here is that his focus on education is representative of a key part of the entrepreneurial mindset and greatly contributes to his continued success with Kuwaiti European Holding.
Building Strong Teams
While it can be tempting to think of the modern entrepreneur as someone who sits alone in a garage tinkering away on a solo project, the reality these days is much different. Most successful entrepreneurs in the modern era recognize the value of strong teams and how the act of collaboration can make for a more successful business outcome than going it alone. Through building these strong teams, an entrepreneur is able to delegate work that might be outside their area of expertise so that they can better focus on what they do best.
Part of this pursuit naturally requires a focus on strong communication, as this is often the lifeblood of a productive team effort. That's why a strong understanding of the value of teamwork and the ability to communicate effectively go hand in hand when considering the entrepreneurial mindset. Focusing on both can be a key step towards developing this mindset for oneself.
Intentional Growth a Focus of Abdulla Al Humaidi
Much has been written about the so-called "growth mindset" — a long-term prioritization of positive change over stagnation. While such a mindset is valuable in many areas of life, it becomes especially critical when considering the entrepreneurial journey. That's because business itself is essentially a process of continual growth, as evidenced by the downward valuation of companies that fail to grow profits year over year. When entrepreneurs can internalize this mindset, and institute it in their business endeavors, they are often more effective at finding success down the line.
Such has been the case with Abdulla Al Humaidi, who's well-known for his focus on growing his business operations. This can be seen through the escalating nature of his real estate developments, with new developments striving for ever-increasing heights. That concept is perhaps best exemplified by his recently announced theme park that is under development in London. The park, which will open in 2024, has already been singled out as a game-changing attraction in the UK, a country already known for inciting high levels of tourism. Without a growth mindset, the CEO may never have been able to drive his business towards such an ambitious goal.
Maintain a Balanced Focus
While it can certainly be important to work diligently towards one's business goals, history is also littered with cases of entrepreneurs who burned out before their ideas could take hold. For this reason, it can be important to maintain a balanced focus on one's work. This involves focusing on one's work efforts to a high degree, but also taking time to recharge and rejuvenate through efforts outside of work.
Not only will these actions allow you to regain your energy so that you can dive back into your projects with renewed passion, but they may also provide additional insights into your business endeavors. Many of us are aware of a common phenomenon whereby a problem can often be more efficiently solved once a person takes a break from trying to figure out that solution. This same concept can be applied to the rest and relaxation component of entrepreneurial life. Respecting the need for rest can ultimately pay off with a higher rate of return and more success throughout one's business efforts.
Though many individuals come to a career as an entrepreneur ready to muscle their way through to the top, such an approach may not actually be effective. Rather than single-mindedly focusing on one's career, it can be helpful to instead adopt an entrepreneurial mindset. Such a mindset, as evidenced by Abdulla Al Humaidi above, includes a prioritization of education, team building, growth, and a balanced focus. While such a mindset won't guarantee success in itself, it can be a crucial step along one's entrepreneurial journey. If you're just setting out on this path, consider ways in which you may be able to incorporate this mindset into your own undertakings.
Track Latest News Live on CEOWORLD magazine and get news updates from the United States and around the world. The views expressed are those of the author and are not necessarily those of the CEOWORLD magazine.
Follow CEOWORLD magazine headlines on:
Google News
,
LinkedIn
,
Twitter
, and
Facebook
.
Thank you for supporting our journalism. Subscribe here.
For media queries, please contact:
info@ceoworld.biz
Tags :
Non Executive Chairman Insider
President Insider
Senior Vice President Insider