Adapting Today's C-Suite for Tomorrow's Challenges
Anthony Abbatiello, Managing Director, Global Head of Consulting at Russell Reynolds Associates
A popular consumer goods company needed a strategic transformation to find its place in the growing health and wellness segment. The board hired a new CEO to lead the charge – a solid start but that alone was not enough. To make the transformation successful, the top leadership team would need to be aligned around a shared team purpose and move past the regional and functional barriers that were creating disenfranchisement and disconnectedness among them. If the team didn't transform, the enterprise transformation risked being derailed by conflicting priorities before it even got off the ground.
This consumer goods company is not alone. In fact, relatively few top executive teams believe they fully tap the power of the group. Our recent study with more than 1,070 CEOs and C-suite executives around the world found that 45% of them do not consider their top teams to be high-performing (even though nearly all believe they personally have a positive impact on the team).
Our research highlights a paradox unique to top teams. Composed of ambitious, high-achieving individuals who face extraordinary expectations internally and externally, top teams often lack clarity about how they can harness their collective capabilities for the benefit of the organization. And though many top teams accept dysfunction as the norm (and may even celebrate it), they are missing out on the important business benefits that accrue to high-performing C-suite teams.
Our research reveals the benefits that accrue to high-performing top teams. 
We studied more than 350 CEOs and asked them to rate their top teams. CEOs who felt their teams were high performing rated them an average 30% higher across six key categories than CEOs with lower-performing teams.
CEOs with high performing top teams are:
42% more likely to effectively manage complex initiatives
31% more likely to agree they deliver great results for shareholders, and
30% more likely to be able to attract top talent.
The fact that high-performing teams excel on both financial and operational metrics underscores the wide range of benefits that come with a top team operating at its highest level.
How can ordinary C-suite teams become high performing? 
The challenges C-suite teams face are distinct from any other corporate team. The strengths and weaknesses of the C-suite team do not just affect a single business unit or region; they reverberate across the enterprise and the enterprise's ecosystems. They also echo across time horizons, given the mix of current and long-term objectives top teams need to balance. If the top team is not aligned, no one is aligned. Added to this complexity are the top team's highly specific intra-team dynamics, particularly when competition for CEO succession constantly looms in the background.
Adding to the challenge: There are few resources to address these unique needs. Unlike most teams, the CEO and C-suite must simultaneously manage a number of competing priorities, such as weighing the needs of individual business units against those of the enterprise, and the desire for stable growth against investments in innovation. Generic team performance models that isolate certain criteria as being more important than others miss these contextual nuances and fail to empower the top team to excel over time as context and strategies change.
Based on our experience working with top teams around the globe, as well as an exhaustive research, we have distilled the capabilities of top teams into four categories: Adaptability, Perspective, Atmosphere and Team Leadership. Each category involves a spectrum of behavior, capturing the essential tensions top teams must navigate.
Adaptability pertains to the balance of creating new paths through innovation versus staying on course with current initiatives that top teams need to navigate.
Perspective points to the multifaceted trade-offs between long-term and short-term investments, business unit and enterprise concerns and internal and external needs that a top team must align around.
Atmosphere is about the culture of the top team and the extent to which members are encouraged to compete versus collaborate.
CEO offers specialized consideration for the CEO's distinct role in leading the group and the level of detailed direction vs general support that is required to optimize performance
These elements allow a CEO to create a top team dynamic that fits an organization's current strategy and then help the team grow and adapt to changing priorities.  We have labeled this model "Productive Tensions for Top Teams."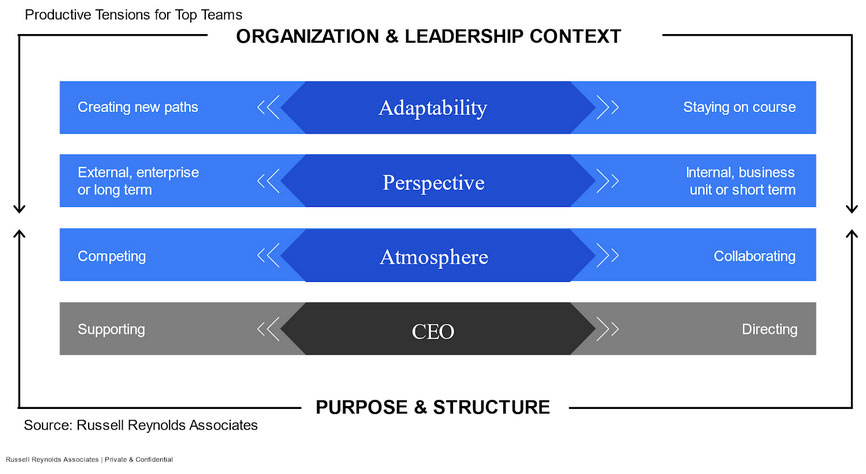 This model is not a one-size-fits-all framework, but rather a structure that allows for alignment. It helps teams gain clarity through questions such as: Given the organization's current situation, how should the top team balance innovation and stability? To what extent should the focus be on overall enterprise growth, and to what extent should it be on optimizing results from particular business units? What balance of competition and collaboration is most useful to the strategic priorities of the organization at this time? How directly should the CEO intervene in top team dynamics?  Ultimately, both sides of each tension must exist to maintain organizational health, but the top team must align on where to focus within each one.
With strategic context and the team profile in focus, leaders can then use the Productive Tensions model to design a path forward. Ultimately, the top team will be able to move toward a clearly defined state of alignment, tightening the gap between strategy and execution. And since the model is linked to an organization's specific business context it requires the team to continually recalibrate team goals, dynamics and norms to sustain performance over time, rather than setting static performance goals that may become stale as the company evolves.
Using the Productive Tensions model, we helped the consumer goods company measure and pinpoint areas of misalignment among top team members. As a result, they realized that to make a transformation, they would need to collectively agree on the importance of innovation. They also decided they would keep business unit concerns front and center during the transformation, but not allow them to override enterprise goals, and would emphasize collaboration over competition in their interpersonal relationships. As a group, these top executives now have clearer roles and a set of agreed-upon values that will help them harness their collective energy far more productively than they could have in the past.
Moving from acknowledgment to action
The first and most important step toward improving team performance is acknowledging that team alignment is lacking and committing to address it. If you're a CEO who is witnessing challenges within your team, we recommend taking five near-term actions to set the stage for long term performance improvements:
1) Clarify the strategic vision and mission of the enterprise 
This is a foundational starting point and should involve the board of directors as well as the executive team.
2) Assess the composition of your team to determine if it includes the right roles, with the right people in those roles, to meet the strategic vision
Look again at how roles are structured, as well as the strengths and developments areas of the people in them.
3) Measure the team's alignment around the strategic vision of the enterprise, working as a group to understand its implications for each part of the business
Through assessment tools and interviews, get an aggregate view of where the group as a whole stands
4) Establish accountability mechanisms to track the team's performance against expectations
Clear metrics and timelines will be essential; coaching support for some may help accelerate progress
5) Take an objective perspective on how your current leadership influences team dynamics, and how it may need to evolve to meet new challenges
Feedback from direct reports as well as trusted advisors can help clarify areas for improvement.
To adapt quickly to today's business environment, top teams need a clear picture of the trade-offs they are currently making. Ultimately, with time, focus and the right interventions, better team alignment leads to greater efficiency and adaptability—and with it, better business outcomes.
---
Commentary by Anthony Abbatiello. Here's what you've missed?
Most Powerful Countries.
Most Influential Countries.
Most Forward-Thinking Countries.
Most Entrepreneurial Countries.
---
Add CEOWORLD magazine to your Google News feed.
---
Follow CEOWORLD magazine headlines on:
Google News
,
LinkedIn
,
Twitter
, and
Facebook
.
---
Thank you for supporting our journalism. Subscribe here.
---
For media queries, please contact:
info@ceoworld.biz
---
Tags :
Chief Delivery Officer Insider
Chief Design Officer Insider
Chief Development Officer Insider
Chief Digital Officer Insider
Chief Diversity Officer Insider