Four Lessons Entrepreneurs Can Learn From Athletes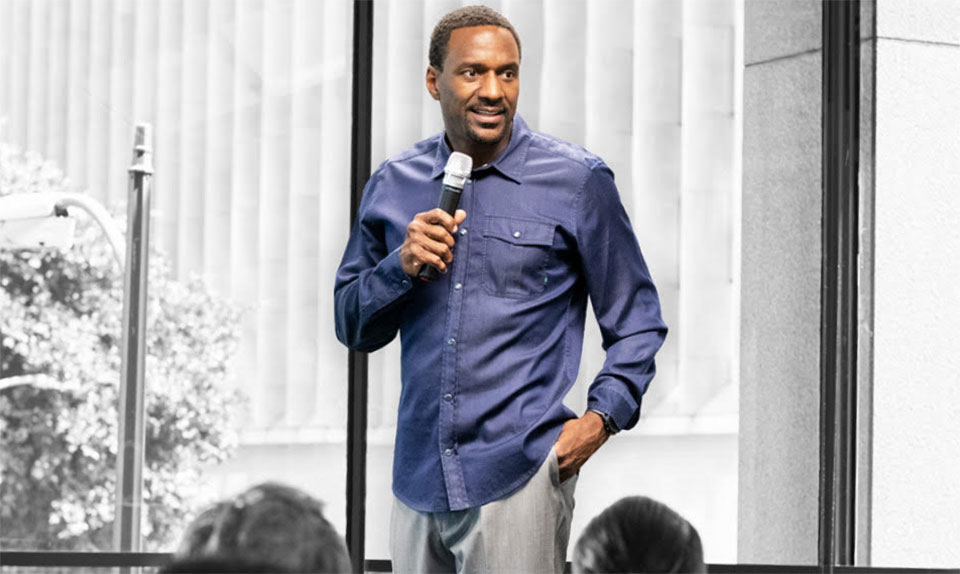 Our lives are often like a book, filled with chapters.  My first chapter was my childhood and my education.  My second chapter was as a professional athlete – playing for the Seattle Seahawks and the Tennessee Titans. I retired from the NFL in 2014.  Since then I've built a new career as a sportscaster, entrepreneur, and business consultant.
What I've come to realize is that many of the lessons I learned as an athlete have been incredibly valuable in helping me build my business career.  Athletes learn how to visualize success and prepare effectively for sudden surprises. They also know when it's time to slow down and breath to alleviate high-stress situations. Here are four other qualities that you need to cultivate to succeed in today's fast-paced, global economy.
Thrive on Adversity. Adversity builds resilience and it's something that we all face.  I certainly experienced this on a regular basis on the football field.  There is no doubt that, when you are a business owner, the pressure to lead your company in growth and profitability is a challenging feat.  If you are like me, setting BHAGs (big hairy audacious goals), you thrive on moments that will leave a lasting legacy and grow your impact. Own adversity.  Your team will be motivated by your courage.
Persevere and Persist – With persistence and perseverance, you can crush any difficulty and clear any obstacle. When I was in college and an NFL scout told me what I needed to achieve if I wanted to get drafted, I got myself into a summer program at a Division One school so I could reach those goals.
Persistence is about accumulating gains every time you face a hurdle. Eventually, all those courageous acts compound into successes – whether in sports or in business. Perseverance means you keep going and do not stop, no matter what happens. Perseverance and persistence allow you to have a "find a way" attitude.
A person can persist by making a choice—a chosen path of life, a plan to reach a goal, or to pursue someone or something. That person must persevere by maneuvering over, under, around any obstacles or challenges on the way to achieving that goal. In life, we each will experience friction. When times get sticky and it's difficult to press forward, perseverance will help you overcome the challenge. As Martin Luther King Jr. said, "The ultimate measure of a man is not where he stands in moments of comfort and convenience, but where he stands at times of challenge and controversy."
Improve Through Competition –Being competitive is good, but be careful how you use it. If you use it to beat yourself up, it can have a negative effect—especially when you see others having faster success than you. Instead, use other people as a gauge. Let it be fuel to show what is possible. This was something I learned while scrapping my way through the NFL to become a starter.
In the business world, competition is an effective way to help promote a culture driven by benchmarks and expectations. Performance is always the ultimate yardstick to measure whether you hit your personal and company goals. If you can compete, you can measure.
Develop Agility – Agility is critical for success on the sports field – but it's also a necessary attribute for business leaders to develop. Analyzing situations and understanding the issues when change happens requires you to see the big picture. One way to harvest adaptation is to look at the situation from the bird's eye view, take a step back, and analyze the entire picture before moving into action. Leadership is a mix of inspiration and improvisation. What you do from moment to moment cannot always be scripted and requires flexibility to change, even if you have a game plan.
---
Written by Jordan Babineaux. Have you read?
Best Hospitality And Hotel Management Schools In The World For 2021.
Rankings. Best Countries. Best Books. Richest List.
Best Fashion Schools In The World For 2021.
---
Add CEOWORLD magazine to your Google News feed.
---
Follow CEOWORLD magazine headlines on:
Google News
,
LinkedIn
,
Twitter
, and
Facebook
.
---
Thank you for supporting our journalism. Subscribe here.
---
For media queries, please contact:
info@ceoworld.biz
---
Tags :
Chief Investment Officer Insider
Chief Knowledge Officer Insider
Chief Learning Officer Insider
Chief Legal Officer Insider
Chief Marketing Officer Insider