The Explosive Growth In Jeff Bezos' Fortune
Jeff Bezos started the year with a little more than $118 billion (January 2, 2020), as of last month (August 26, 2020), the Amazon CEO became the first person in history to reach a net worth over $200 billion. His net worth is higher than the market cap of 56 of the worlds' top 100 companies…
It's bigger than the government budgets of Austria ($197 billion), Turkey ($174 billion), Denmark ($173 billion), Finland ($136 billion), and Indonesia ($130 billion).
His net worth is bigger than the GDP of the entire country of New Zealand ($204 billion), Qatar ($191 billion), and Hungary ($170 billion). For reference, Hungary has a population of nearly 9.7 million people.
That's a lot of money for one person.
Jeff Bezos, who started Amazon in 1994, has been the wealthiest person on the planet since 2017. Bezos became the richest man in modern history in 2018 when his personal fortune hit $150 billion.
Having amassed a personal fortune now worth $187 billion (September 10, 2020), he's now $65 billion richer than Microsoft co-founder Bill Gates, who stands at number two.
Ten Richest People in the World 2020
Jeff Bezos $187 billion
Bill Gates $122 billion
Mark Zuckerberg $102 billion
Elon R Musk $91.2 billion
Mukesh Ambani $88.6 billion
Bernard Arnault $86.5 billion
Warren Buffett $82.4 billion
Steve Ballmer $74.1 billion
Larry Page $73.0 billion
Sergey Brin $70.7 billion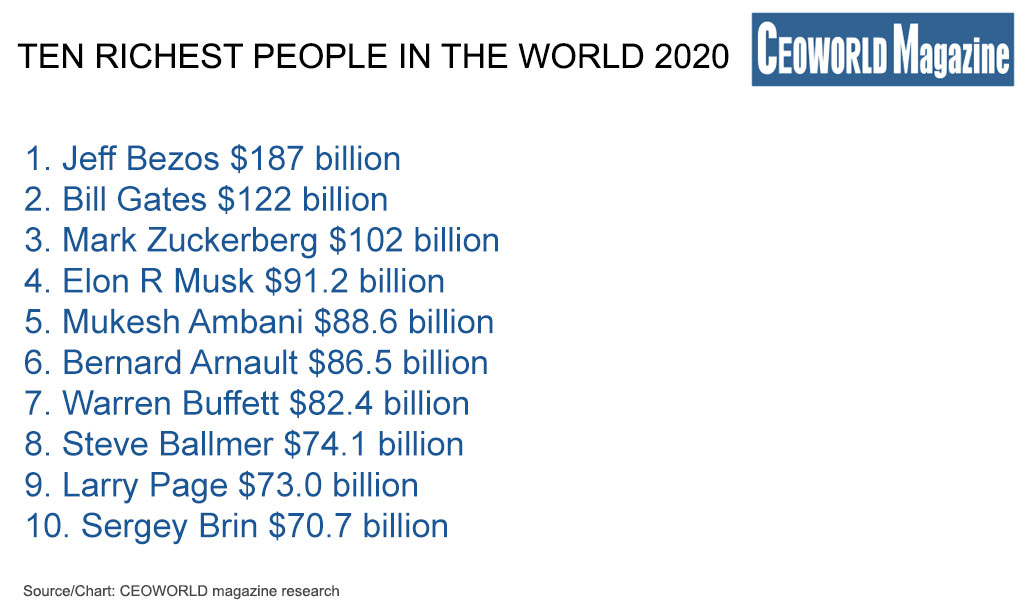 ---
Have you read?
Highest Paying Healthcare Support Jobs.
Highest Paying Healthcare Jobs.
Highest Paying STEM Jobs.
Highest Paying Technology Jobs.