Breathtaking Beaches In Italy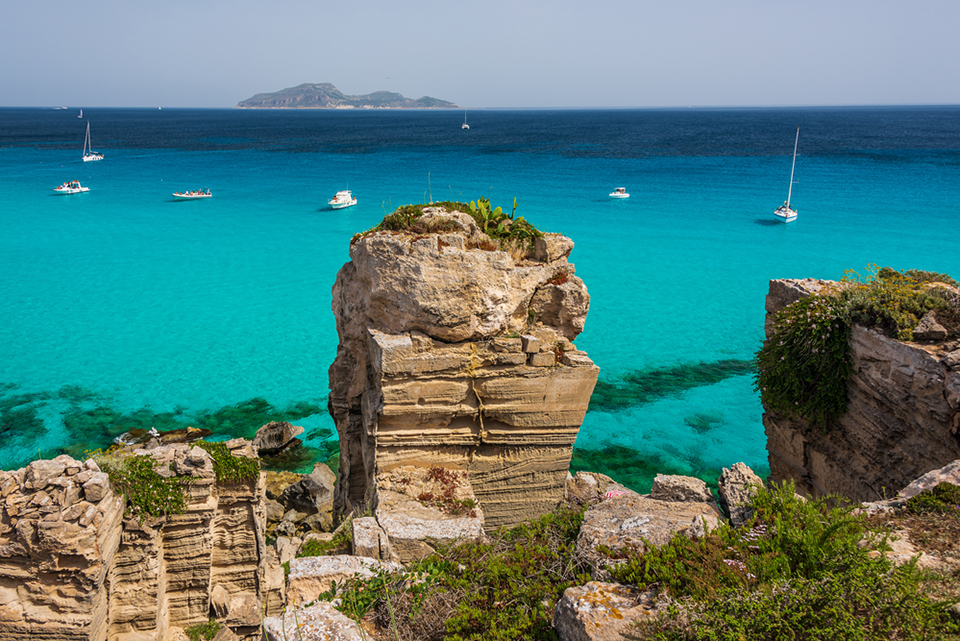 The shore in Cala Rossa, one of the beautiful bays in Favignana, one of the Aegadian Islands in Sicily
Italy's coast has both the Mediterranean and Adriatic seas. The coastline is about 9,200-kilometers long. Along its coastline, you will find beaches suitable for everyone's needs. Tranquil beaches for those who prefer enjoying some private time. Crowded beaches for those who like to feel alive. Whatever your taste is, you have several options to choose from. Not sure which beach you should go to? Here's our list of the best beaches in Italy:
La Pelosa, Stintino
Marina Grande Beach, Positano
Spiaggia Dei Conigli (Rabbit Beach), Lampedusa
Cala Rossa, Sicily
Cala Granara, Spargi
Cala Goloritzé, Sardinia
Camogli Beach, Liguria
Marasusa Beach, Calabria
Cala di Volpe, Sardinia
Scala deiTurchi, Sicily
Cala Tonnarella, Sicily
Isola Bella, Sicily
Cavoli Beach, Elba
Spiaggia di Sansone, Elba
Chiaia di Luna, Ponza
Cala Pulcino, Lampedusa
Baia dei Turchi, Puglia
Spiaggia del Fornillo, Positano
La Pelosa, Stintino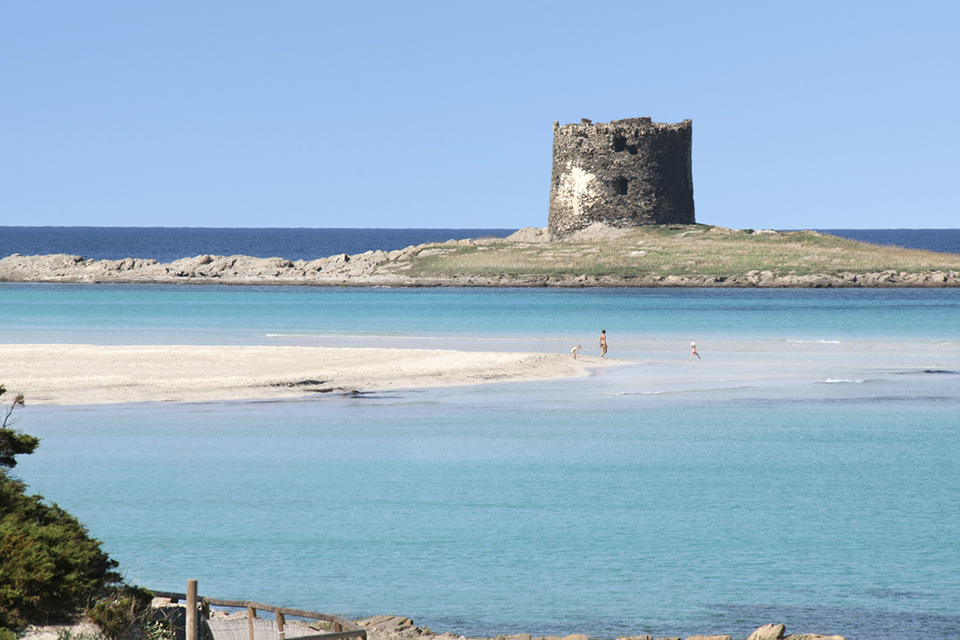 This 300-meter long beach is characterized by its ivory sand, shallow blue water, and the iconic Torre dellaPelosa. If you are visiting in the summer, try to arrive early as it can get crowded. The castle end of the beach offers a better experience as it is less crowded.
Parents don't have to worry about their kids as the water is shallow. But divers need to go a bit far into the water. That is where you'll find the Torre dellaPelosa. It is a 16th-century watchtower used to defend the island.
Marina Grande Beach, Positano : Cliffs with pastel houses make this beach quite picture-friendly. Won't be a surprise if it is all over your Instagram later. A lot of tourists swarm to this beach along the Amalfi coast every summer.
Make it early here to relax on the blue and orange lounge chairs. Also, wear proper footwear as this is a pebbly beach.
The 300-meter long beach has a flock of restaurants, bars, and discotheques. They offer spectacular sea views popular with celebrities. Make sure you take a boat tour to explore nearby bays.
Spiaggia Dei Conigli (Rabbit Beach), Lampedusa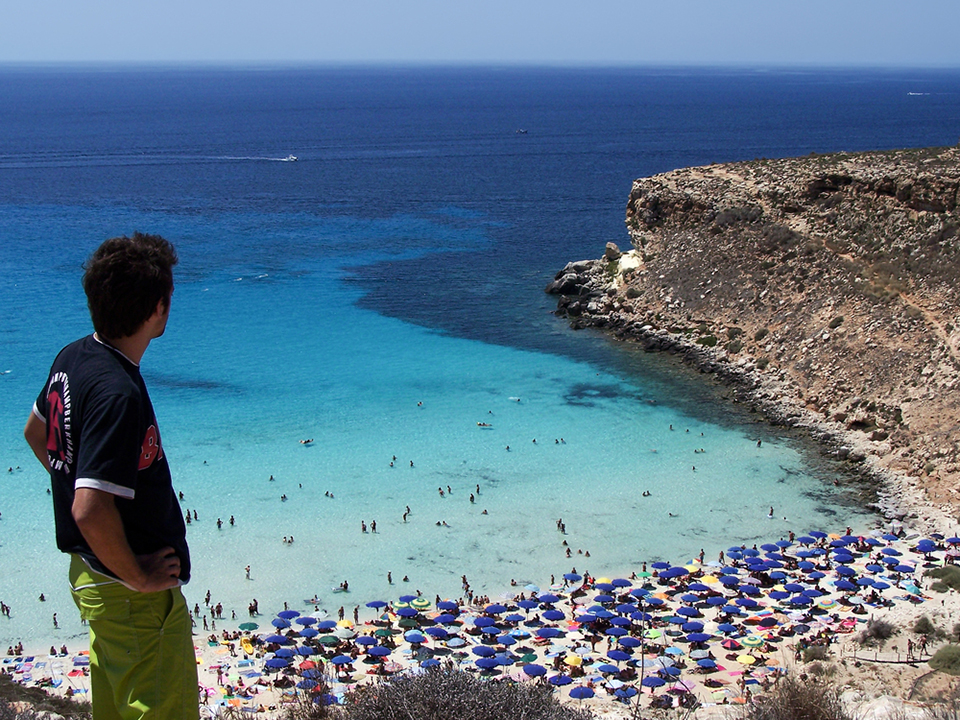 You will have to take a 2-kilometer-long rocky hike to reach this marvelous beach. The beautiful landscape of topaz beach blending into the blue water is just a part of your reward. This blue water is very clean. Snorkeling is a must here. Contrary to what its name suggests, the beach has a large number of loggerhead turtles. The beach closes in the evening to let these turtles return safely. So, make it a point to reach early to make the most of your trip. You can grab some lip-smacking homemade food at The OndaBlu beach shack. TripAdvisor rated it the best beach in the world in 2013. So, there's no way you can skip this one!
Cala Rossa, Sicily: CalaRossa is the best beach in Favignana. Since it is a busy beach, try to make it here as early as possible. You'll then be able to find yourself a perfect spot for sunbathing. The beach is quite rocky and does not have much of the small-grained sand. So, make sure you wear appropriate footwear. You don't have to worry about it once you slide into the clear blue water. Apart from sunbathing, you should go snorkeling and explore the nearby caves and coves.
Cala Granara, Spargi: This white sand beach is one of the cleanest beaches in Italy. Located on Isola Di Spargi, you can access CalaGranara only by boat. Unlike most Italian beaches, you won't find anycliffs here. It is a great beach for snorkeling and ideal for sunbathing. Wouldn't you fancya cocktail while basking in the sun? You can make use of the nearby palm trees to take a break from the sun. Other rare beautiful plants likemacchia trees add to the greenery of the beach. Clear blue water makes the landscape of CalaGranara even more pleasant.
Cala Goloritzé, Sardinia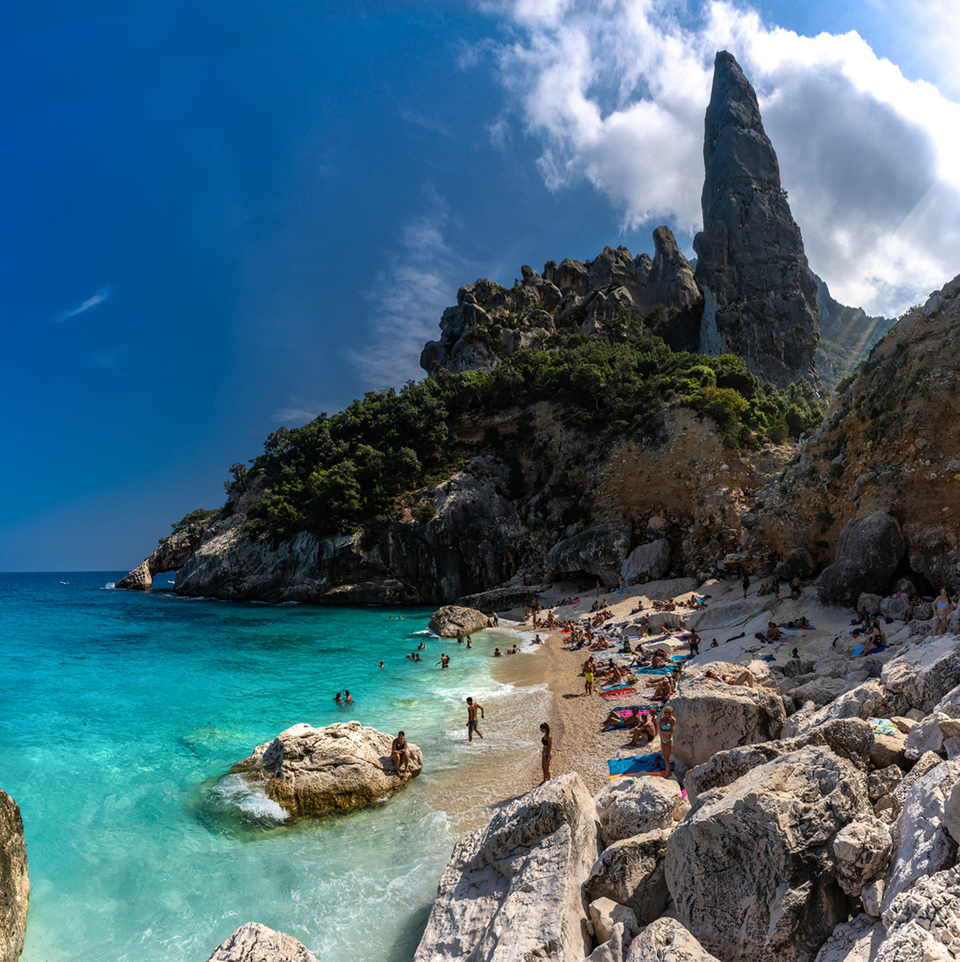 Limestone cliffs and soft ivory sand characterize this small yet impressive beach. You'll love snorkeling in its clearturquoise waters. It is arguably the best snorkeling destination in Sardinia. But all good things come at a price. And this gem of a beach can only be accessed by hiking for about 90 minutes. This is a big reason why masses avoid this beach. The pristine beauty and calm aura of this beach make it a must-visit. No wonder this wonder was added to the list of UNESCO World Heritage sites in 1995.
---
Have you read?
World's Best Cities For Food Lovers.
World's Best Football Cities.
World's Best Cities For Business Travel.
World's Largest Megacities By Population.
---
Add CEOWORLD magazine to your Google News feed.
---
Follow CEOWORLD magazine headlines on:
Google News
,
LinkedIn
,
Twitter
, and
Facebook
.
---
Thank you for supporting our journalism. Subscribe here.
---
For media queries, please contact:
info@ceoworld.biz
---